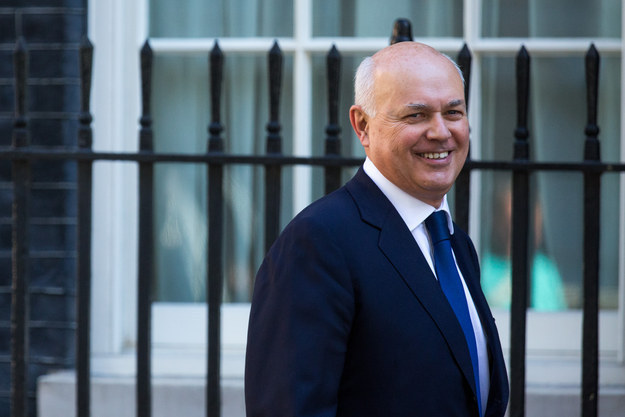 One of the UK's most respected mental health charities has said that people with mental health conditions could suffer as a result of welfare secretary Iain Duncan Smith's latest policy announcement.
In a speech Monday, Smith announced plans to force more people who are out of work and on benefits because they are ill or disabled back into the workforce. The welfare secretary said that rather than focusing on what individuals were not able to do, the new work assessment criteria would look into what people could do.
The department hopes to get a million people – half of all those who receive the employment support allowance because they are ill or disabled – back into work as a result.
But Tom Pollard, policy and campaigns manager at Mind, told BuzzFeed News that although the group wanted to see more people getting back to work safely, the government's policy to cut benefits if people failed to carry out certain activities – such as rewriting a CV – would actually harm people's mental health.
"Threatening to punish people by cutting their benefits when they fail to do certain mandatory activities has a negative effect on people's mental health," he said, "and as a result they often become more unwell and even less likely to be able to go back to work."
Many people who receive benefits from the Department for Work and Pensions due to inability to work or find a job have to carry out mandatory activities such as meeting with counsellors or redrafting their CVs.
BuzzFeed News understands that Mind has not yet been invited to speak to the welfare secretary, but the charity is hopeful of discussions in the future.
It has had a number of positive conversations with disabilities minister Justin Tomlinson.
"We would welcome any move by the Department for Work and Pensions to genuinely improve the support given to help people with mental health problems back to work," Pollard said.
"The current system is failing this group, with only about 8% of people who are supported by the benefit employment and support allowance being helped into work through the government's flagship Work Programme.
"We have been calling on the DWP to address these issues for a number of years and will be keen to work with ministers to improve the support available, but only if they are serious about making the huge changes necessary to fix this broken system.
"They need to listen to the challenges people with mental health problems face in finding and retaining work, and create support that helps to overcome these challenges, rather than simply placing more pressure on people to find work."