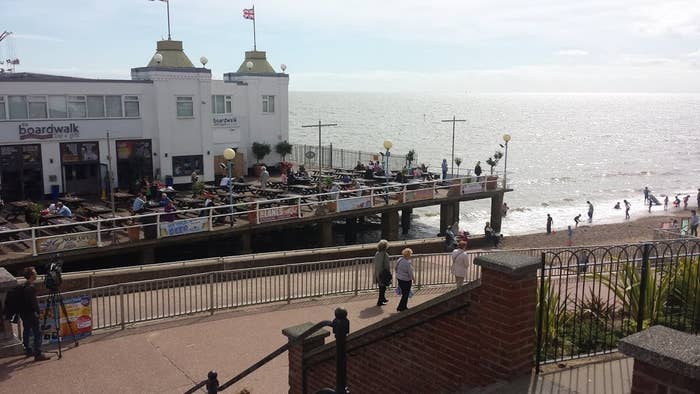 CLACTON-ON-SEA, England – "We'll vote for UKIP," says Steve Day, 62, a retired voter in a town that isn't short on retired voters. "We'll give [Douglas Carswell] a chance. He tried to stop businesses from coming down from London and buying the big houses and converting them to bedsits. He was behind it."
These are the sort of concerns that dominate political debate in the seaside Essex town of Clacton-on-Sea, which is set to become an unlikely test of David Cameron's government after freethinking local Conservative MP Douglas Carswell defected to UKIP on Thursday.
(Not that the existing UKIP candidate and local party are exactly delighted.)
The unexpected announcement has caused panic at the town's Conservative Association, where a sign imploring the public to contact Carswell's personal email address is still in the window.
Inside, members of the association and Tory press officers are attempting to scramble together a response to the local MP's unexpected defection. The sign in the window is the least of their concerns. Only hours before Carswell's defection, the Conservatives sent members an email inviting them to a reception with the crowd-pulling MP at the party headquarters in London. Now they have to find someone to challenge him in a by-election that the bookies expect them to lose.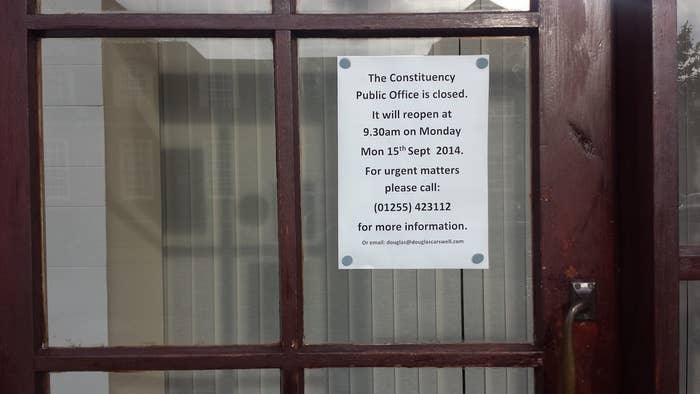 It shouldn't have to be this way for Clacton Conservatives, who currently enjoy a 12,000-vote majority over Labour. But Clacton is a strange constituency, including both the prim town of Frinton-on-Sea (where the first pub opened only in 2000) and areas of real poverty. On the seafront there are stores selling cheery postcards of an idyllic beach, but such a vision is detached from areas such as the suburb of Jaywick, one of the most deprived regions in the country.
And it's a place where Carswell's local popularity could be enough to carry him to victory regardless of his party affiliation. Cathy Day, 67, says Carswell has proved his credentials with the local population.
"He's a good bloke," she says after polishing off her lunch in the town's covered market. "He really tries for us. Cameron and the other lot just keep saying things."
She's particularly annoyed by Britons going out to fight in Syria and Iraq and being allowed back into the country, a policy Nigel Farage has pledged to oppose: "When we've got all these people going out to Syria, what are we going to do when they come back? UKIP are much more solid – if you go out, you won't come back."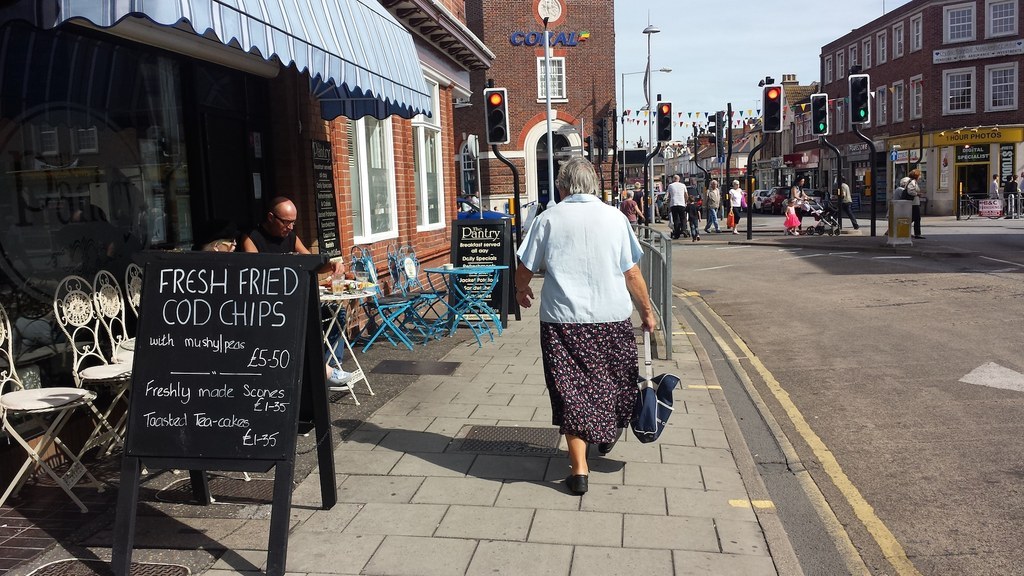 According to Dr Matthew Goodwin, a veteran UKIP-watcher, the forthcoming by-election in Clacton is "something of a perfect storm", given the seat's ageing demographics.
"In terms of the people based in Clacton, it is the number one most favourable seat in the country for UKIP," he says. "It is a struggling town where there are lots of voters who are angry over immigration and Westminster politics.
"And for UKIP it offers them a good opportunity, and in Carswell they have an MP who won over 50% of the vote and has done well to showcase himself as an anti-Europe, anti-Westminster politician."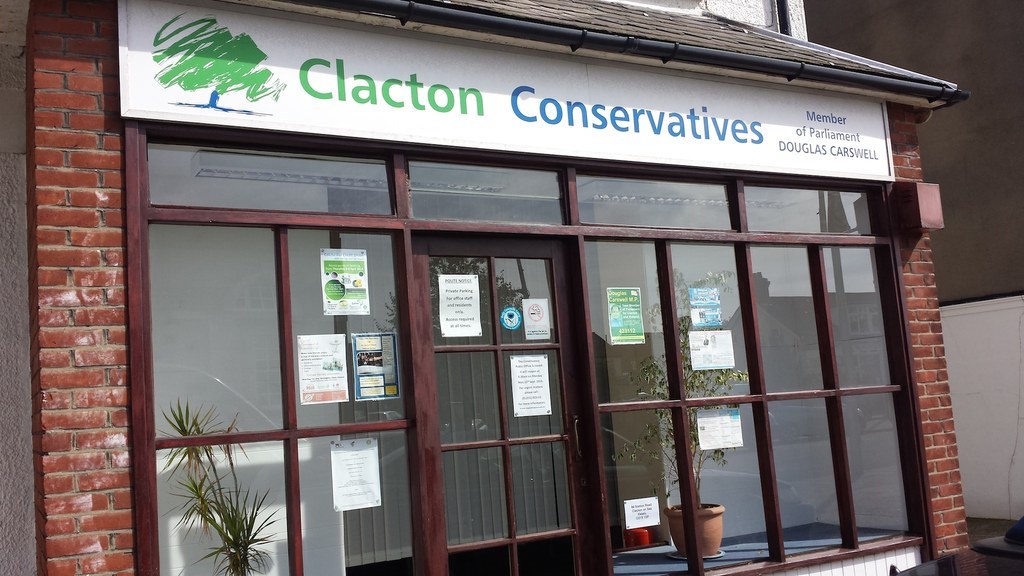 On the seafront, there are few non-white faces among the hundreds of tourists enjoying the end of the British summer. Two beach cleaners, John Sutcliffe, 43, and Tony Symonds, 47, say they don't vote but are attracted to UKIP.
"The Tories have made it worse," Sutcliffe says, annoyed at the government's insistence on spending substantial sums on international aid. "There's no investment in companies to build up the future and instead we're sending money abroad."
In a nearby pub, four men, ranging in age from their early 30s to late 40s, enjoy an afternoon drinking session. All say they won't vote Tory in the coming by-election. Forty-four-year-old plasterer Shaun Chapel says he'll be voting UKIP. "I voted Tory in the general election. But UKIP have better policies and I've been lied to for too long. The Conservatives say one thing and do another."
His friend Kenneth Hewitt, 33, doesn't vote due to disenchantment with Westminster politicians and probably won't vote in the by-election. But he says he agrees more with UKIP's policies than any other party. He says: "It seems like anyone can come into the country and get whatever they want."
Still, he's pleased that Carswell has jumped ship: "It was a good decision."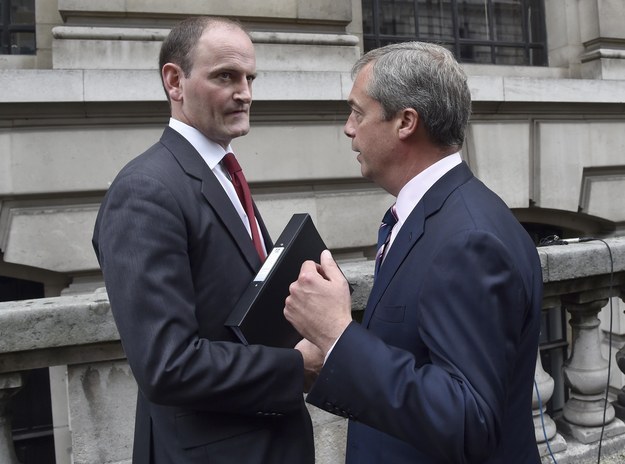 In truth, there have been signs that Carswell might defect. Indeed, this isn't even the first time he has worked with the local UKIP party. Four years ago, when running for his second term in parliament, UKIP activists came out into campaign for him in Clacton, actively backing his Eurosceptic ideas. And Carswell suggested, only three months ago, that the Conservatives should consider a pact with the anti-EU party in order to secure a referendum on Europe.
Betting agency Ladbrokes has placed UKIP as odds on to win the by-election at 1/3 odds. In the Clacton branch, however, the receptionists can't find the odds and no one has asked for them.
Meanwhile, the town appears unprepared for the circus of a by-election. Outside the town hall, a flustered council worker ushers out TV crews trying to film there, unsure what to do because the only press officer is away.
In 2012, Conservative MP Claire Perry reportedly told Carswell to "fuck off and join UKIP". Now that he has, he could quickly become a household name as the potential vanguard of a UKIP presence in the House of Commons. With the media descending for a by-election that will test the ability of Nigel Farage's party to win an election, for a few months at least, Clacton will be in the limelight.