David Cameron Says Anti-Tory Protesters Should "Behave With Respect"
Speaking to BuzzFeed News, the prime minister also linked unruly protesters to the election of Jeremy Corbyn.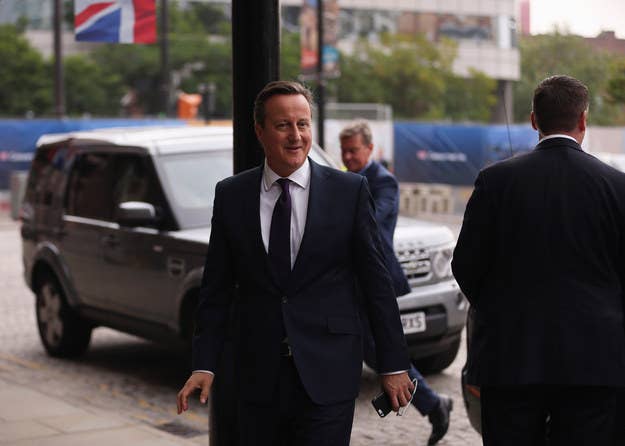 David Cameron has criticised protesters who abused Tory activists, telling BuzzFeed News that "people should behave with respect" towards delegates and journalists attending his party's conference in Manchester.
The prime minister also directly linked disruption outside the venue to the election of Jeremy Corbyn as new Labour leader.
"I thought this was the age of the kinder politics that Jeremy Corbyn is talking about," Cameron said mockingly when asked about the afternoon's events. Corbyn has previously pledged to avoid personal attacks on rivals and pursue a less antagonistic form of politics.
Cameron made the comments as he was leaving an event for the Scottish Conservatives at the party's annual conference, hours after tens of thousands of activists had gathered in Manchester for a union-organised protest against government cuts to welfare, education, and the NHS.
The protest was largely peaceful and ended with a rally with speakers including Charlotte Church, Owen Jones, and junior doctors. But during the day some party delegates – as well as journalists from the Huffington Post, LBC, and Channel 4 – were spat at by activists.
Elsewhere, one Tory activist was hit by an egg, and protesters spent the evening chanting "Tory scum" at individuals entering the conference centre.