Want to get into the media? BBC staff are offering unpaid internships to teenagers – but only if the teenagers' parents can offer high-profile placements for the BBC workers' kids.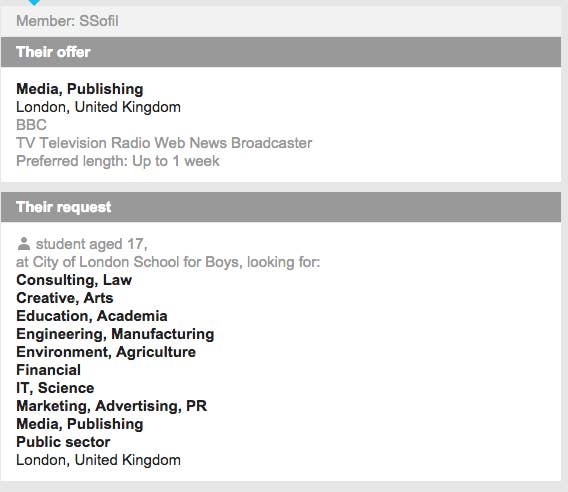 Staff are exchanging work experience placements at the broadcaster through myinternswap.com, a service that charges £24 per year to help trade work experience placements for their children.
Typically, people who want to get into the media but don't have family connections have to visit the BBC recruitment website, where they're warned that many applicants will be unsuccessful because of the highly competitive nature of the job. But it appears that a number of staff at the BBC are bypassing the traditional process to help their children.
In the advert above, a member of staff has offered a placement in the BBC News division in exchange for their son, a 17-year-old at the City of London School for Boys, getting a placement in any number of fields. Annual tuition fees at the City of London school are £14,886.
My Intern Swap has referred to itself as "the new old boys' network". It has produced offers for at least 700 work experience placements, according to The Guardian.
In addition to the advert above, it appears that another staff member at the BBC has offered a placement to someone in the legal division of the company.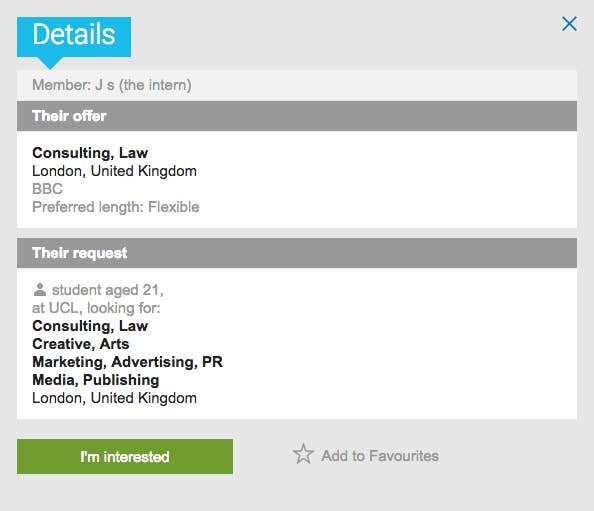 This would be in return for offering their child, currently studying at UCL, a placement in consulting, law, marketing, advertising, PR, media, or publishing.
It appears that the placement above has been listed online by an intern of the BBC staff member. Instead of working, it appears that the intern was asked to use the website to look for their replacement.
A spokesperson for the BBC told BuzzFeed News that staff using the website had broken the rules. "Sourcing work experience placements from these websites does not fall within the terms of our policy. The BBC is strongly committed to equal opportunities and making sure our opportunities are open to all," the spokesperson said.
BuzzFeed News understand the organisation is looking into the placements offered on the website.
It's not just staff at the BBC offering work placements either. Here's someone at ITV offering a placement for someone to can give their child a job in the creative arts.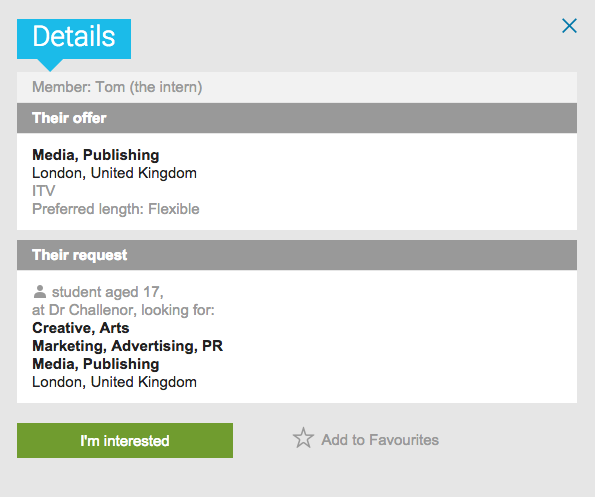 Instead of being based on skills or relevant experience, people can swap jobs based on their parents' professions.
The founder of Graduate Fog, Tanya de Grunwald – who first highlighted the website – said it could exclude children from all backgrounds from the best opportunities.
"When they first approached me with the press release, it appeared rather harmless," she told BuzzFeed News. "And this sort of things happen at the school gates anyway, it's nothing new.
"But it's more than that. When you look at the quality of the positions advertised, these are very valuable placements and you need to have something to swap. But for those kids who don't have anything to swap, they can't get involved, and it's like their nose is pressed against the glass. So it's taunting them really.
"If your parents aren't working, or if they're not senior enough, those people will not be able to take part, and that's a bit horrible as well. As you know, work experience is such a valuable commodity that this just shows that we need a new system to make sure that placements are fairly allocated."
The listings by the BBC staff members have been taken down and are no longer on myinternswap.com