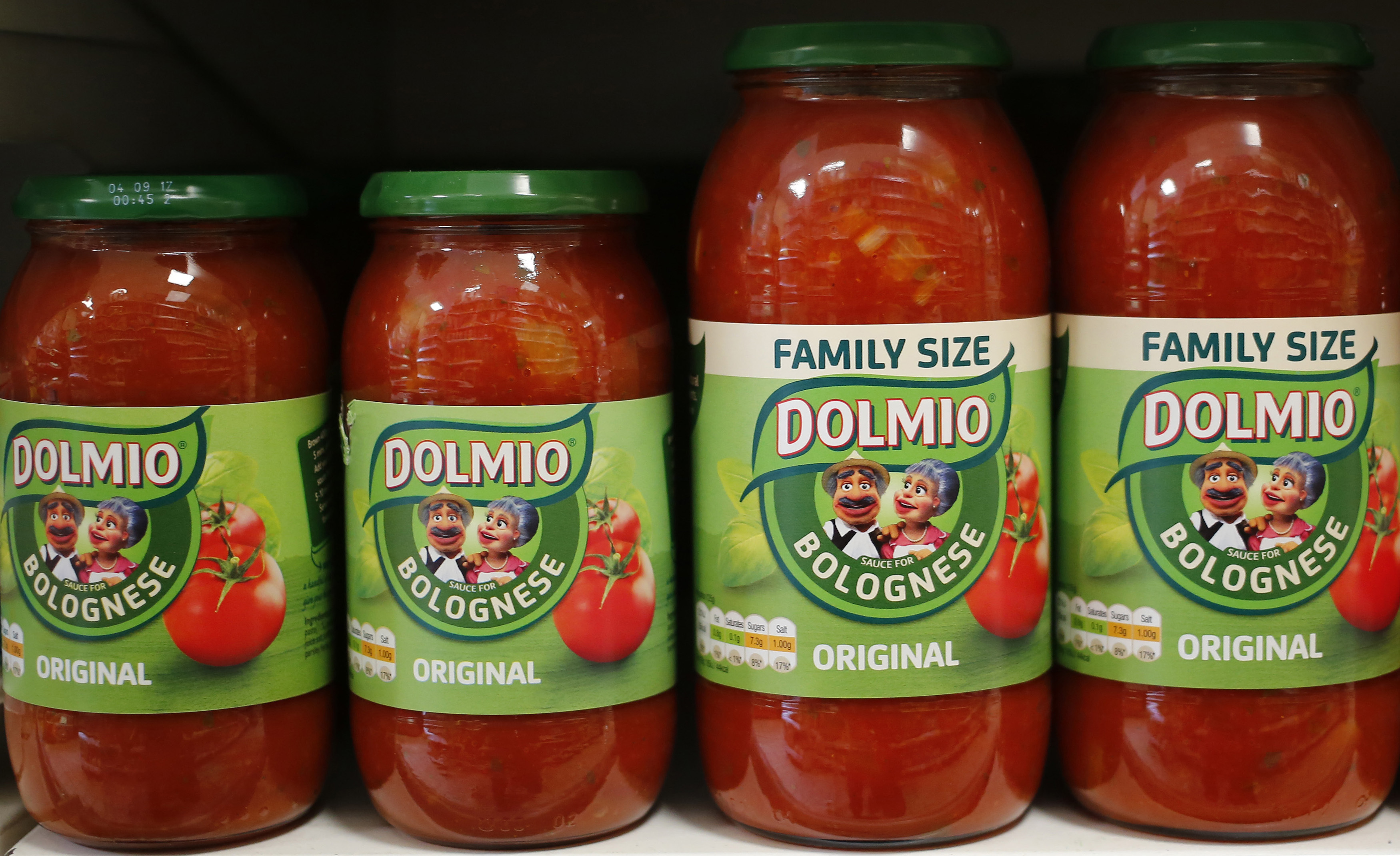 The company behind Dolmio has declared that some of its most popular sauces should only be eaten occasionally – due to the high levels of fat, salt and sugar – in a decision welcomed by experts.
But with supermarkets keen to win over customers to their own-brand equivalents, BuzzFeed News took a look at the nutritional information for each product to see how they compare.
Some supermarkets beat the Dolmio products, while others fell short, but all four of the UK's biggest groceries refused to introduce new recommendations to their customers.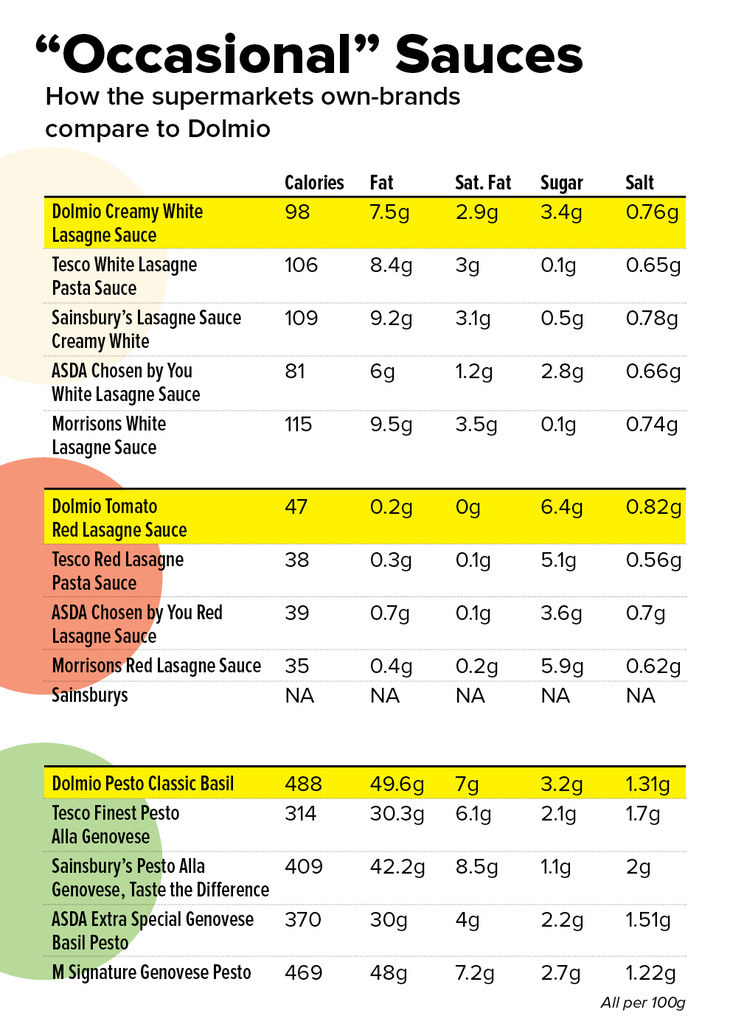 Dolmio said its creamy white lasagne sauce should only be eaten once a week on average – thanks to the 7.5g of fat found in each 100g serving.
Yet we found that equivalent white sauces at Tesco, Sainsbury's and Morrisons all had more fat than Dolmio – with Morrisons topping the pile with 9.5g per 100g.
The same three also had more calories and more saturated fat.
However, only Sainsbury's creamy white lasagne sauce had more salt than Dolmio, and Dolmio had more sugar than any of its supermarket rivals.
Asda came out on top, beating Dolmio across the board – although not by much.
The supermarkets performed better against Dolmio's tomato sauce and basil pesto – but with such high levels of bad stuff, some will question whether they should follow suit.
Dolmio's parent company Mars explained its decision to class some products as "everyday" and others as "occasional" to "create and promote healthier food choices".
Those in the "occasional" category include Dolmio lasagne sauces, pesto, lasagne kits, and some of its Uncle Ben's oriental sauces.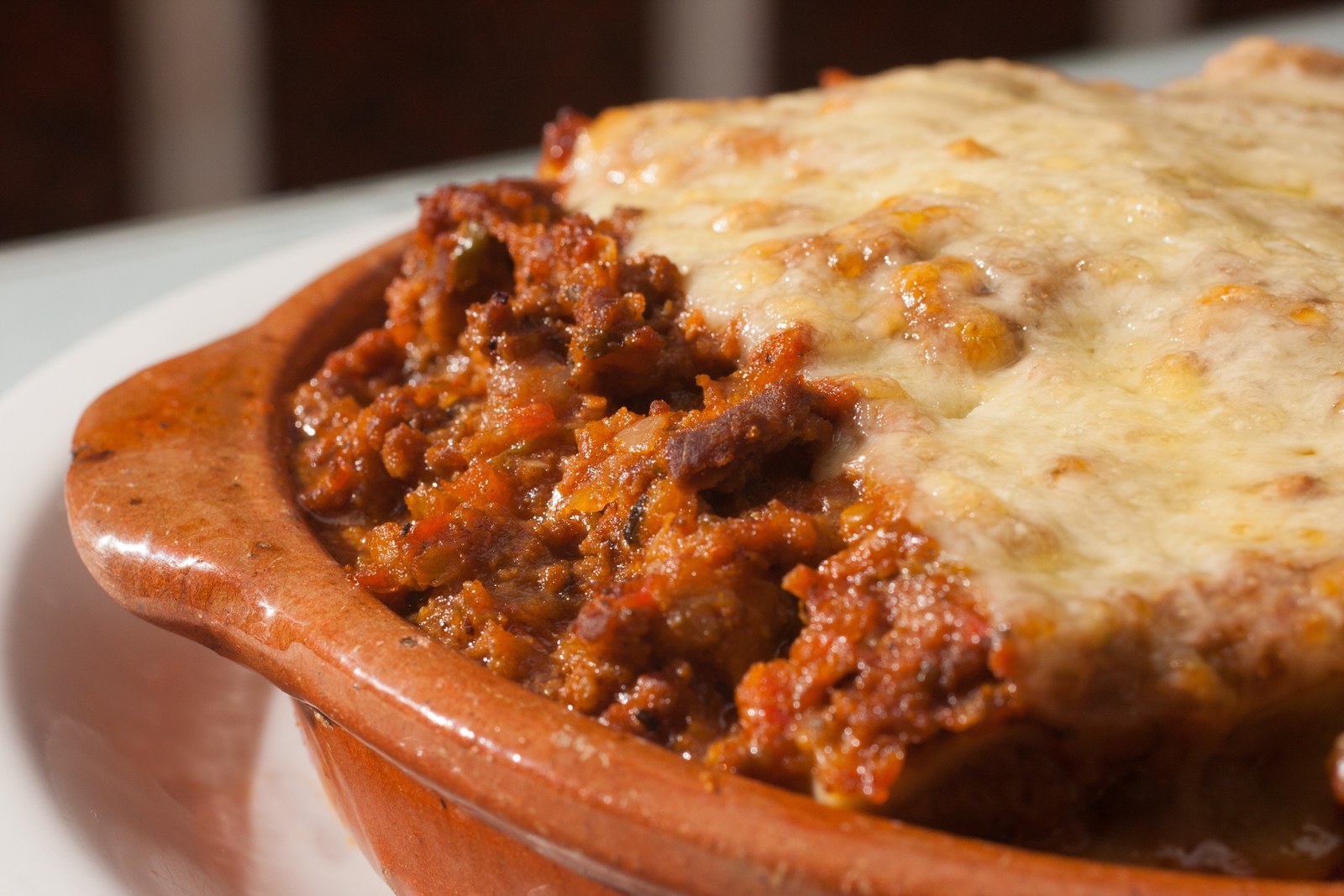 The National Obesity Forum welcomed the move, calling it "hugely unusual" but "very imaginative".
Tam Fry from the National Obesity Forum said: "Mars signposted their direction of travel towards healthier products several years ago and are now putting their money where their mouth is."
Ben Reynolds, deputy co-ordinator of food and farming alliance Sustain, said he believed companies were "trying to scramble to show they can be good and do the right thing" before the government unveils its childhood obesity strategy in the next few months.
He added: "The government have shown they are willing to bare their teeth and they're not going to stand for a voluntary approach."
But despite Dolmio's move, supermarkets were less keen to follow suit.
Three of the products Dolmio has said customers should only eat occasionally.
A spokesperson for Sainsbury's said: "We provide clear nutritional labelling on all of our own brand food products, and were the first to introduce front-of-pack, traffic light labelling so customers can make informed and healthier choices at a glance."
A Morrisons spokesperson confirmed there were no plans to copy Mars. They added: "We have an ongoing process of reformulation to reduce salt, sugar and fat in our products. We have also introduced a front of pack traffic light labelling system to help customers manage their diet by making informed nutritional choices."
Asda said: "We believe in offering customers choice and encouraging healthy, balanced lifestyles, and we are interested in any new ideas on how to share these messages with our customers.
"Asda was one of the first retailers to adopt the government's multiple traffic light Front-Of-Pack labelling system so our customers can make informed choices about what they eat.
"We also have an ambitious reformulation strategy in place to remove salt, calories, sat-fat and sugar from our own-brand products without compromising on quality."
A Tesco spokesperson said: "We want to serve Britain's shoppers a little better every day and that includes making it easy for our customers to make healthier choices. Our food is clearly labelled with its nutritional content so customers can make informed choices about what to buy.
"We've also done lots of work to make the food on our shelves healthier and have removed thousands of tonnes of salt, fat and sugar from the food we sell."