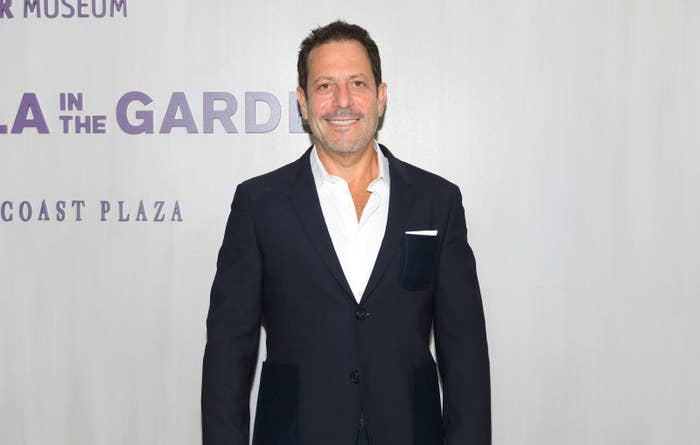 I think it goes without saying that as a pop culture writer, I watch a lot of television. Like, a lot. And though I watch a little bit of everything, I'm drawn to two main genres: romantic comedies and teen dramas, especially ones that feature strong women. And for the past 30 years, those are exactly the types of shows Darren Star has created.
From Beverly Hills, 90210 and Melrose Place to Sex and the City and Younger (plus a handful of shows in between), Darren's been the man behind some of the most iconic shows in TV history. And now, he has a new show to add to the list — Emily in Paris.
The Netflix original stars Lily Collins as a Chicago native who unexpectedly moves to Paris for work. Though instantly enamored with the city, her modern American ways, not to mention inability to speak the language, make it challenging for her to thrive. But, like all of Darren's characters, she perseveres and finds success, friends, and possibly love along the way.

Last week, I chatted with Darren over the phone to discuss all things Emily in Paris — including behind-the-scenes details, the impact of social media, and what it truly means to be a fish out of water — as well as the legacy of Sex and the City, the final season of Younger, and writing women of a new generation. Read on!

BuzzFeed: I just want to start by saying, congratulations on Emily in Paris! I really enjoyed it.
Darren Star: Oh, thank you so much. That's so good to hear.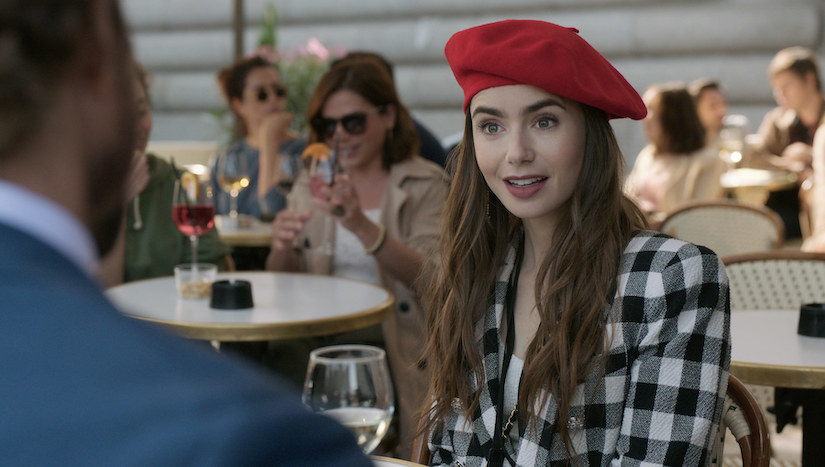 You once said that Sex and the City really had five main characters, the fifth being the city of New York. It was such an essential part of the show, and I felt that a lot in EIP. So, why did you set the show in Paris, as opposed to NY or LA like your other series?
I feel like the city has an entirely different function here. The characters on Sex and the City were not fish out of water in New York. This is a show about going to a foreign country and being an expatriate, and experiencing something different. And I have a lot of familiarity with Paris. I spent a little time living there and I've had that feeling, so I can imagine what it'd be like not to go there, how daunting it might be to never have been there — never really traveled — and to suddenly have to go there and work there. I love the city and, certainly in the way I love to share my love of New York in Sex and the City, I wanted to share my love of Paris with Emily in Paris, but the city serves a dramatically different purpose.

Most of the characters who aren't natives moved to Paris to pursue a dream — Gabriel wants to own his own restaurant, Ashley wants to be a singer. So, what's Emily's dream?
Emily's dream is to move back to Chicago! To her, it's a stepping stone to the job she's already in. Emily's not going there with stars in her eyes about Paris. She's on a mission. For years, she's been on a mission to bring this American point of view from her company that's acquired a French firm, and represent her Chicago company in Paris. So, she's really not there because she dreamed about going to Paris. She's there to advance her career in Chicago, at least initially.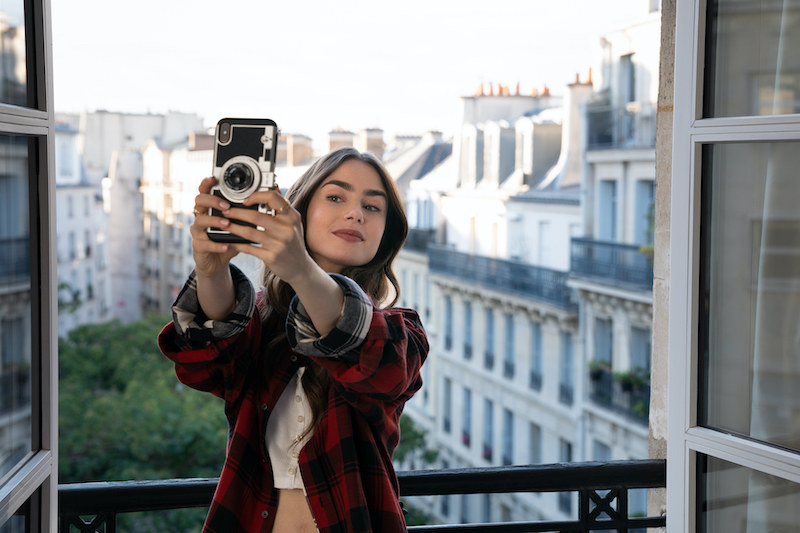 You've been creating shows since the early '90s and they've had such a legacy, spanning multiple generations. But, both Younger and Emily in Paris have a pretty strong focus on what it is to be a millennial. So, as a millennial, I was wondering what some of the challenges and rewards are of writing for this newer generation?
Millennials have their own generational identity in a sense, but at the same time, people who are people in their 20s, and early 30s are people in their 20s and early 30s, and that's sort of what it is. I think that's universal, that spans generations — what we want, who we love, and the fact that we all have this drive to be happy.
"I think that's universal, that spans generations — what we want, who we love, and the fact that we all have this drive to be happy."
But for this show, I wanted to explore through the eyes of somebody young, because I felt like that was the person who would most likely not have traveled and had that experience of being abroad. And definitely through doing Younger, I spent a lot of time thinking about millennial culture and that the fact is, we're all part of the same world. So I don't necessarily think of one generation as so different from the next generation. You know, we're all living together.

Speaking of the new generation, let's talk about social media a little bit, because Emily in Paris isn't just the name of the show, it's the name of her Instagram account. Can you talk about the impact of social media or why you centered the show around it?
Social media is part of all of our lives. And, again, it's cross-generational. But, for this character in particular, social media is her field of expertise and so she's very focused at work on social media. And like anybody who travels, they want to share their photos on social media. So that unexpectedly starts what is just another facet of what's going on with her and for me, just another visual way to tell the story. It's a bit of a storytelling device. In the past, you'd be sitting at a café and writing postcards. Now you're sending your posts on Instagram.

Yeah, that's really true. Even in the first episode, she's so surprised by how many followers she gets, because she's just sharing what she's doing every day.
And her content is good. She has fun with it.

Now, there are a lot of guys that Emily meets in this first season. Everyone seems drawn to her, from Gabriel to Antoine, to Camille's brother. Are you rooting for anyone? Are you team Emily and Gabriel?
Honestly, the guys are secondary. Emily's there for work, but they're a nice distraction at the same time.

Do you have a favorite scene or moment from the show? I was rewatching last night, and Pierre cracking the crème brûlée when he was upset was just so funny to me.
I love that! And that moment was conceived by Alison Brown, who wrote that episode, and I just love how unexpected that was and what it says about his character, just the quirkiness of that. And I also love when Emily meets Camille's father for the first time out by the pool.

And what about behind-the-scenes moments? Was there anything that was particularly memorable?
What was really memorable was the fact that we worked with a French crew. And they just were so talented and passionate about doing the show and sharing the city with us and generous about that. And all the Americans there were all there together, living and working in Paris for four months. The entire cast spent a lot of time together. They were having their own bit of meta experience living in Paris while they were doing this show. And really, almost of any show I've done, got to spend the most time off-set with the cast.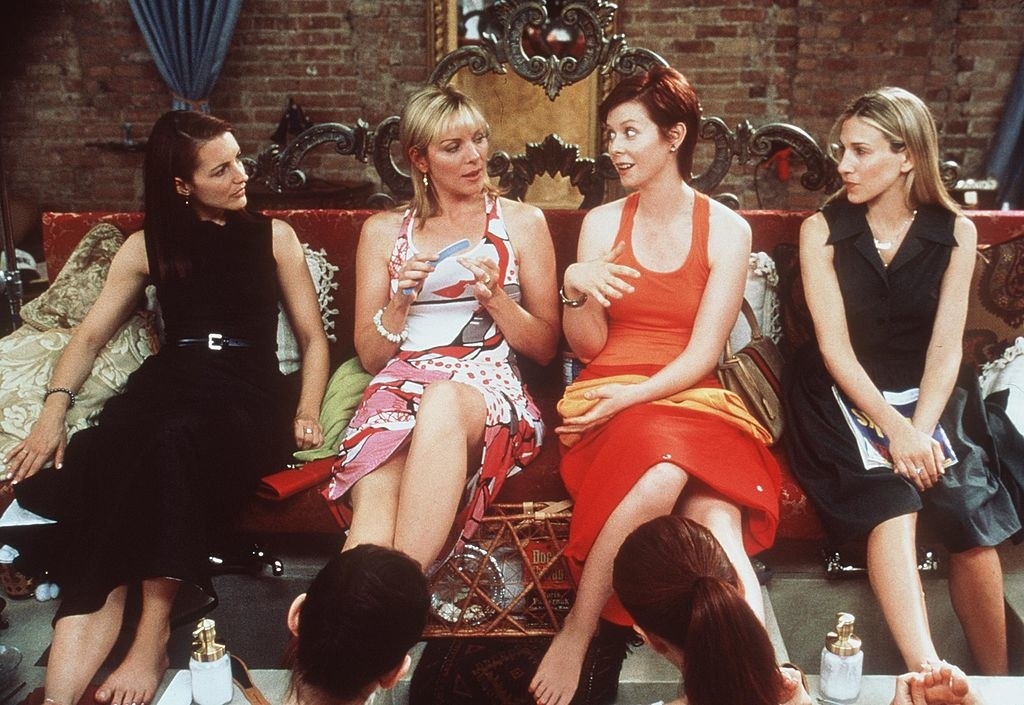 So, we've got to talk about Sex and the City. I'm such a fan. Looking back, is there any plot from the show that aired that you regret made it into the series? Or vice versa, is there something that you really wanted to show that you didn't get the opportunity to do during those six seasons?
Honestly, not that I can think of. We really got to explore all the characters so deeply, and in such a satisfying way. That really for me, there's just no loose ends.

Did you know when you were making it, what it was going to become? Did you have any that it would be such a cultural juggernaut?
No, no, absolutely not. For me, Sex and the City, I conceived it as the independent film for television. I'd done 90210 and Melrose Place, and Central Park West on CBS and it was sort of a big flop in a sense and I just thought, 'I want to do something that's not network,' and something that felt very personal and, speaking truthfully, that was something that you would never see on network television. So, to me, it was a sort of wanting to have a creative experience and not thinking about having a commercial success, which makes it all the more gratifying that it became a hit in the way it did.
"I said, to Sarah Jessica, I'm just so proud of what we did. I don't know what's gonna happen with the show, but I just feel like we did the show we set out to do."
At the time, doing a series on HBO then wasn't like — it wasn't known for its series. Actually, Sex and the City was a year before the Sopranos. We finished the first season before it aired and the very last day of filming that last scene of the first season I said, to Sarah Jessica, I'm just so proud what we did. I don't know what's gonna happen with the show, but I just feel like we did the show we set out to do and and we just got to feel really happy and proud about that, not knowing what would come of it.

That actually leads me perfectly into my next question. I know that it was on HBO, and it was very groundbreaking in its portrayal of women, their relationship to sex, and owning their sexuality. Did you ever get any pushback from the network?
No. They encouraged us to be brave. And to tell stories. For me, it was all about, 'Is this truthful and is this funny?' and that was the test.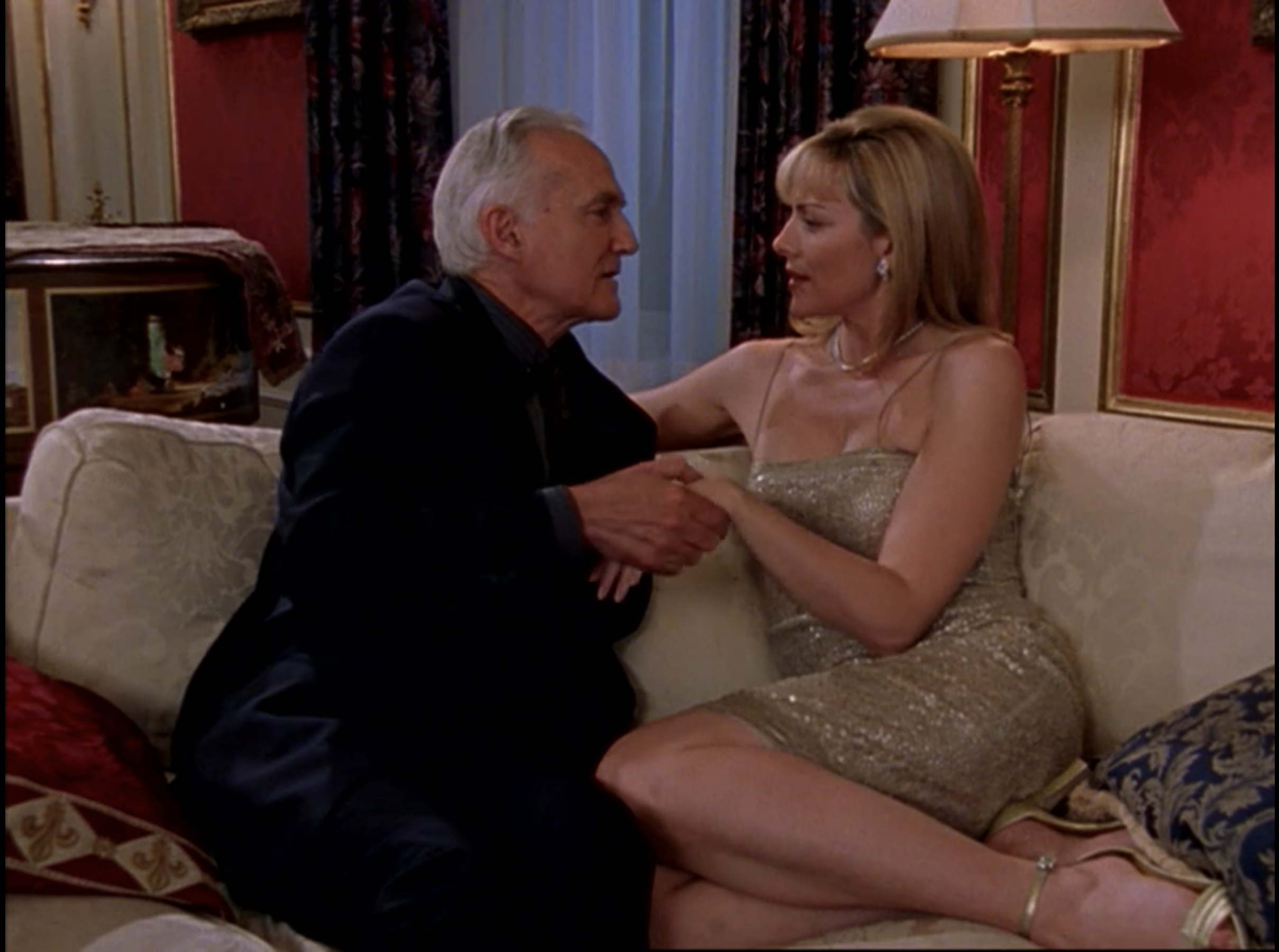 I know it was a while ago, but are there any favorite moments or behind-the-scenes things that stand out from Sex and the City?
The [moment] when Samantha runs out of bed [with the] flabby assed guy? Literally, I was kind of ruining the take by laughing so hard. But, for me on Sex and the City, there were just so many. It was kind of every moment. Being on the set and filming that show was a highlight...it really was. To be there, to watch — it was fun, and we all had the sense that we were doing something special together.

I really love how all of your shows feature strong, modern women. Can you talk to me about why you're drawn to those type of characters?
I love writing strong female characters, I like writing women because, especially when you're doing shows that are really about relationships, shows that are romantic comedies are generally female-driven. And I just feel like, women are funny, they're expressive, they're vulnerable, they're verbal about their feelings. And at the same time, none of these shows exist without great men in the cast, as well.
"Women are funny, they're expressive, they're vulnerable, they're verbal about their feelings."
Going back to 90210, is there's an ensemble. Even though it's Emily in Paris, she makes friends, she works with people, and there's a sense of family being created among the characters in the show. In different worlds, whether it's Beverly Hills High School, or living in a building on Melrose Place, or four women who are the most important people in each other's worlds, the characters create a family with each other. Even in Younger, there's a real strong cast, the ensemble, the characters, are family for each other. Absolutely.
What's the best advice Aaron Spelling ever gave you about creating TV characters?
I can't remember any specific advice he gave me about creating characters. We had a really wonderful, creative, working relationship, Aaron and I. What inspired me about him was he had a wonderful, creative spirit. And I got so much by osmosis, just working with him so closely. And he was, in terms of casting a show, looking at actors and you'd always be like, really? Just looking at their eyes. Because you get so much from the performance just really seeing what their eyes are telling you.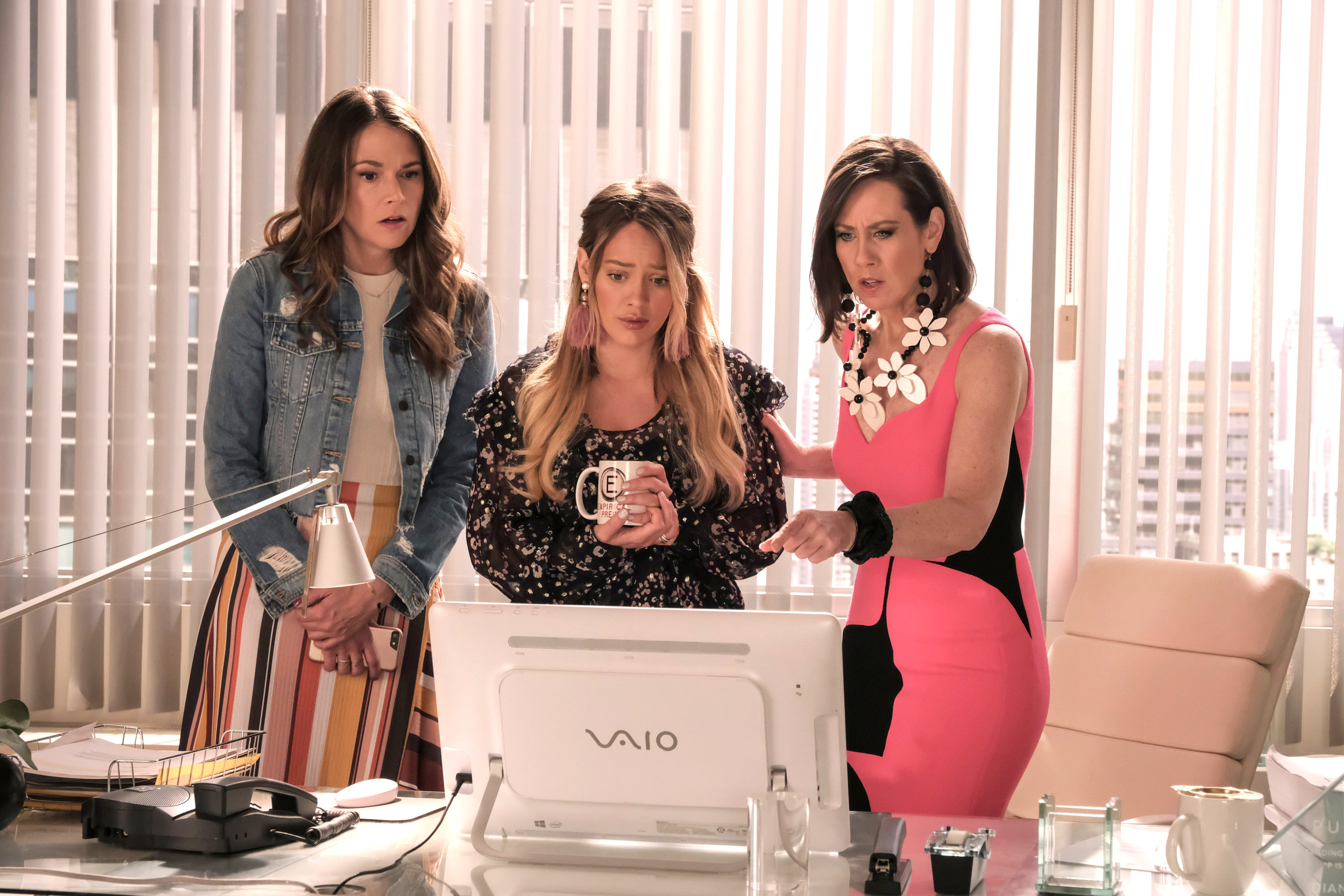 The final season of Younger is upon us. I'm so sad it's ending, but glad that we're getting a wrap up. Is there anything that you can share or anything that you want fans to take away from this final season?
We're all right now debating those last few episodes on our Zoom writers room. We were supposed to start filming in April, and got stopped in our tracks with COVID. And so we are regrouping, we start filming October 12 in New York, which is really exciting. And, for me, it's just about finding this really satisfying ending for all of our characters. The cast has grown, the ensembles grown. And so we've got a lot of characters the audience has grown to love so, we as writers, want to give all these characters a great farewell.

Just one last question: Out of all of your shows that you've created over the years, do you have one favorite character or one character that you relate to the most?
I relate to Carrie the most on Sex and the City just because she's a writer. And so it's easy to put myself in the shoes of a writer, in the head and the mind of a writer. So, in terms of thinking about the world from a writer's point of view, and that there was so much voiceover in that narrative, and that show that was written, I certainly understood how she was looking at the world, in the same way that I look at the world, when I think about characters and trying to put threads together and trying to figure things out. But, Carrie is also an observer. Writing that character was something that I really enjoyed doing, because it was so close to the way my thought process is about the world.

And there you have it, folks! Be sure to check out Emily in Paris, now streaming on Netflix.