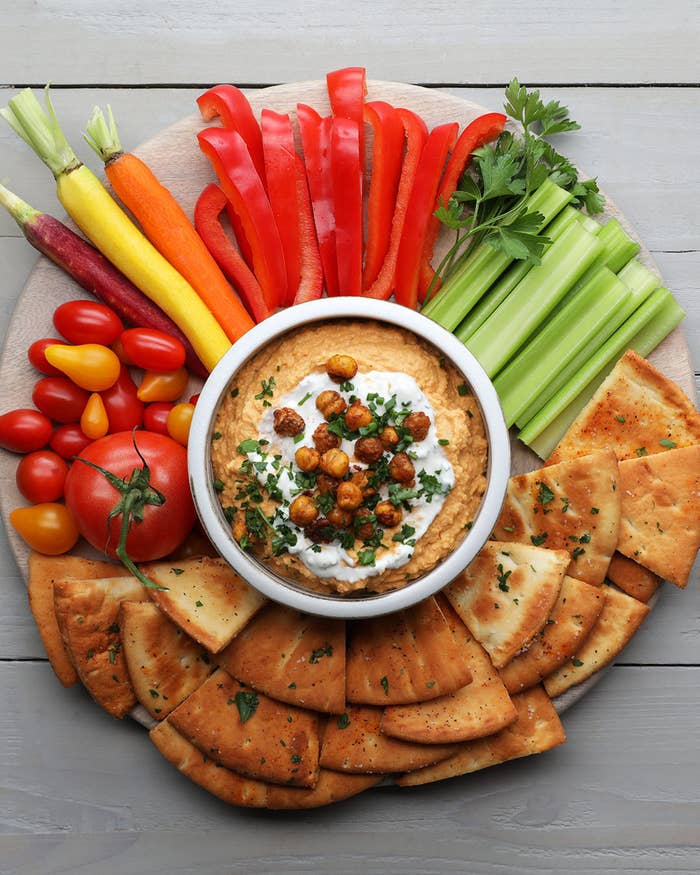 Servings: 10–12

INGREDIENTS
Crispy Chickpeas
1 can Wholesome Pantry garbanzo beans, drained and rinsed

1 tablespoon olive oil

⅛ teaspoon cayenne

½ teaspoon garlic powder

1 teaspoon salt

¼ teaspoon pepper

½ teaspoon smoked paprika

½ teaspoon cumin

Blue cheese sauce
1 cup sour cream

2 tablespoons milk

1 teaspoon lemon juice

½ teaspoon salt

¼ teaspoon pepper

½ teaspoon garlic powder

1 tablespoon chopped chives

1 tablespoon chopped parsley

½ cup crumbled blue cheese

Buffalo hummus
2 cans Wholesome Pantry garbanzo beans, drained and rinsed

3 tablespoons olive oil

3 tablespoons water

1 clove garlic, peeled

3 tablespoons lemon juice

¼ cup tahini

4 tablespoons hot sauce

½ teaspoon smoked paprika

1 teaspoon cumin

1 teaspoon salt

¼ teaspoon pepper

Toppings
Chopped chives

Chopped parsley

Olive oil

PREPARATION
Preheat oven to 400℉/205℃.

Dry garbanzo beans and pour into bowl. Drizzle with olive oil and toss until coated.

Add cayenne, garlic powder, salt, pepper, smoked paprika, and cumin. Toss to coat.

Place in oven for 30 mins or until crispy. Set aside to cool.

To make blue cheese herb sauce, combine all ingredients in bowl and whisk to combine.

Place all hummus ingredients into food processor and blend until smooth and creamy. Add more oil or water if necessary to reach desired thickness.

To assemble, fill bowl with hummus, spoon blue cheese mixture over it, and drizzle with small amount of olive oil if desired. Sprinkle with chives and parsley.

Enjoy!