When do you get to school?

How many community service hours do you have so far?

100 - already got the award!

Once I get around to logging them... how do you do that again?

What do you tell the teacher if you didn't do your homework?

Your internet wasn't working? Yeah, your internet wasn't working.

Nothing. I'm sure I already handed that homework in a few days ago.

I won't show up, just like I've done for the past week.

Nothing. I'd do the homework during lunch or breakfast

Nothing and hope they won't notice

Conveniently schedule a meeting with Ms. Ponsky during that class

What do you do during lunch?

I only study. There's no time to eat.

Go to whatever random program is taking place

Go on a hunt for food because I forgot my lunch… again

What extracurriculars are you part of?

Newspaper (it looks good on my resume)

East Asian Studies Club (yes it still exists)

None. There's too much TV in this world for me to catch up on.

The clubs that didn't make the cut

What's the main reason you're usually late?

Late? I just don't show up.

I was meeting with Rabbi Trencher... while making coffee... and exploring the halls

It's a Short Friday and you forgot that 5th period is before lunch

What minyan do you usually go to?

Whichever one didn't have a working iPad

What do you do during class?

Do homework for other classes

You mean if I went to class?

Starbucks or online shopping. Depends on the day.

What do you do in your free time?

How long does it take you before you space out during class?

Until the teacher starts talking

I'm always very focused... on Facebook messenger

10 minutes until I start wondering how long until my free period

There's a difference between spacing out and working on other homework

Does falling asleep count as spacing out?

Until I get bored (after about 2 minutes)

What do you usually do right when you get home from school?

Get started on the essay that's due in five months from now

Tell yourself that you'll start your homework soon as you open 20 tabs on your computer

Freak out about all the work you have to do

What would you do/give in exchange for a shorter school day?

Why would I want a shorter school day?

Having longer, but fewer classes

Anything besides my sleep

I already just don't go to class

What time do you usually go to sleep?

Where do you usually eat lunch?

Random places throughout the school

I always forget my lunch...

If you could have a plaque with your name on it on one thing in the school, what would it be?

The coffee machine in Rabbi Trencher's office
Which Berman Schedule Are You?
You got:

Wednesday Schedule
You stayed up until 1:00AM last night and then proceeded to study during every single break throughout the day, pausing only to eat that chocolate bar you bought from canteen on your way to the library.
You got:

Short Friday Schedule
For you, class is just 40 minutes of watching the minute hand on the clock. For you, the best school day is a no school day, or at least, a short school day.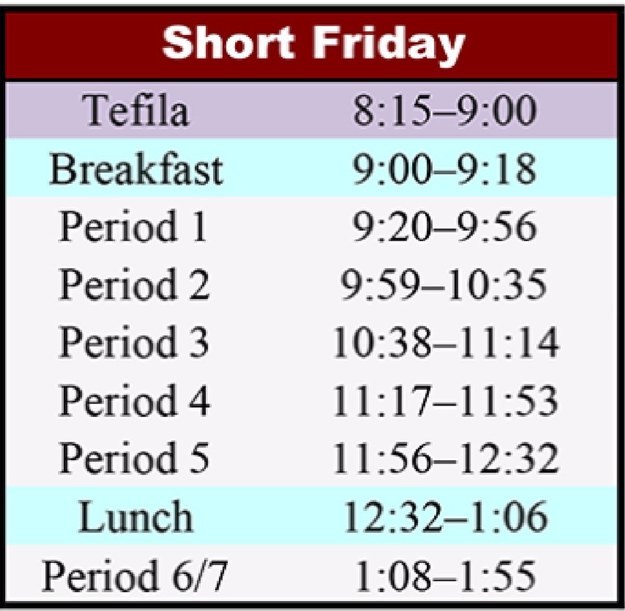 You got:

Long Friday Schedule
You like the day short, but you'd like to keep your breaks the same length so that you can fully enjoy Free Food Friday. Plus, there's still time when you get home to watch Netflix.
You got:

Regular Schedule
Some would call you boring, and others would call you, well, boring, but you just like consistency. Complicated schedules aren't really your thing because you like to be able to remember exactly when class ends so that you can be the first one out the door when the bell rings. Unfortunately, this means fewer excuses for why you weren't at mincha...
You got:

11 AM Delayed Opening Schedule
11 AM Delayed Opening Schedule: You never come to school before 11 AM anyway, so why does it make sense that school should start without you?
You got:

AM/Lunch Assembly Schedule
You like to be where the action is. You can be seen in pictures from every school event, including every grade's shabbaton.
You got:

Short Friday/Rosh Chodesh Schedule
You feel that you have too many things to do in too little time. Each day is crazy in it's own way. Whether you're attending a meeting for a club you're in or organizing an event, you're always running around doing something. It has been concluded that you don't sleep.
You got:

Wednesday/Fast Day Schedule
There's a 99% chance that you never eat, sleep, or do anything that isn't productive.
You got:

Wednesday/Breakfast Assembly Schedule
Sure, you might push work off to the last minute, but as far as your teacher knows, your internet wasn't working last night.
You got:

Even Block Day Schedule
Every class is just as boring to you. It's all the same, so you would be willing to have classes almost twice the normal length just to end school an hour earlier. Some would agree with you, while others would consider you insane.
You got:

Odd Block Day Schedule
For some odd reason, you don't space out during class and don't mind the long school day. You seem to genuinely enjoy learning.
You got:

Rosh Chodesh Schedule
You do your homework a couple months in advance and go to sleep before 10:00. Whether it's davening or class, you're always early. The question that no one can answer is why you would do such a thing.
You got:

November 28th Schedule
You like randomness in your days. Chessed Faire instead of 8th period? Why not? Classes at different random start and end times? Sure.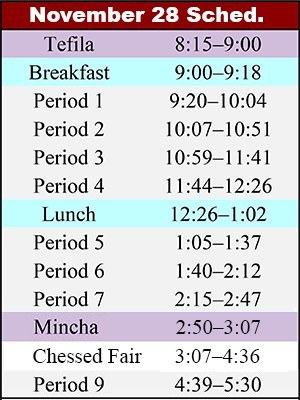 You got:

AM Assembly/Long Friday Schedule
You always seem to miss class at especially convenient times. However, when you do arrive, it's always with a note in hand.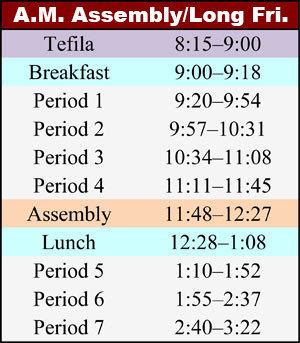 You got:

Delayed Opening Schedule
You're like a human zombie walking through the hall. You always seem to be tired, yet it doesn't seem like it was work that you were staying up late to do last night.
You got:

AM Assembly Schedule
You like variety in your days, but only to a point. Shorter classes are okay, but a significantly shorter lunches are not.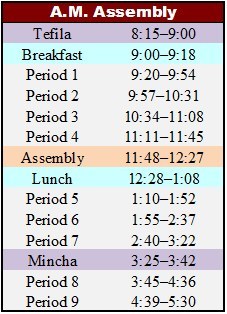 You got:

Asara B'Tevet Schedule
You never seem to eat anything during lunch anyway. Then again, you never seem to remember your lunchbox either.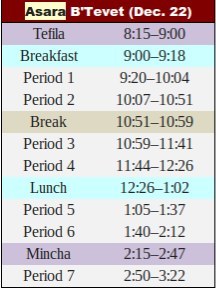 This post was created by a member of BuzzFeed Community, where anyone can post awesome lists and creations.
Learn more
or
post your buzz!