If you've watched Tiger King on Netflix, then you're already well-versed in the personality that is Joe Exotic, as well as his long-standing feud with Carole Baskin.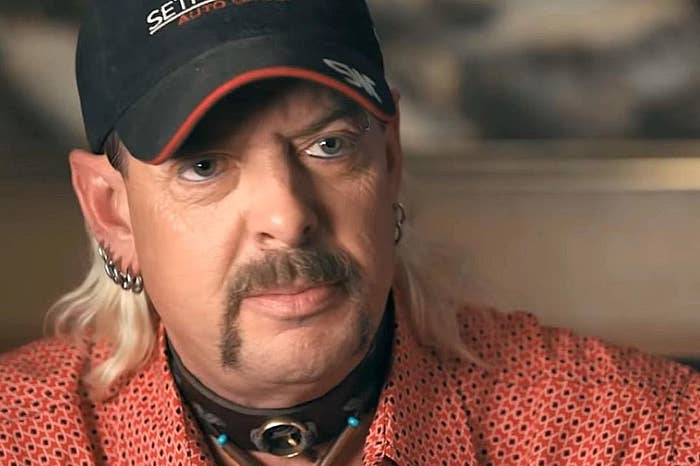 And if you're wondering at all how Joe feels about, well, everything...you're in luck! Netflix just tweeted an interview they conducted with Joe from prison on March 22, where he shared a few of this thoughts.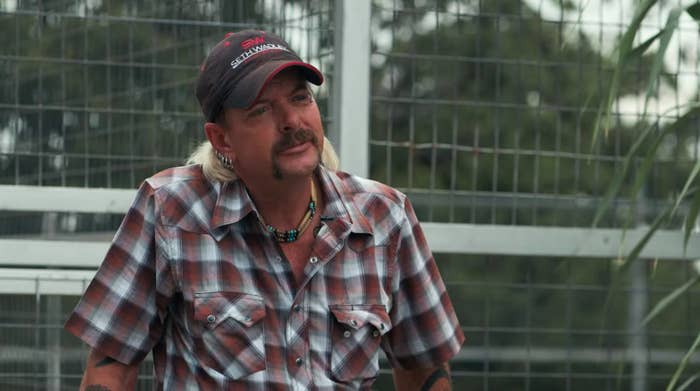 When asked if there's anything he'd like his fans to know, Joe mentioned that he was ashamed of his behavior and how he treated his animals.
Go sit in a cage with your animals for a week. I mean, when I left the zoo and I sent my chimpanzees to the sanctuary in Florida, and imagined what my chimpanzees went through for 18 years...I'm ashamed of myself.
He also expressed that he's "done with the Carole Baskin saga" and is now more interested in attaining his freedom.
I'm done with the Carole Baskin saga. It's now time to turn the tables, and Joe get out of jail a free man and exonerated from all these charges.
His marriage to Dillon, who we briefly saw in the series, is apparently still strong.
As short a time as I was married to Dillon, and still married to Dillon, you know, eight months before I got arrested for all this, It's been a year and a half of sleeping in a car and and going from couch to couch, and house to house. I can't thank my husband enough for standing beside me.
And lastly, he's a little bummed he can't properly experience his fame from prison!
You know, it would be nice if I could actuallly see me being famous out there, but I've seen the same four walls for a year and a half now.
Well, there you have it! Watch the full interview below, and if you haven't already, do yourself a favor and stream Tiger King on Netflix.