Hey, my little lovelies! I'm Shelby, and I'm a vegetarian-turned-recent-pescatarian. I haven't eaten red meat or chicken in almost 15 years, but thanks to innovations in plant-based foods from brands like Impossible and Beyond Meat, I've become OBSESSED with vegan burgers.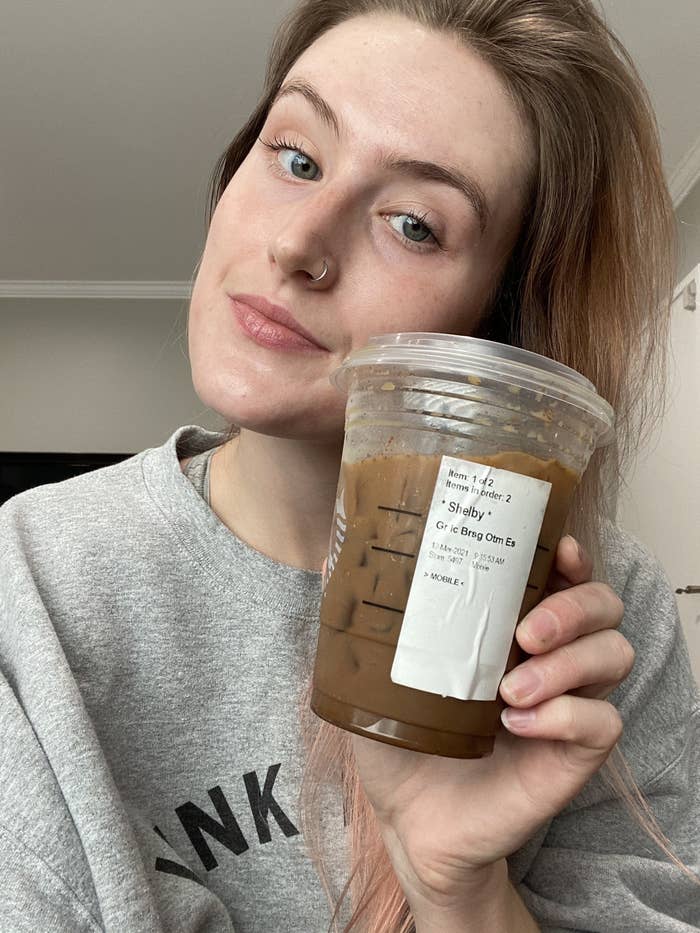 If it's smothered in vegan cheese and tastes even remotely like a real burger, I want it in my mouth. So imagine my shock and awe when I came across this vegan McDonald's lookalike on TikTok:
Although it bears a pretty ~striking~ resemblance to the Golden Arches we all know and love, the restaurant is actually called Mr. Charlie's. According to the LA Times, Charlie Kim, the owner, wanted to offer plant-based versions of well-known fast food items. And when they asked him about the place's similarity to McDonald's, he simply responded, "'McDonald's who?'"
Literally everyone and their mom (in LA) has been rushing to get their hands on some Mr. Charlies — check the #VeganMcDonalds tag on TikTok — and even the veggie queen LIZZO HERSELF gave a review!
Since I currently live in the LA area, I decided to try out Mr. Charlie's for myself and see just how well it compared to actual, meaty McDonald's.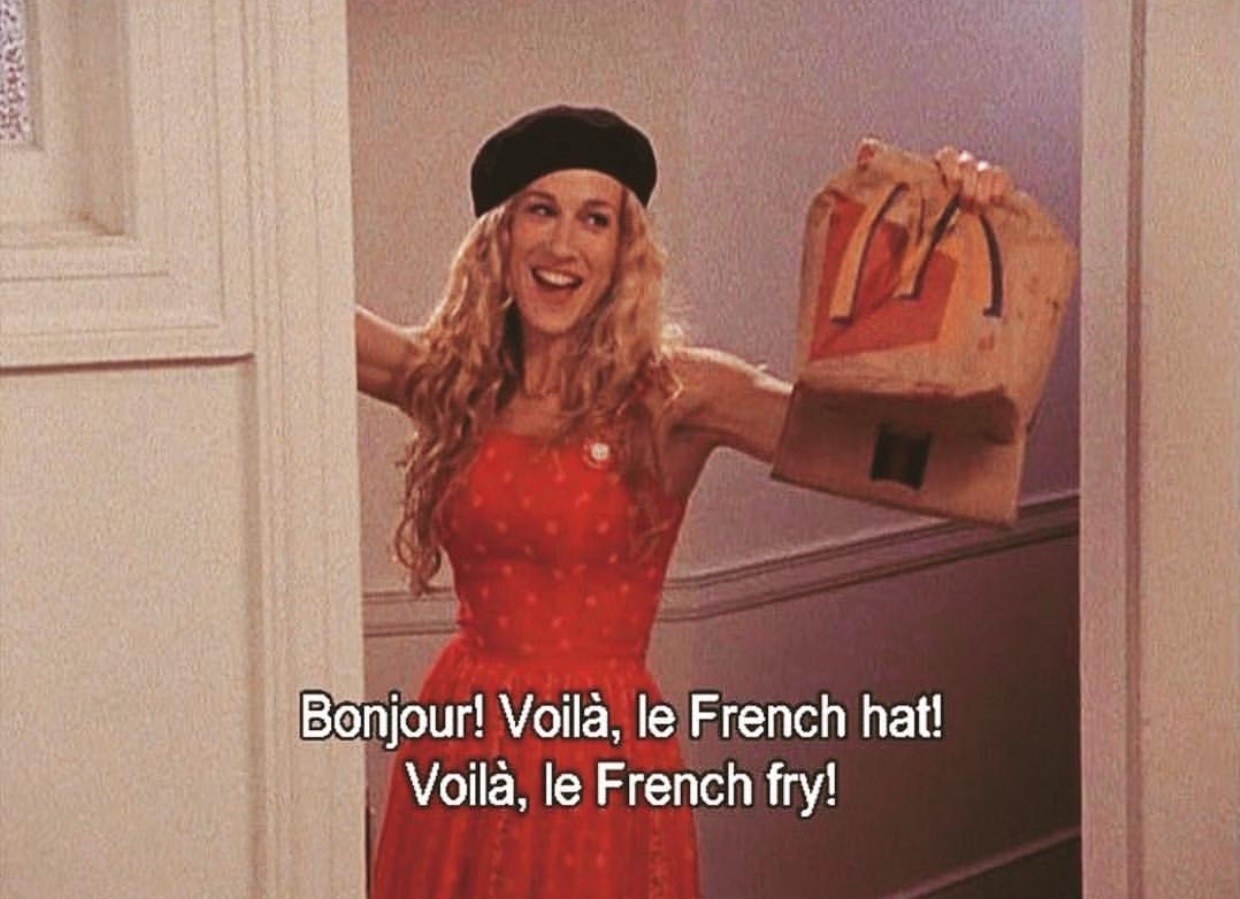 Now, you might be thinking, "Shelby how the hell are you going to be able to compare this to McDonald's if you haven't eaten one of their burgers in years?" And that's a fair point!!!
So here are my credentials: This might be embarrassing depending on who you ask, but when I was a child, I was OBSESSED with McDonald's. Like, I asked my mom to get it for lunch/dinner multiple times a week, and she usually broke down and gave it to me at least once a week. I ate countless McNuggets, double cheeseburgers, and fries throughout my youth, to the point that the taste is practically burned into my tastebuds. I can honestly taste it now, even as I'm typing this confession to you.
So, with that, I made the journey over to Mr. Charlie's. It was just as red and yellow as I dreamed.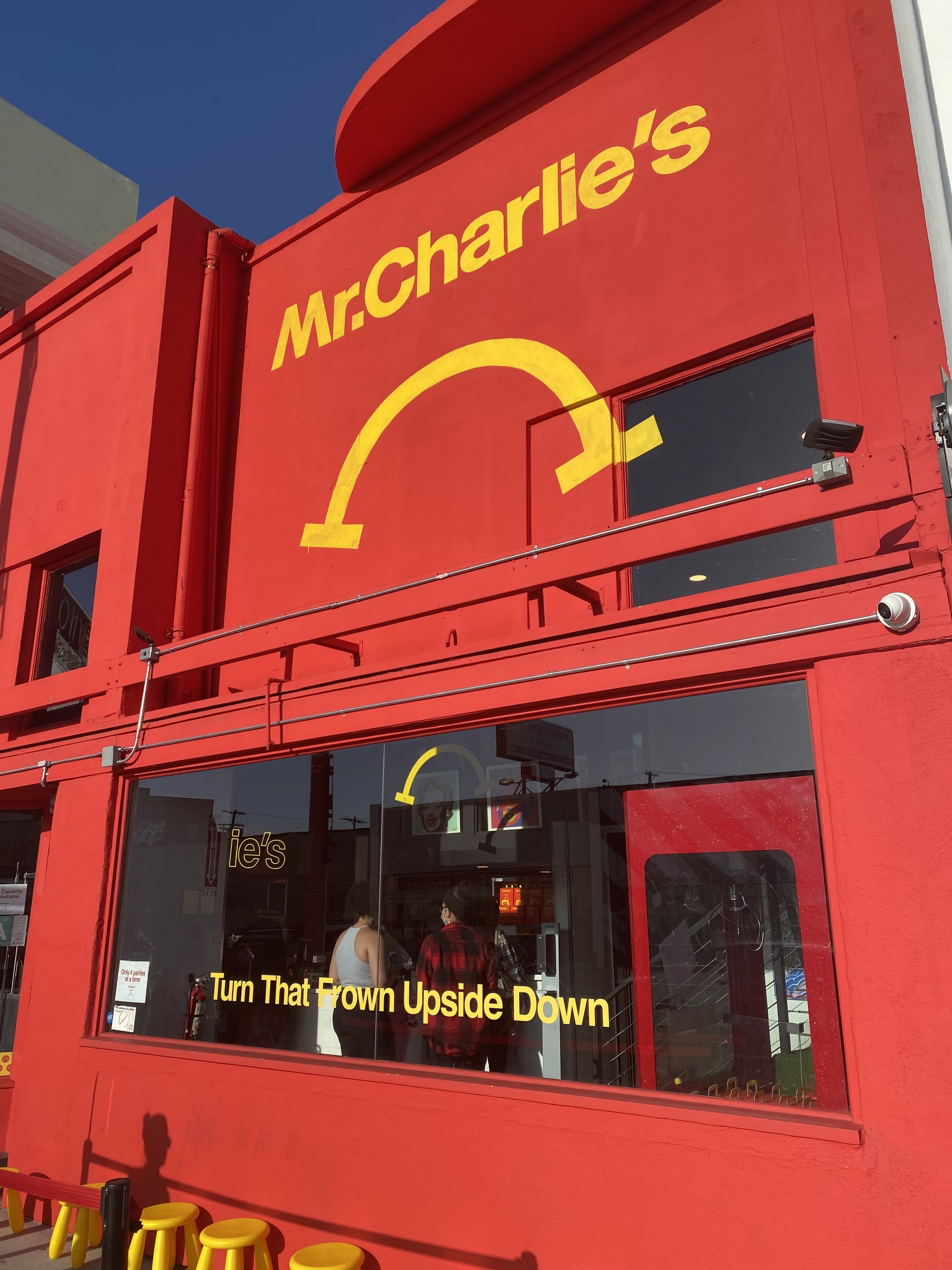 Inside, it was pretty small and there wasn't any seating, but there were A LOT of red boxes I couldn't stop taking pictures of.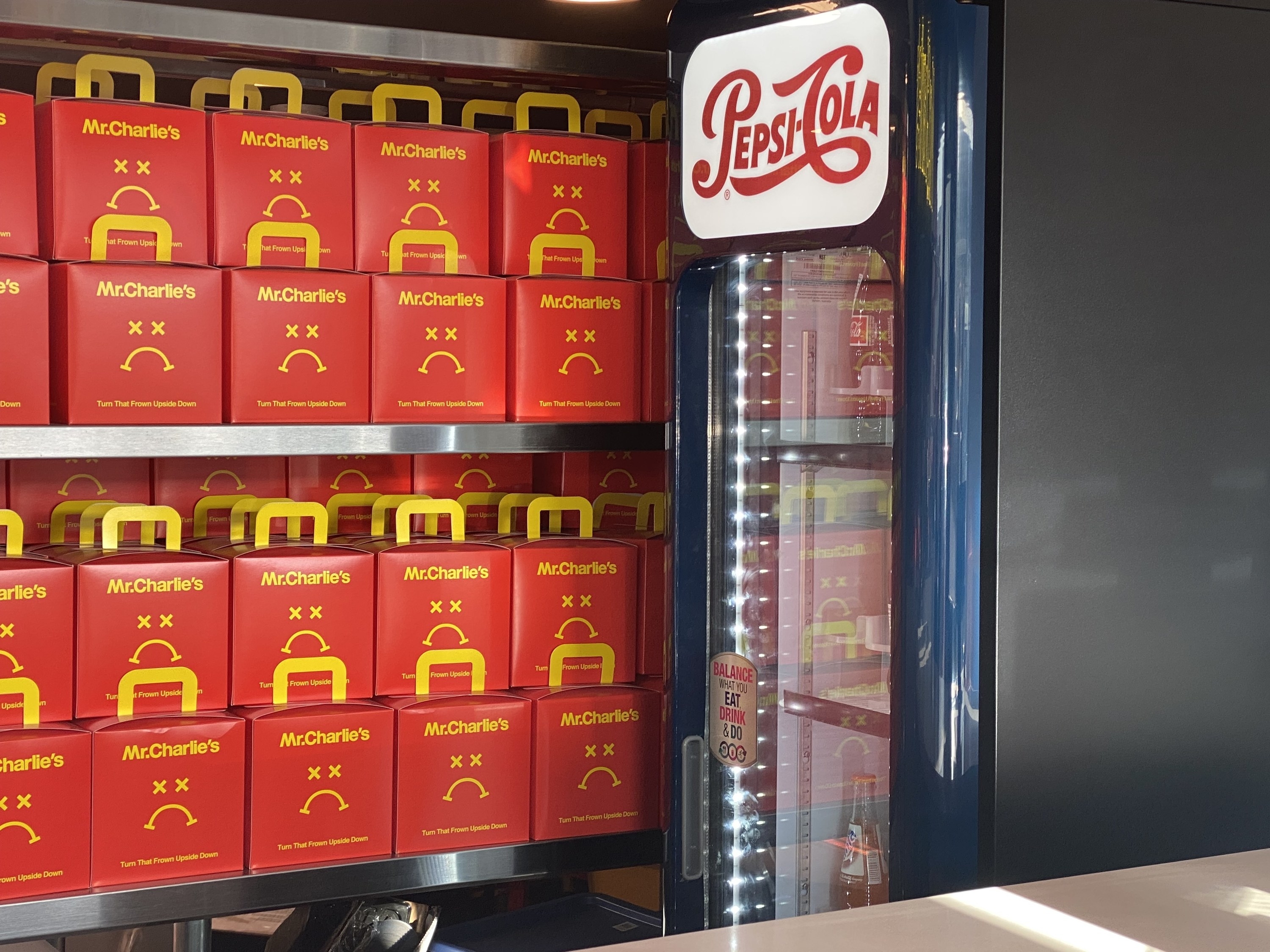 Customers could walk up to a monitor and place their orders on the screen. I, of course, forgot to take a picture of this, but TikToker @johanna2084 luckily had me covered.
The main seller at Mr. Charlie's is the Frowny Meal (get it?), which includes, a "Not a Hamburger" (an Impossible burger patty, pickles, onions, ketchup, and mustard), four "Not Chicken Nuggets," fries, and a drink, all for $15. You can add cheese to your burger or an extra patty for more $$$. You can also order everything separately à la carte!
After ordering and getting my food, I couldn't stop staring at my Frowny Meal box. It kind of felt like I was 5 years old again!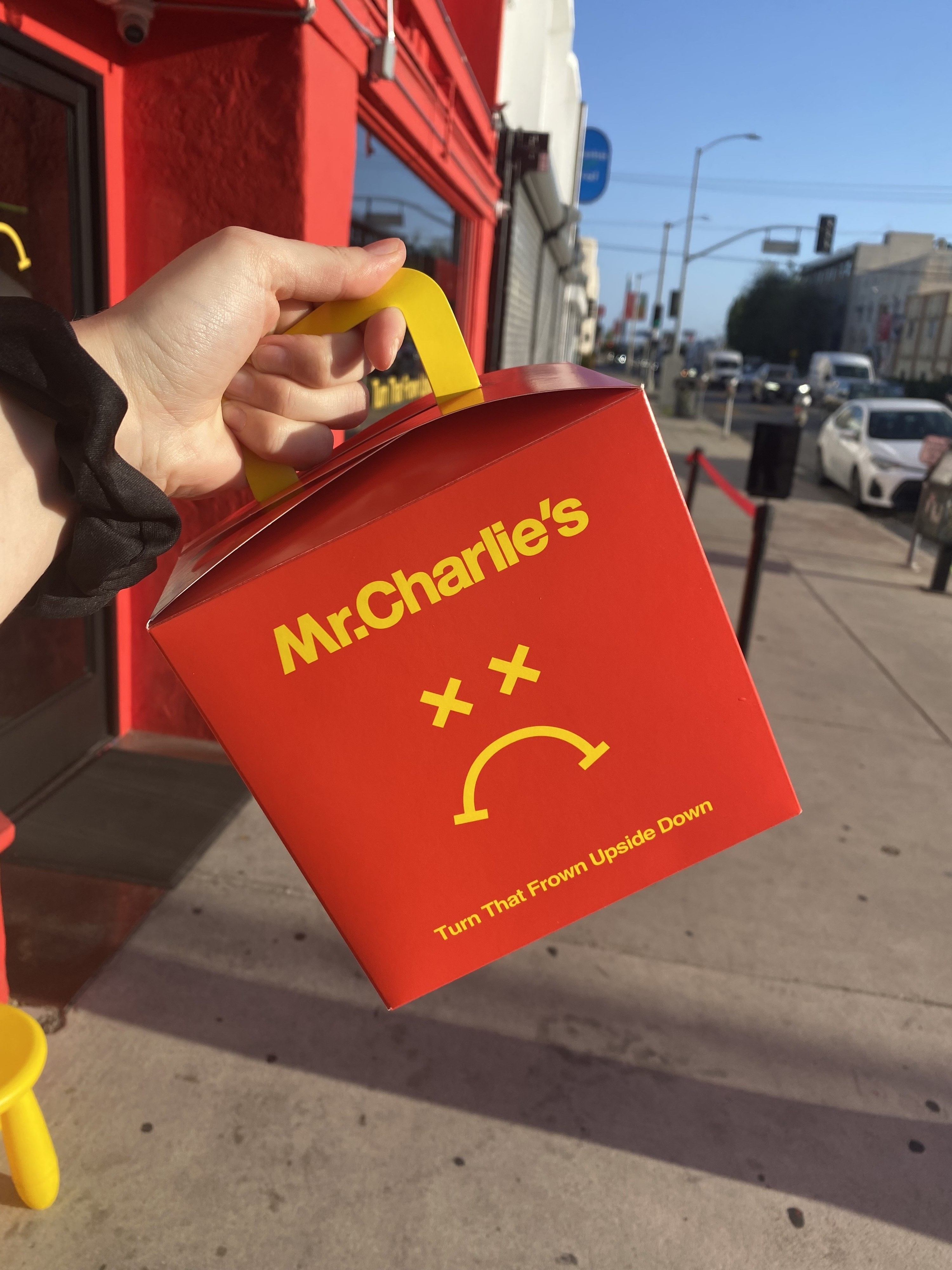 There wasn't really any seating outside the restaurant either, so my friend Daniella and I had to take our food elsewhere and sit at a nearby Chipotle. Here's what it looked like in all its glory: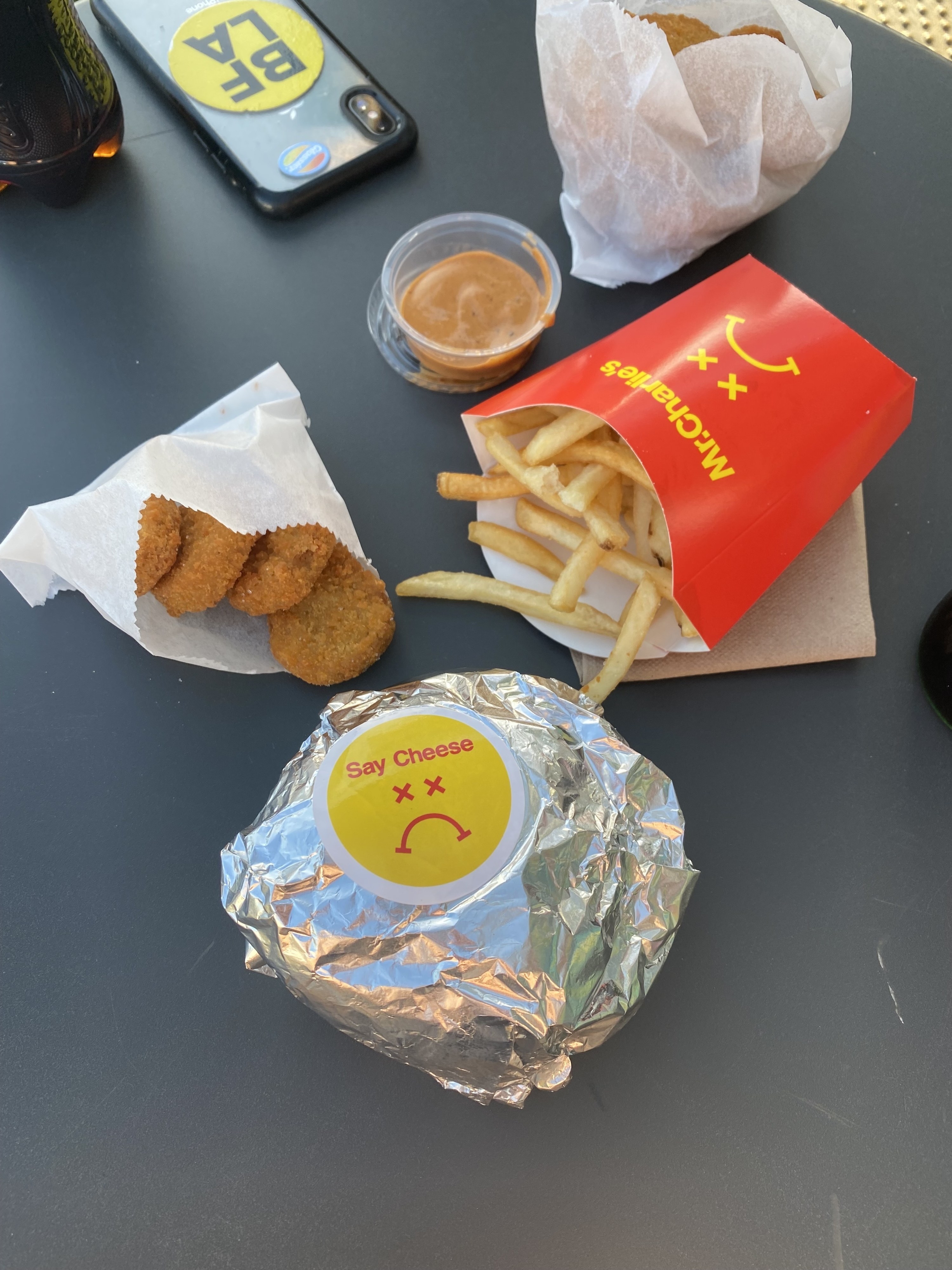 First up on the taste test was the burger. It certainly had McDonald's vibes just based on looks.
And, when I took a peek under the bun I saw that they even used little tiny onions like McDonald's does!!! I was sold.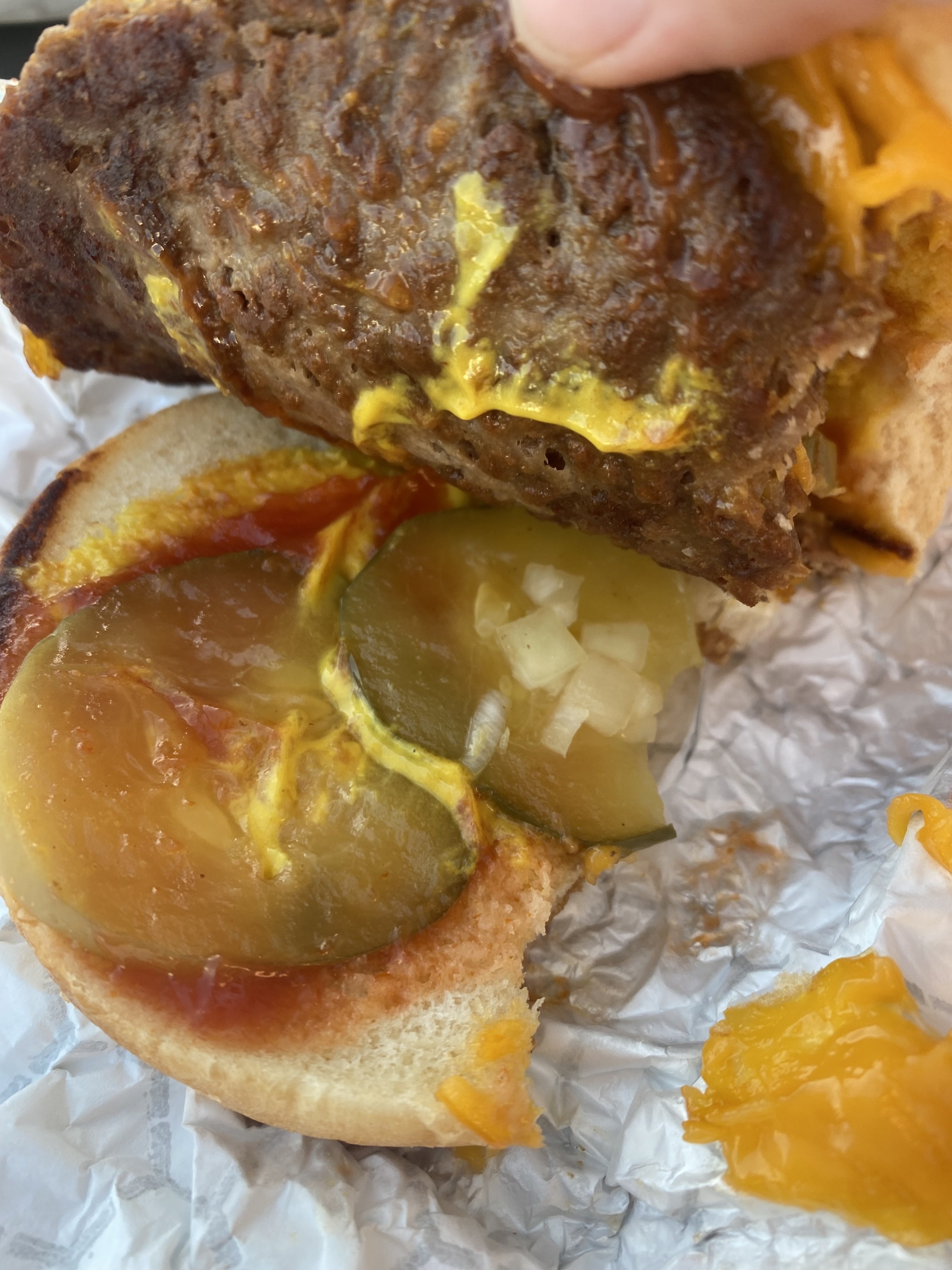 As for taste? Ohhhh my gosh, I could not BELIEVE the similarity to McDonald's. From the bun, to the sourness of the pickles, to the familiar and comforting combo of just enough ketchup and mustard. The burger patty was thin just like a McDonald's patty, and tasted flavor-y and juicy. I happily wolfed it down. Here's a pic before my final bite.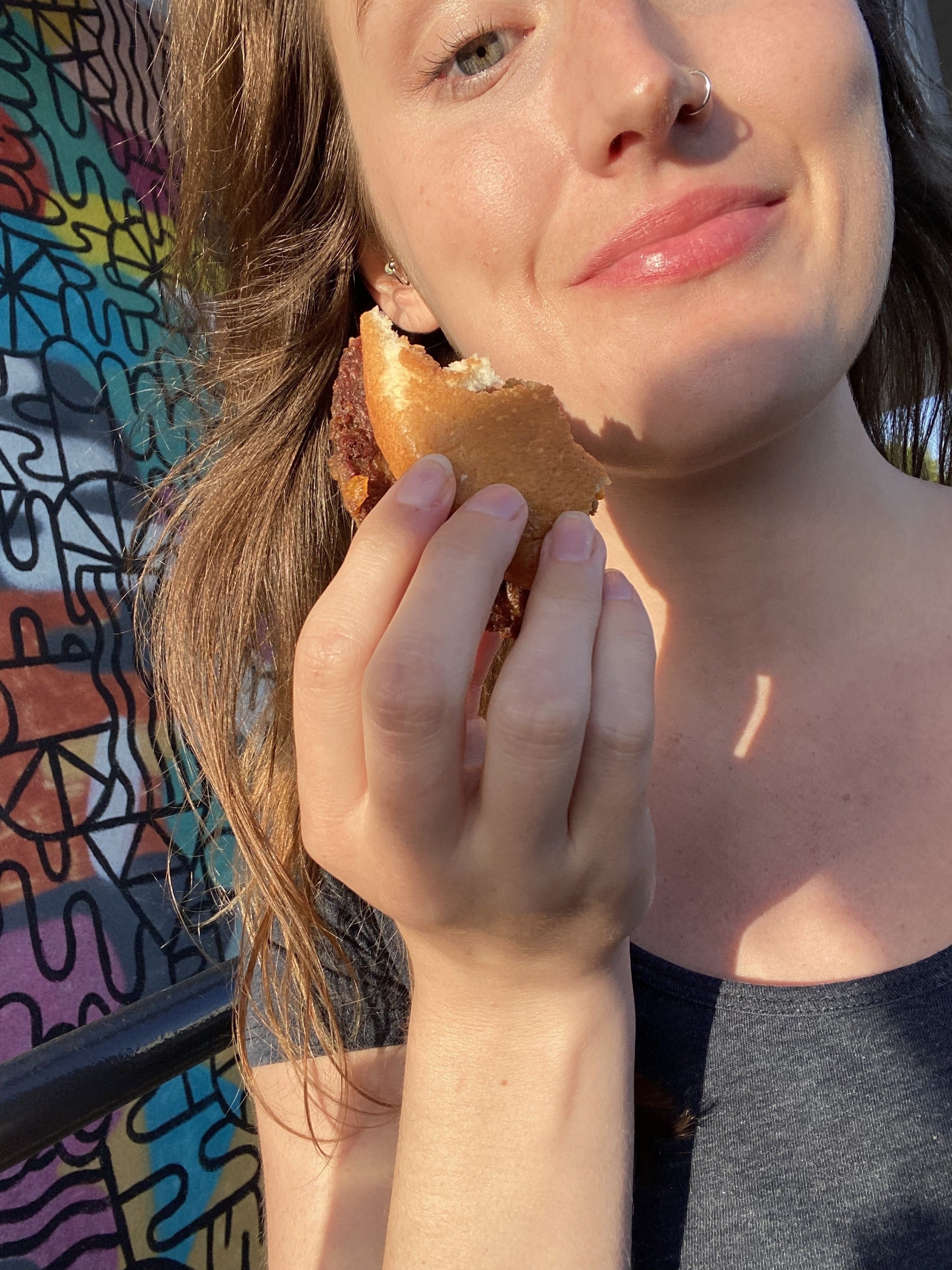 Next up were the fries. I felt like this would be a pretty tall order to fill since McDonald's fries are quite specific. Either way, they looked pretty darn good.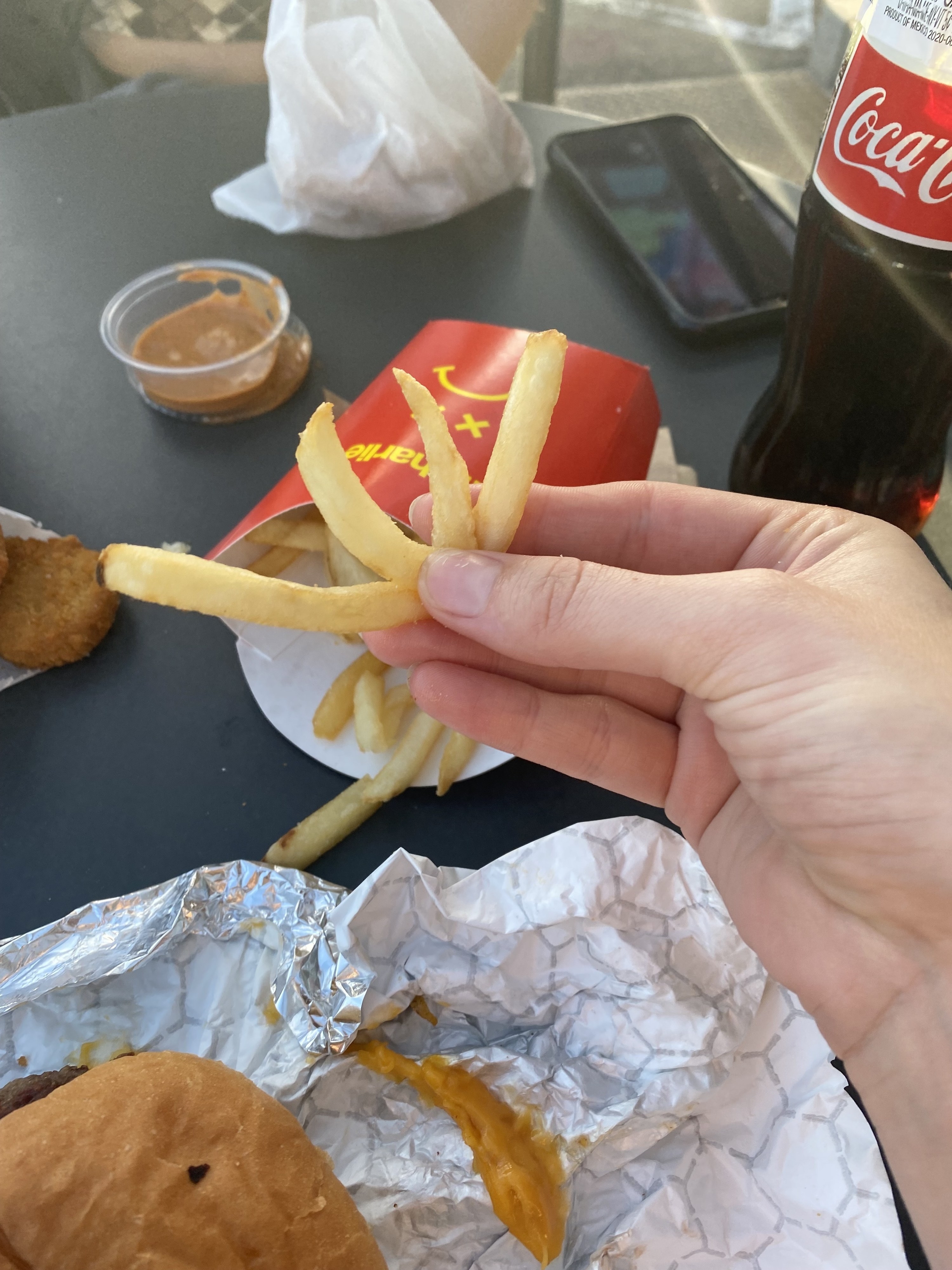 Once again, they tasted VERY similar to McDonald's. The texture was akin to that signature chewiness you think of when you picture McDonald's fries. Our fries were a little cold because we had to walk to find a place to sit, but no real complaints.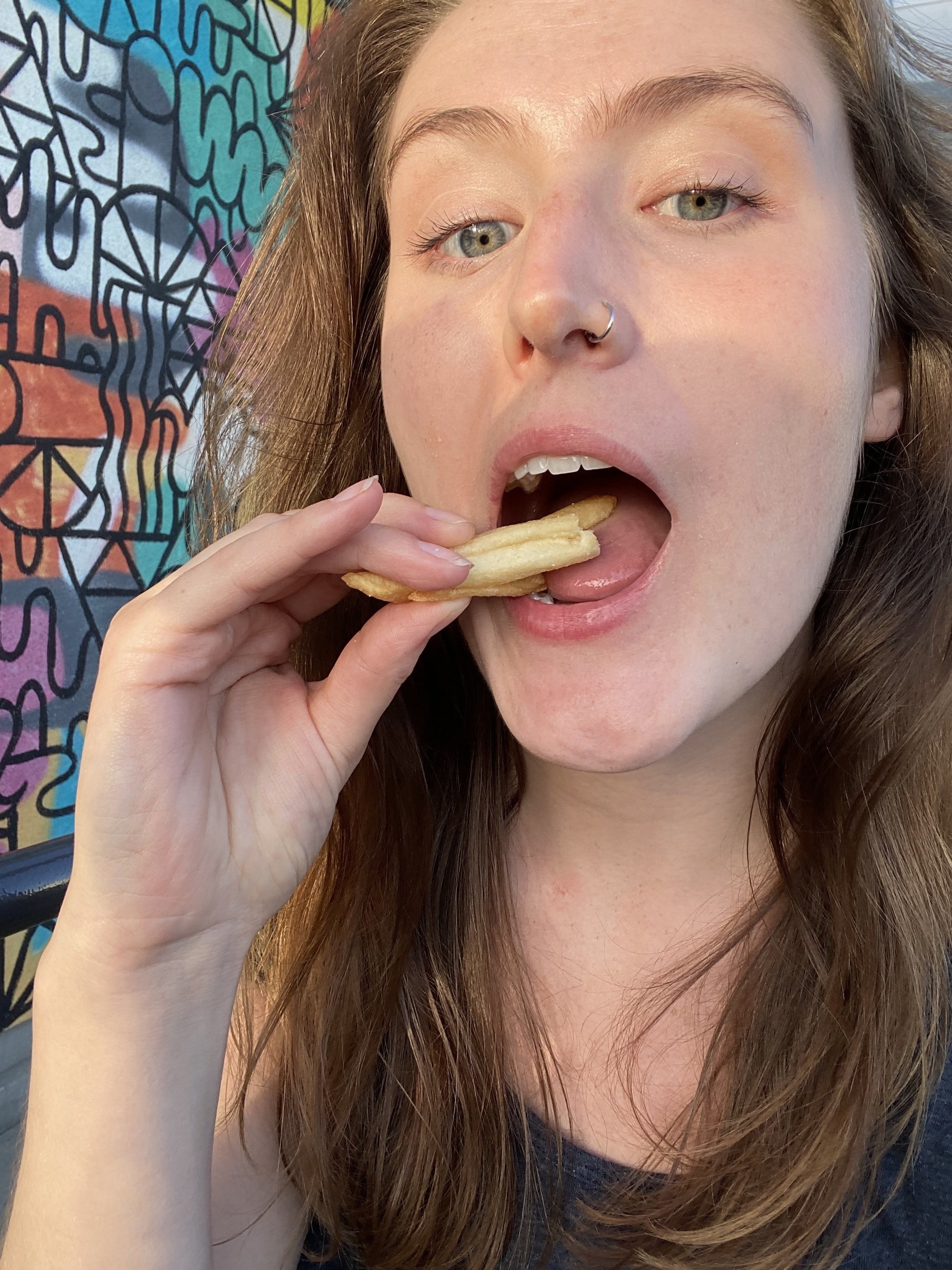 Lastly, the nuggets. Right off the bat I noticed that that breading around the Mr. Charlie's nuggs looked different than the breading that I absolutely inhaled as a child. Definitely crispier.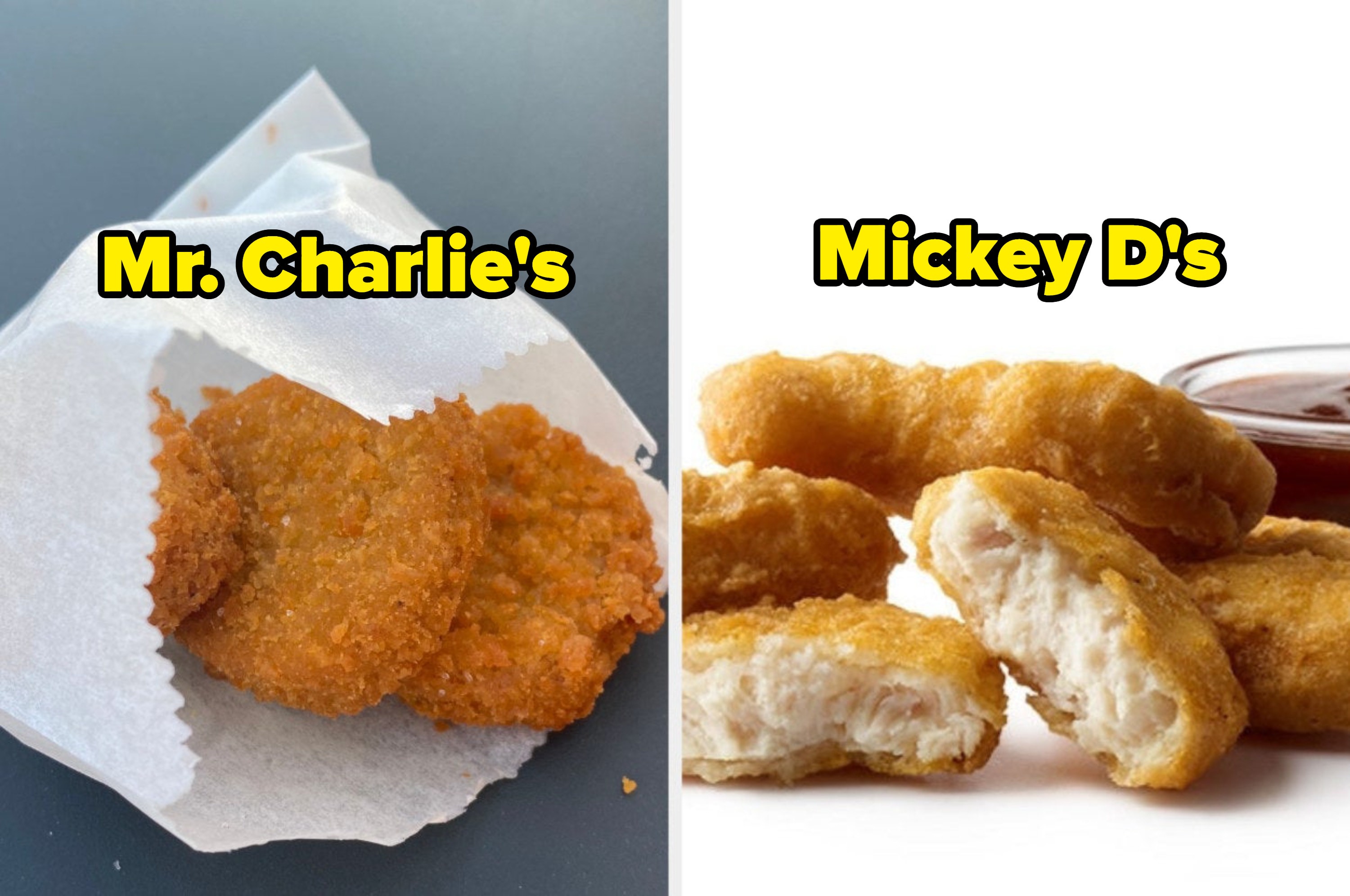 They tasted different, too! The super crispy breading gave the nuggets much more of a crunch, more like Wendy's nuggets than McDonald's nuggets. Still, they were SO GOOD. Plant-based chicken can be hard to do, but these were juicy and not rubbery at all. Daniella and I both agreed these were the star of the show.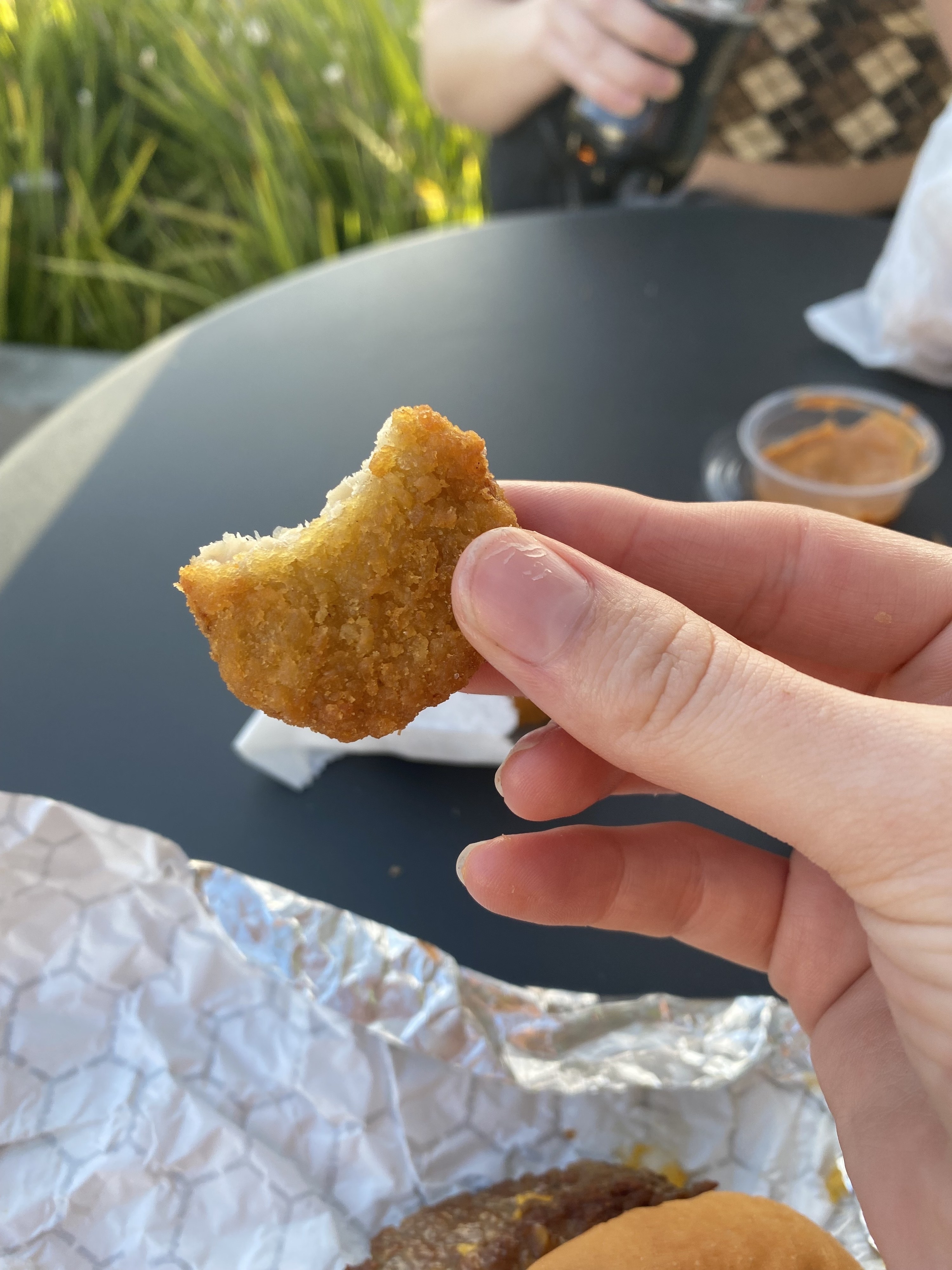 When it was all said and done, these were the remnants. Obviously, we hated it.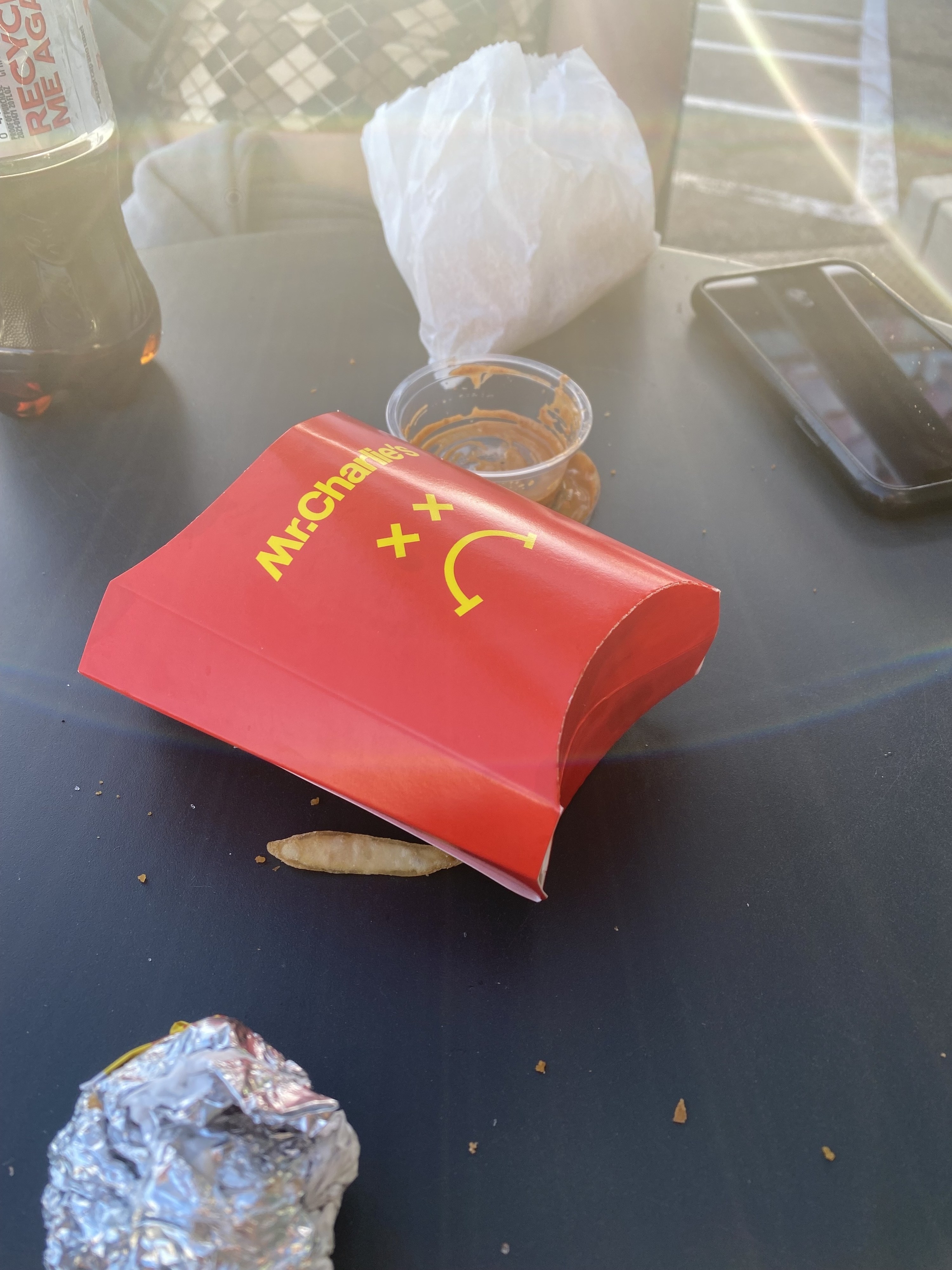 Final report? I'm obsessed!!! I absolutely LOVE that Mr. Charlie's offers such a comforting plant-based option for people craving the flavors of the gold arches, but not the chicken or beef. Does it cost more than traditional McDonald's? Yes. But you're also paying for a meal that's friendlier for different diet restrictions and still tastes delicious. I def recommend trying if you're curious and in the LA area. Ciao!
Btw, Mr. Charlie's is located at 612 N. La Brea Ave. in the West Hollywood area of Los Angeles and you can also order online via DoorDash!