Hi, I'm Shelby, and I have thin, (mostly) straight hair that doesn't have a ton of body.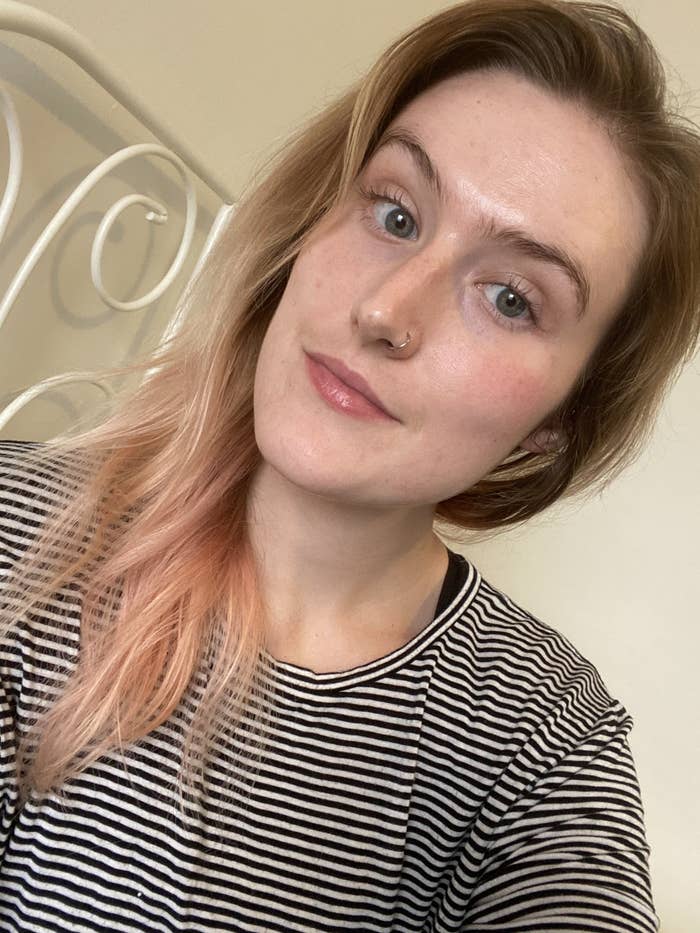 I've always been a little insecure about my hair, so I'm always looking for ways to make it look a little more lively. But tbh, I don't know the first thing about doing hair. So most of the time, I just opt for a bun or ponytail and call it a day.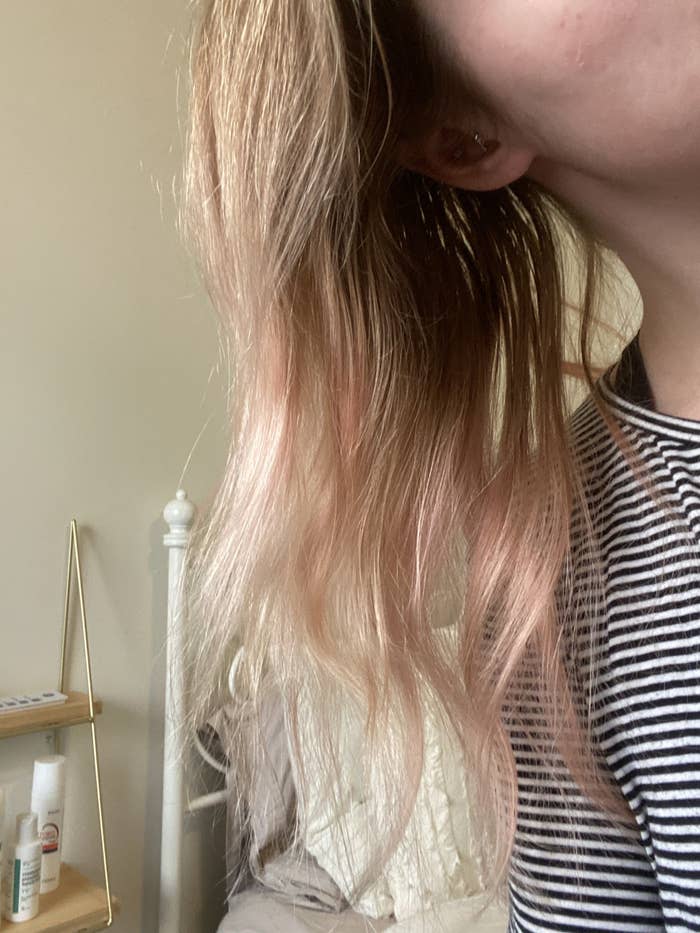 But in the last year, I've become pretty obsessed with the idea of waving my hair to achieve the perfect ~beachy waves~ I feel like we always hear so much about. It seemed like such an easy fix to give my hair some extra oomph, but whenever I decided to take the plunge and buy a waver for myself, I'd get super overwhelmed by the number of options in terms of brands, products, and prices. Seriously, there are a lot out there.
So in the name of (hair) science, I decided to try three of the most popular hair wavers on the internet at three different price points to see which one (if any) could actually achieve the ~perfect wave~. I tried to be cautiously optimistic. Would one single tool be the answer to all of my hair woes?! Probably not, but I was willing give it a try!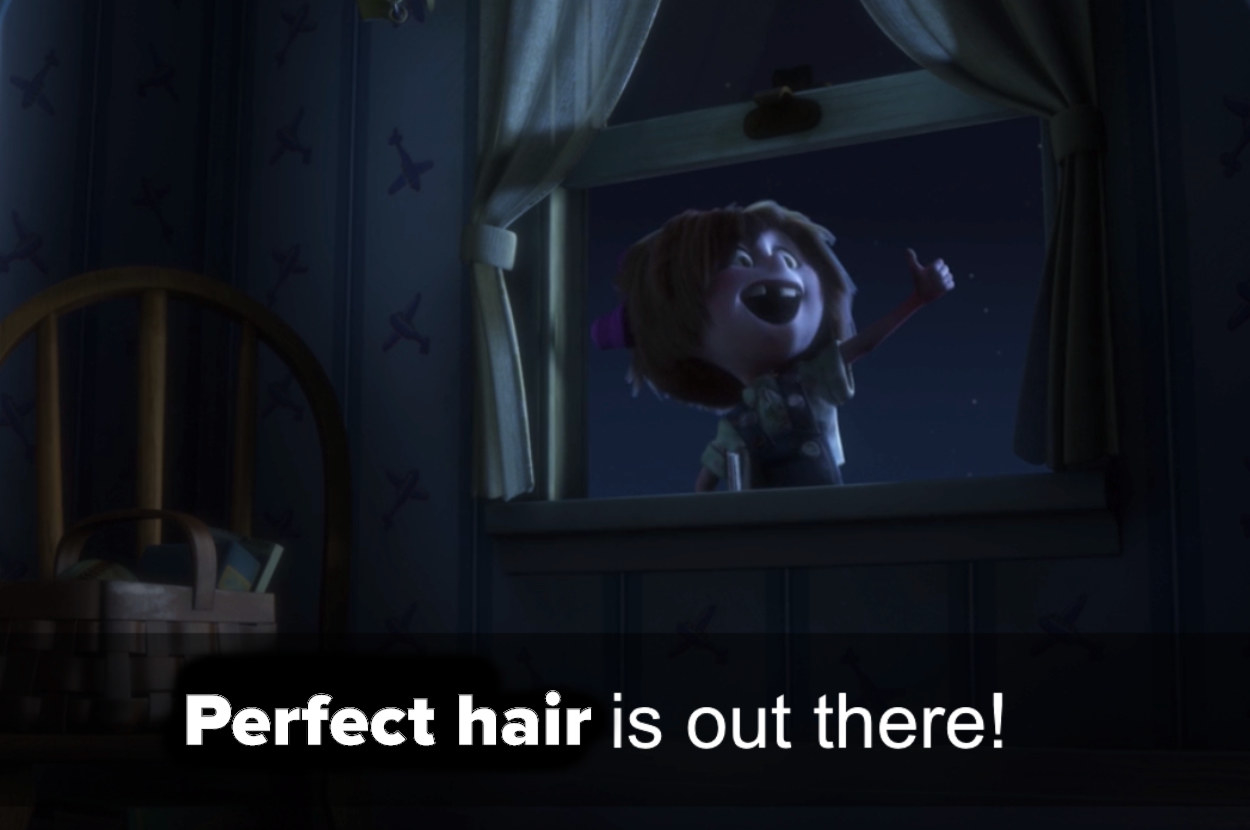 The Bed Head Wave Artist was the most budget-friendly waver I tried, and definitely a fan favorite on Amazon. At just under $30, it had over 18,000 reviews and an average of 4.5 stars!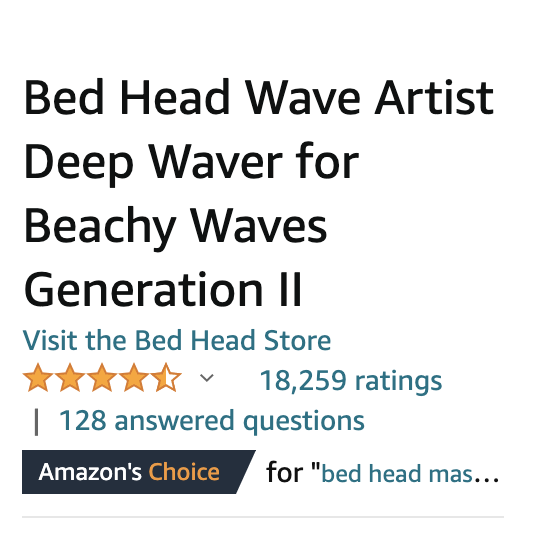 It's an S barrel waver, meaning that it uses a single iron instead of three separate barrels to style the hair. When I first picked it up, I was pleasantly surprised by how small and lightweight it was, meaning that my arm probably wouldn't get too tired while I worked on my hair.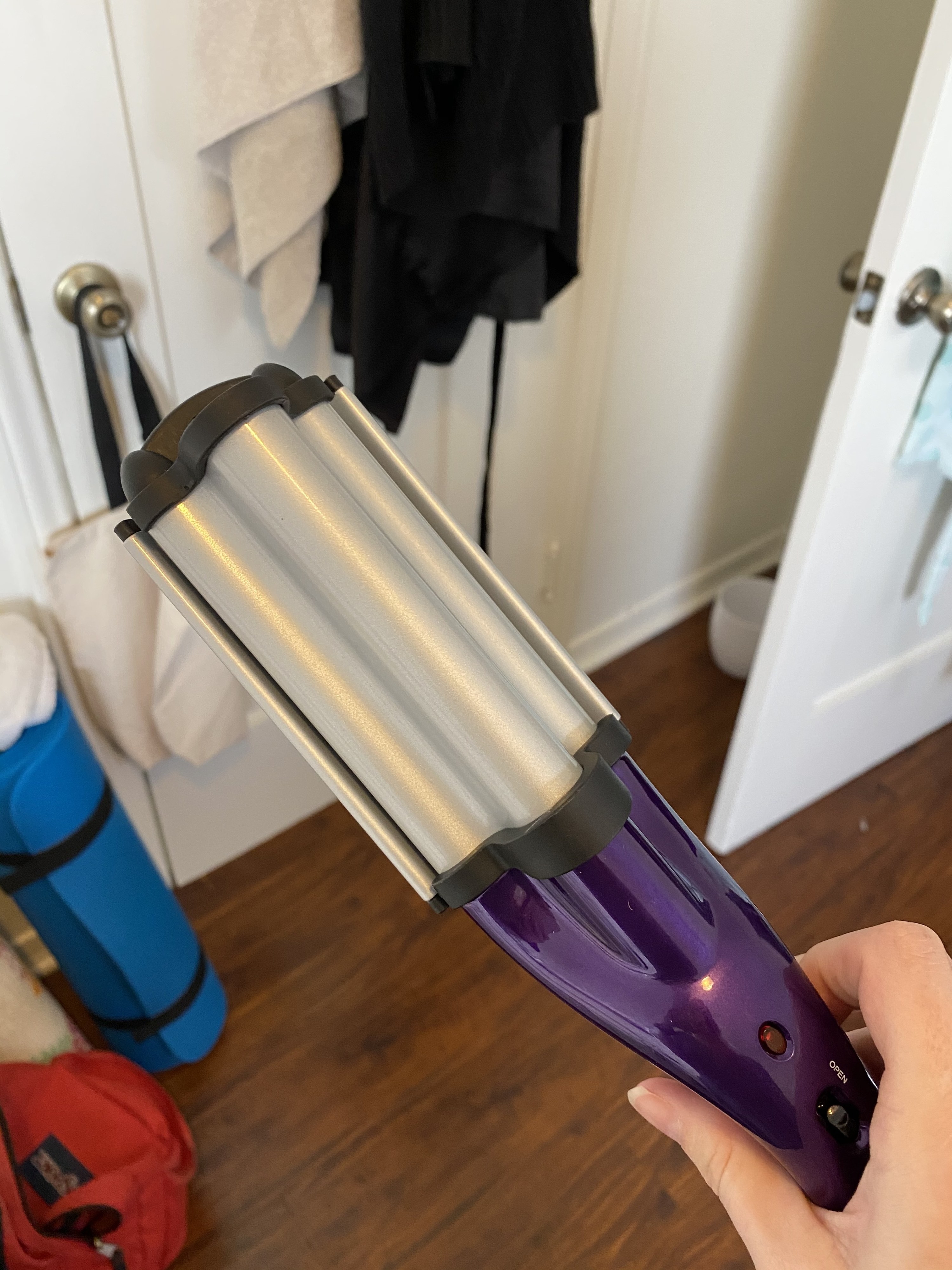 Another thing that surprised me, though, was how deep the iron was! This had me thinking that the waves would be pretty dramatic. Plus, the fact that it was so small made me worry that it would take a pretty long time to do my whole head, even with my mega-thin hair.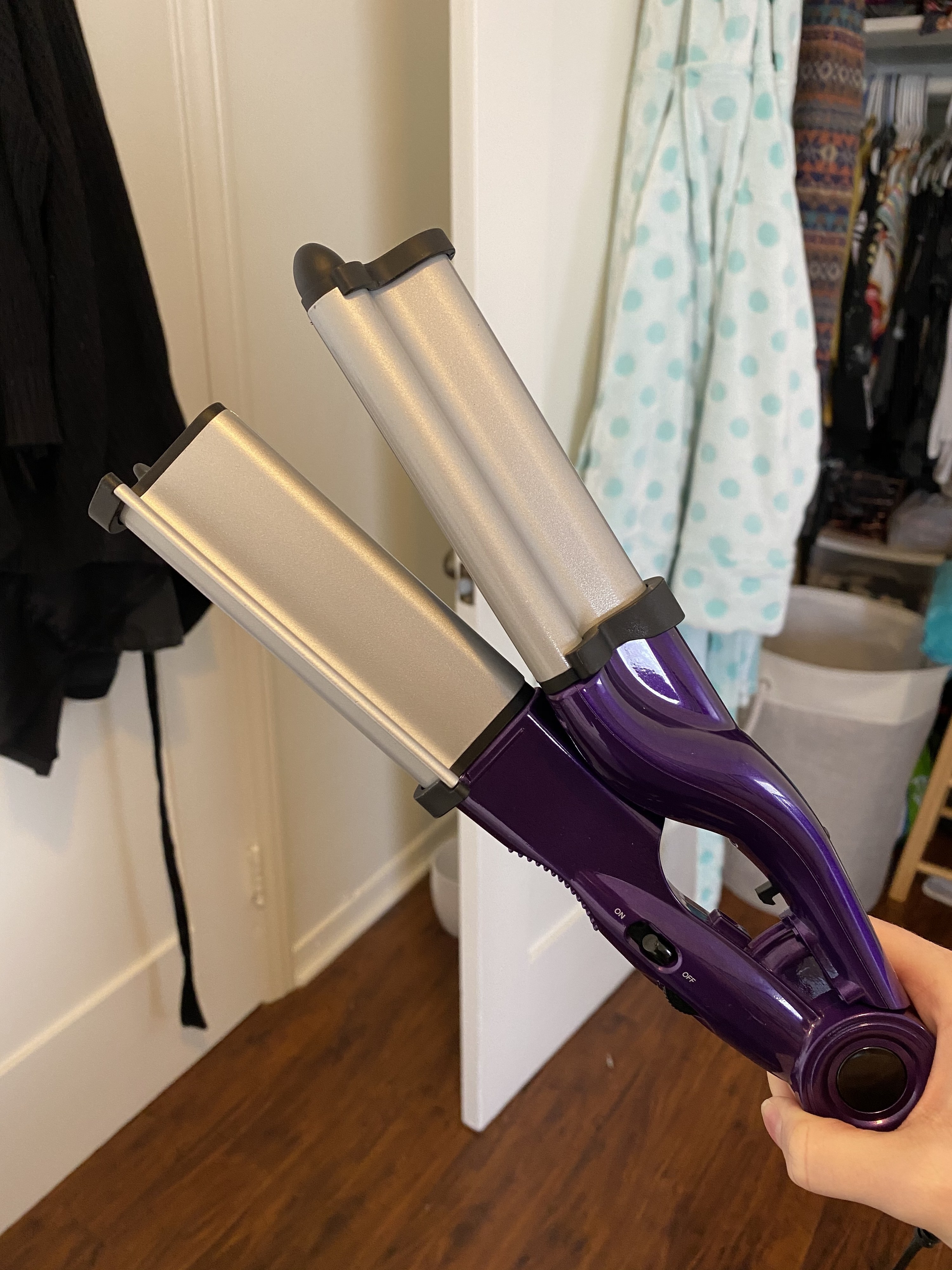 Also, it had an on-off switch and a temperature wheel that read "low" to "high" but didn't provide any actual temperatures. I didn't love that, because I felt like I would never know the exact temperature or how much I was frying my hair. I tried to keep the wheel somewhere in the middle as a compromise.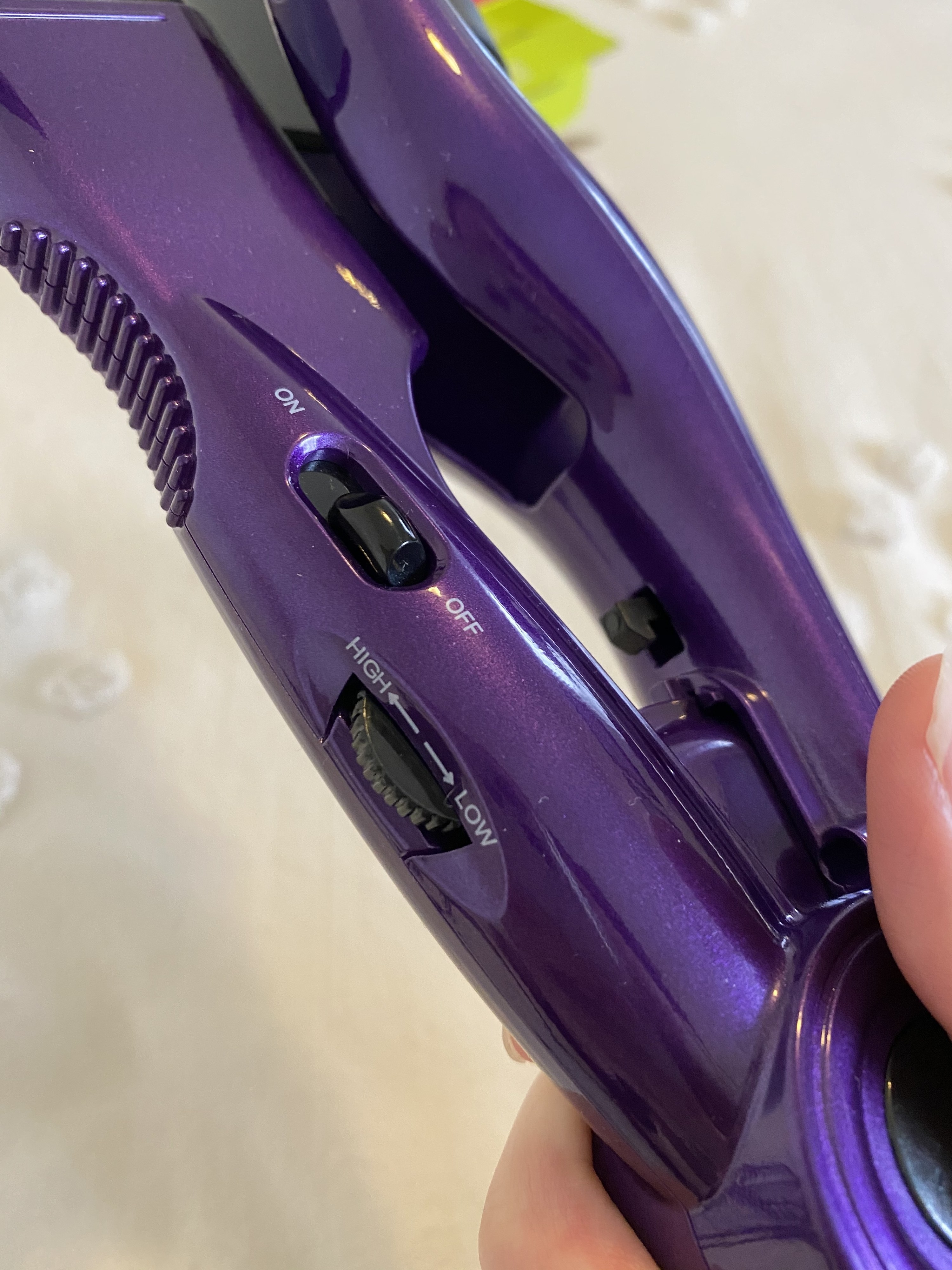 Luckily, the actual styling was pretty easy! I was impressed by the waves it achieved, and it only took about 15–20 minutes to do my entire head, which I loved.
But just as I suspected, the waves being so dramatic gave them more of an '80s/lion's mane vibe than a free and easy/beachy vibe. I tried to brush them out with my fingers to loosen them up, but that just made my hair look frizzy more than anything else.
Some of it could've been user error (like I said, I'm no professional), but although they were still cute, the Bed Head Wave Artist waves weren't quiiiite what I was looking for.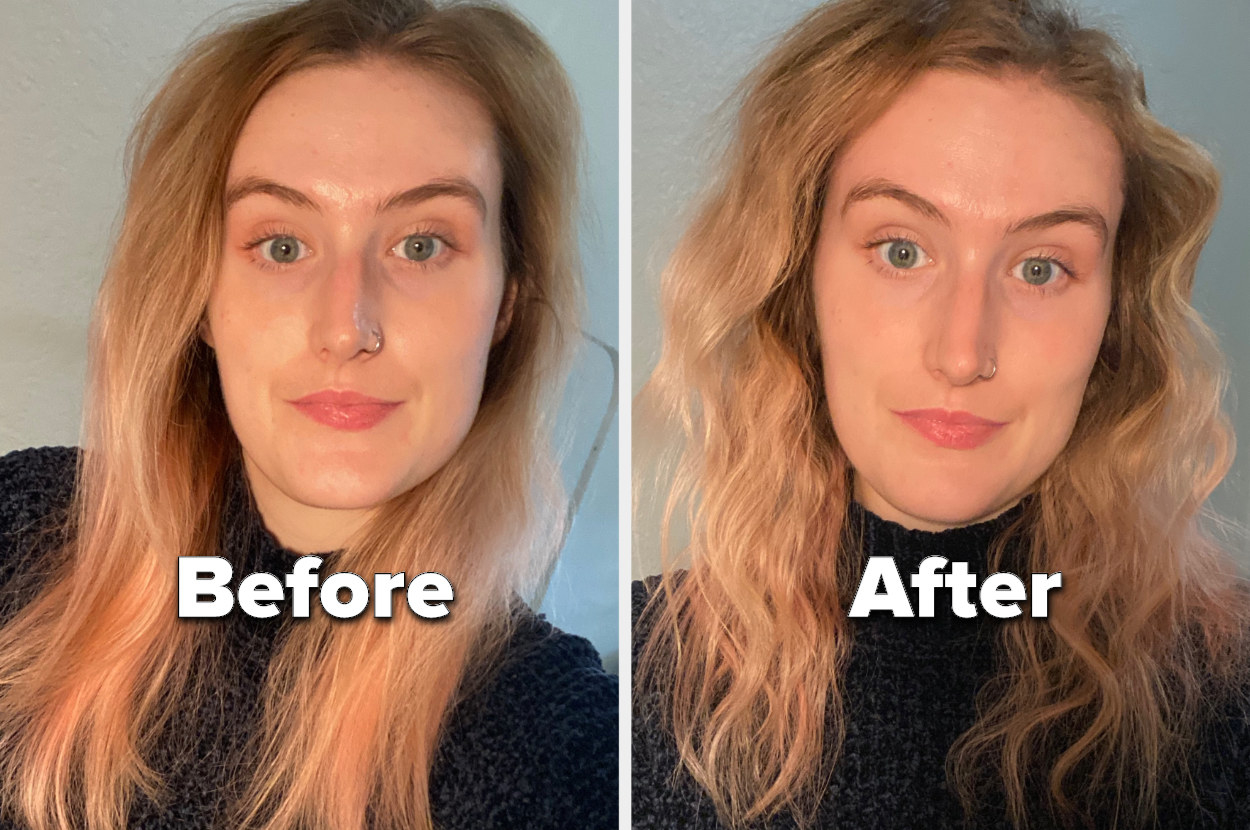 When I took it out of the box, it was definitely large but not quite as massive as I thought it would be. But omg, it was HEAVY. Much heavier than the Bed Head Wave Artist. I was concerned about my poor, weak wrist.
The Mermade Pro did have a temperature reader, which I appreciated. I decided to go with 360 degrees, since that's what I tend to choose when I use my regular curling iron. I could see the temperature go up in real time, and it heated up in around 30 seconds! Super convenient.
As for using the waver, it took me a bit to get the hang of properly placing my hair between the barrels, but once I got more comfortable, it was pretty smooth sailing....
...although there were definitely a few hair casualties that got caught in the tool and ripped from my head. Whoops!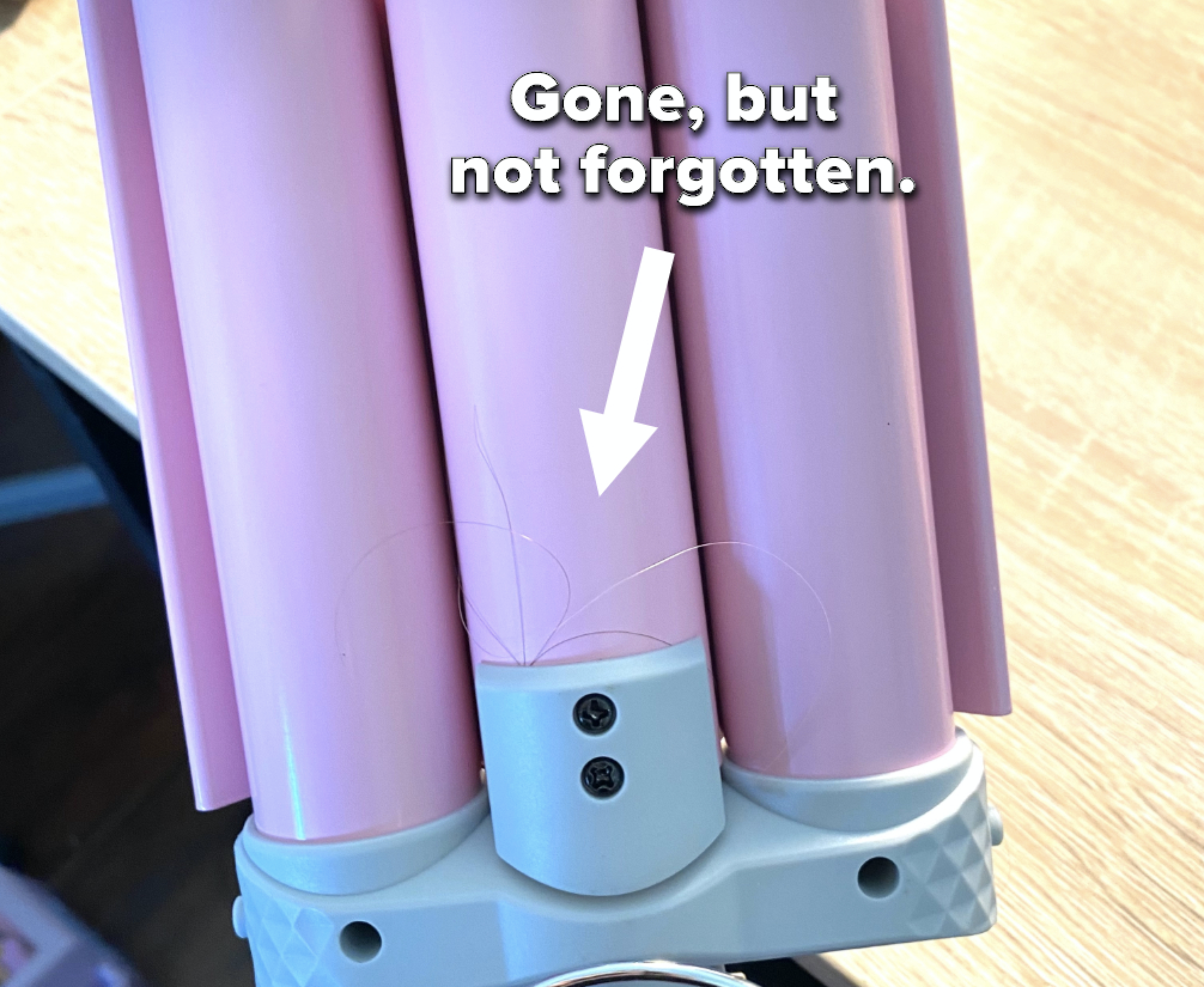 I really liked that it only took about two clamps per hair section, making the process pretty fast. It took about the same amount of time as the Bed Head Wave Artist, about 20-ish minutes. In the end, I thought the waves were a bit softer/beachier and closer to what I was going for!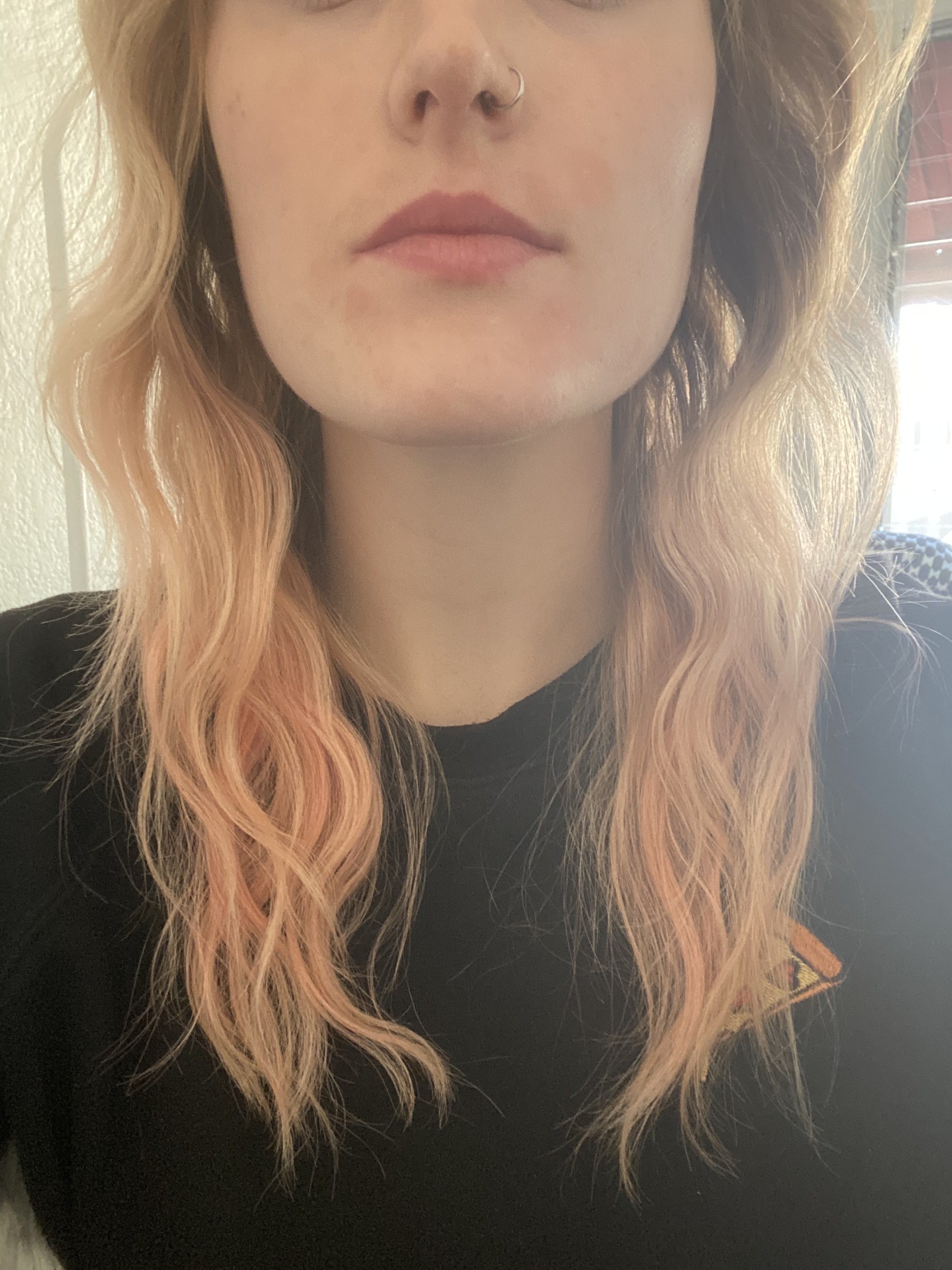 Full disclosure: I couldn't stop looking at myself in the mirror after I was done using the Mermade Pro (lol). It managed to hit the perfect sweet spot between straight and full-on crimped, and I was here for it. Dare I say, I felt like a ~mermaid~.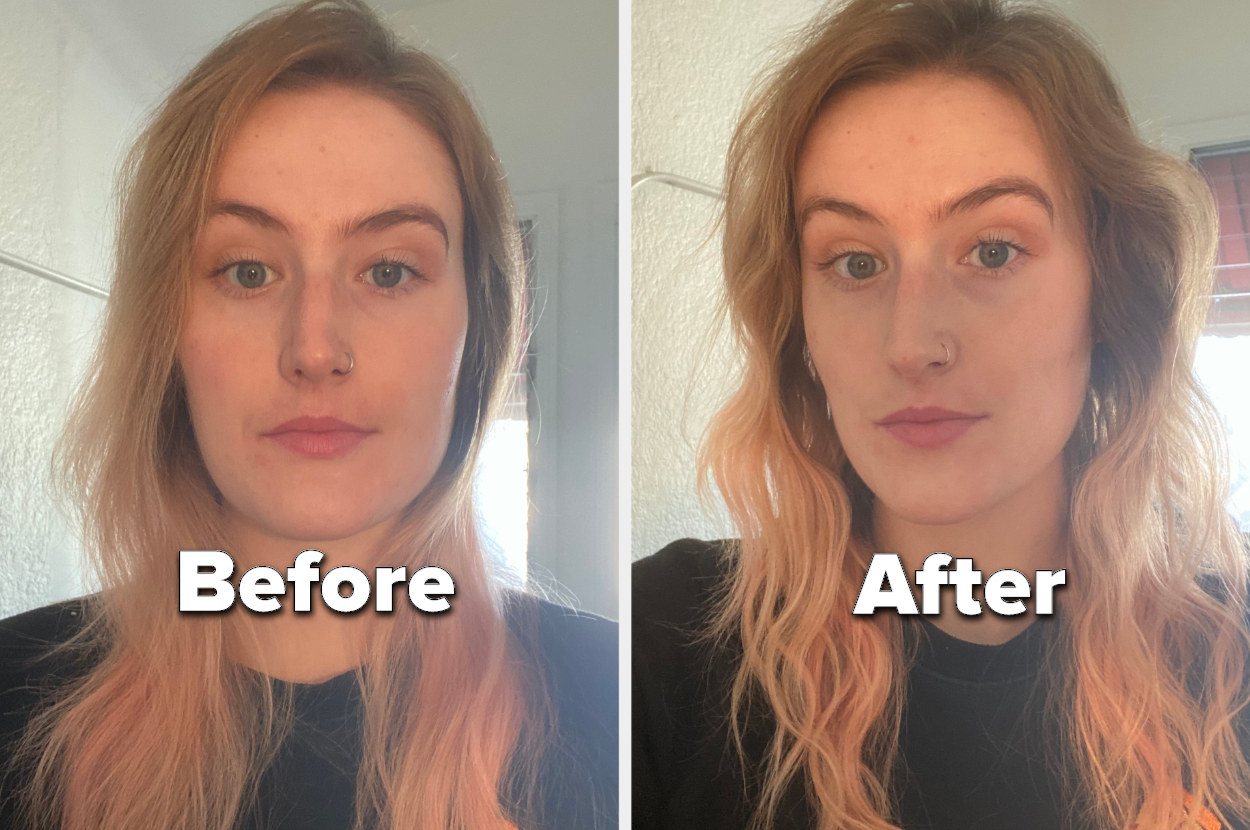 The Beachwaver was on sooo many of the "best of" lists I read while trying to decide which waver to buy, and it was the most expensive tool I tried. It looked more like a classic curling iron than a hair waver, but c'mon, it literally has "beach" and "wave" in its name! Plus, could it really live up to that $129 price point? I had to find out.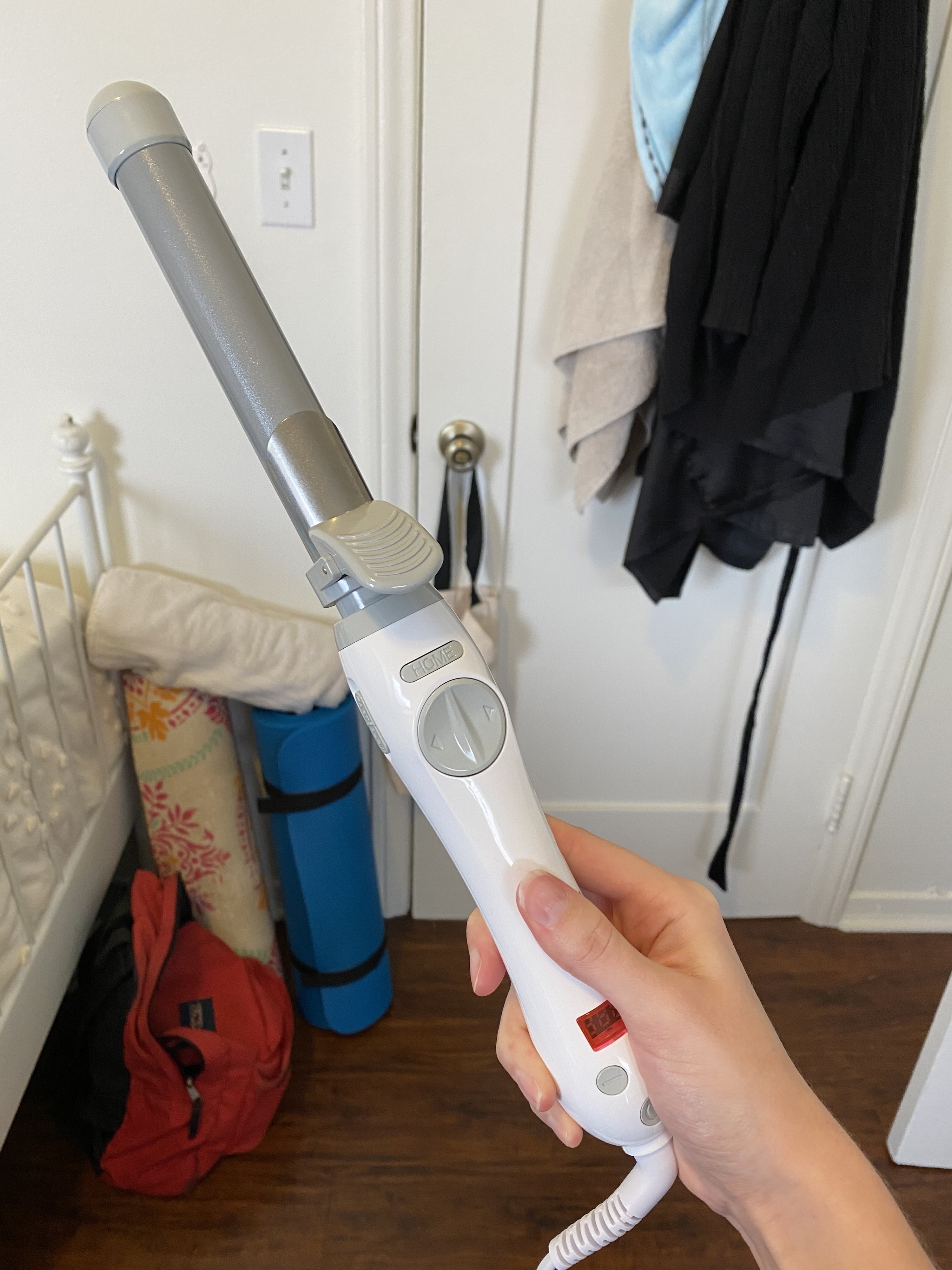 The main selling point of the Beachwaver is that it essentially does all the work for you. Per the instructions, you put the ends of your hair into its teeny-tiny clamp, press a button, and then the barrel rotates to wrap your hair into a (hopefully) free and easy wave. TBH, I was a little scared. We've all seen the videos of motorized hair tools gone wrong.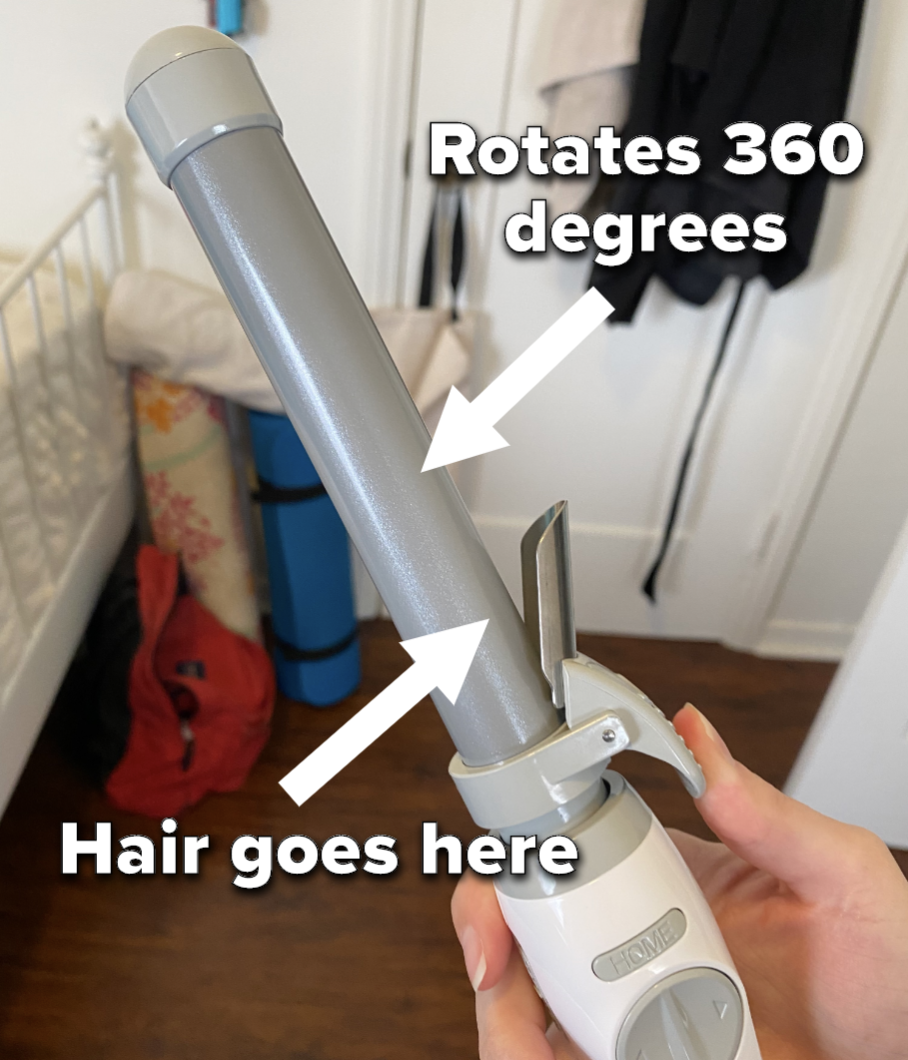 I noticed that it had a "fast" and "slow" option for the rotations (cool, but also terrifying???), so I obviously opted for the slower speed, since it was my first time. Things actually went pretty well at first! I felt like I was using a hair tool from the future.
It was cool to watch the hair automatically wrap around the barrel, and my arms and wrists put in zero work compared with a regular curling iron. I also loved that the barrel rotated in two different directions, so I could easily curl my hair away from my face on both sides. It even had a "home" button, which makes the barrel rotate back to its original position after each curl!
However, when it came time to do the hair in the back of my head, disaster struck. My hair got really caught and tangled up in the barrel. I took this picture in a panic as proof while my hair burned to a crisp: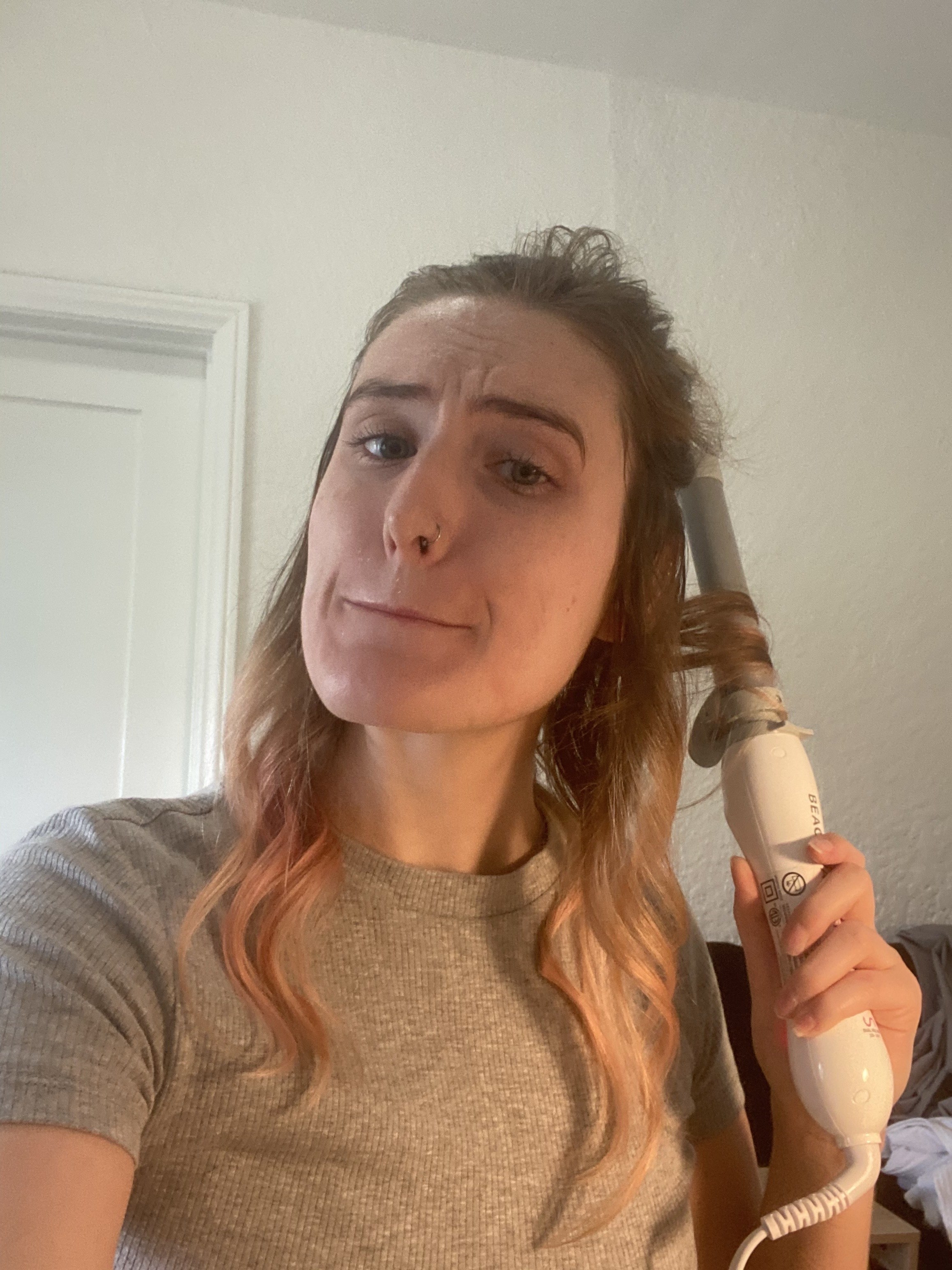 It didn't take long for another mishap to strike! I realized that if you rotate the barrel in a direction where your hair isn't flush with the clamp, it creates a fairly big dent. I'm pretty sure I created no fewer than five of these throughout my Beachwaver journey, but nevertheless, I persisted.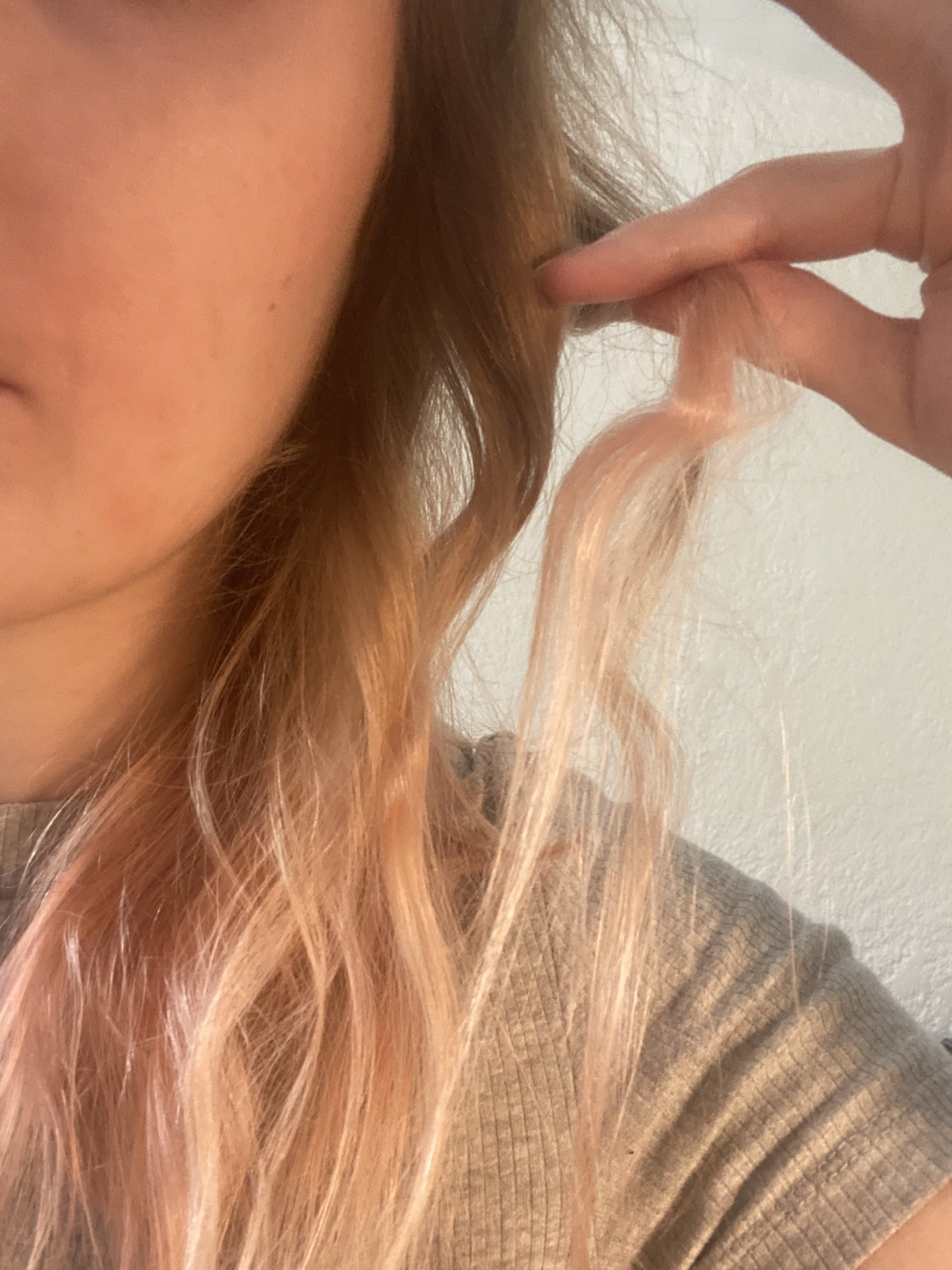 After a while, I finally got the hang of things and felt confident that I could use the Beachwaver without denting my hair or getting it caught in the clamp. Still, the whole process took a bit longer than both the Wave Artist and the Mermade Pro, about 30–35 minutes.
In the end, the waves looked more like classically curled hair, but still pretty *beachy*, IMO, especially the ends. I'm not sure if that was just my incompetence with curling or an actual effect of the tool, but either way, I liked it.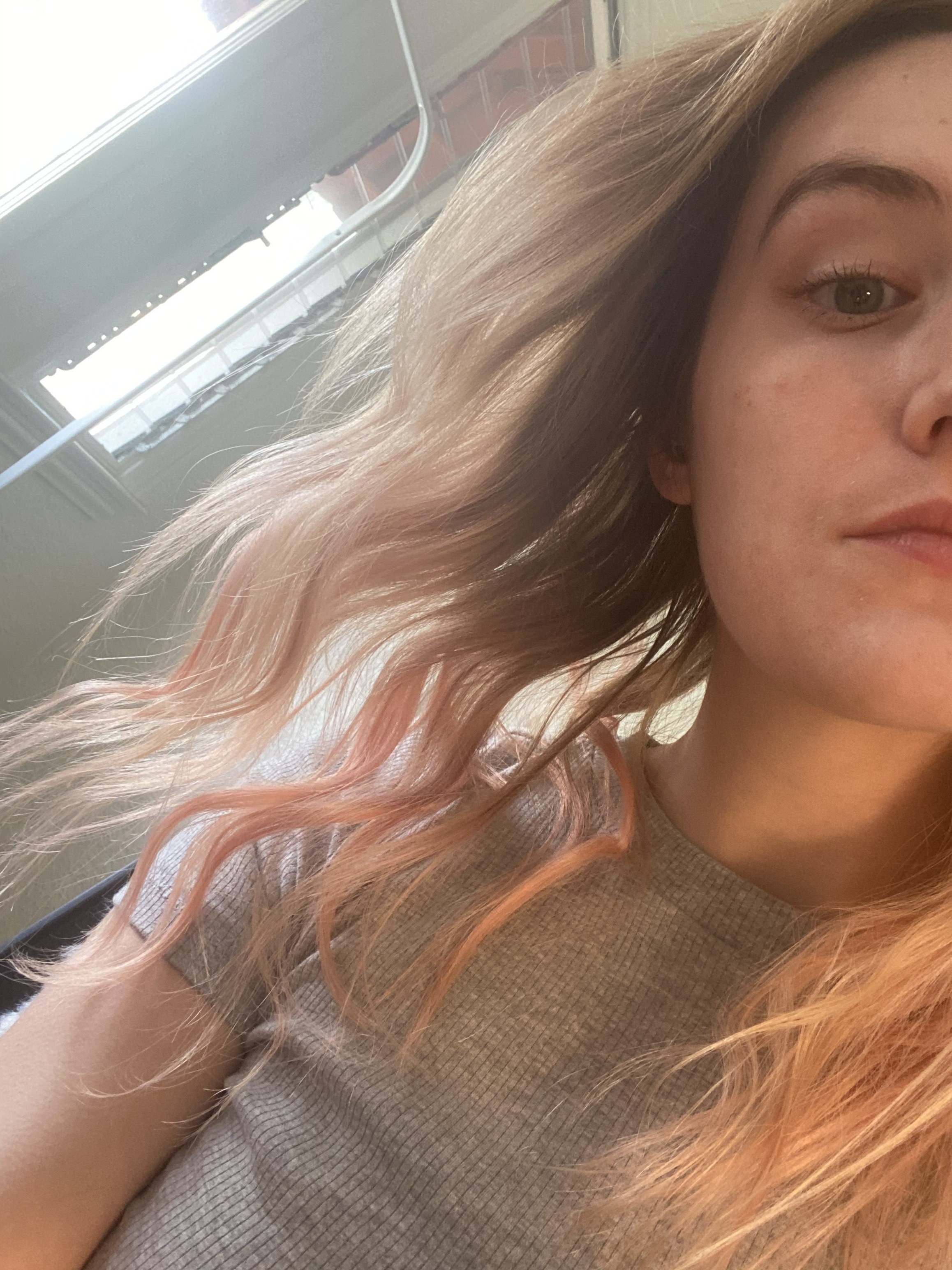 I was super happy with how soft and flowy my hair looked after using the Beachwaver. And considering how many options and settings the tool has, I'd say it's definitely worth the money, even at full price!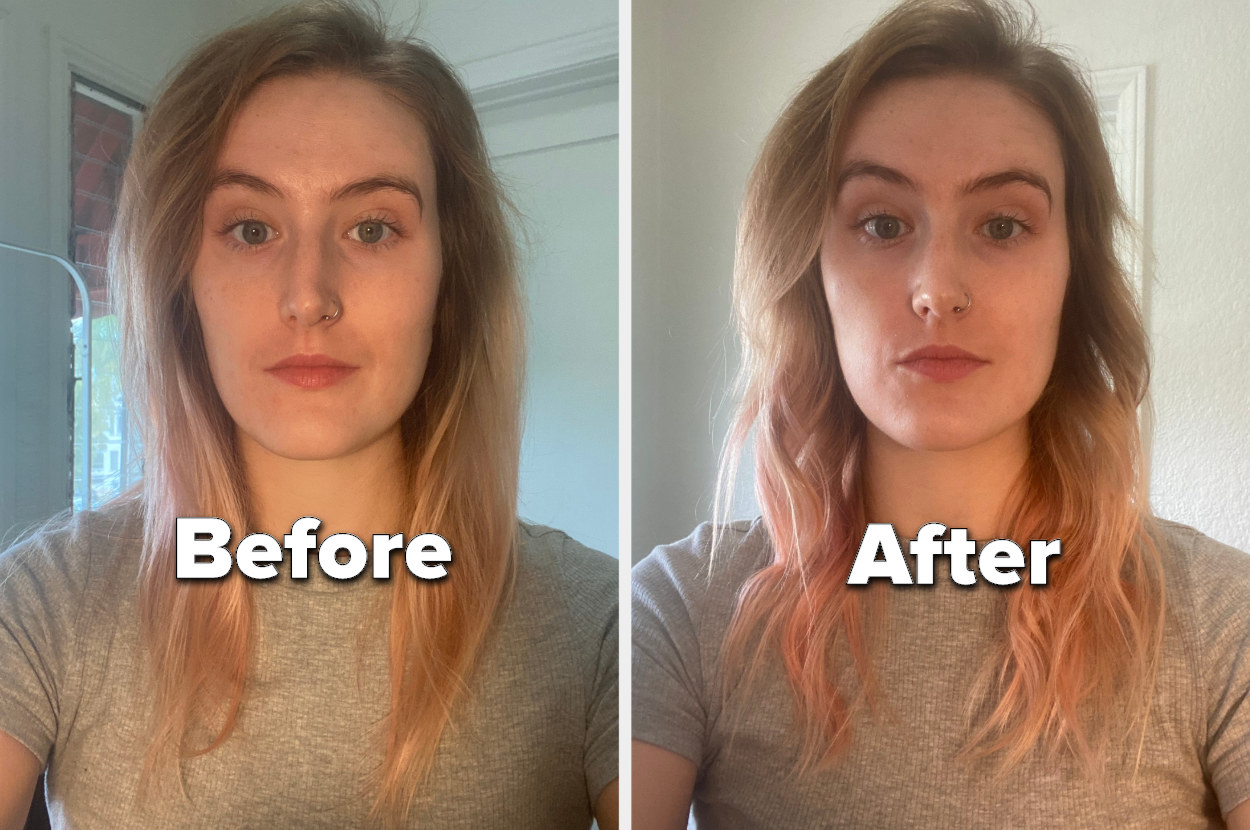 If I had to choose a favorite of the three tools I tried, I'd have to go with the Mermade Pro, though, simply because it was so easy to use and delivered such nice waves.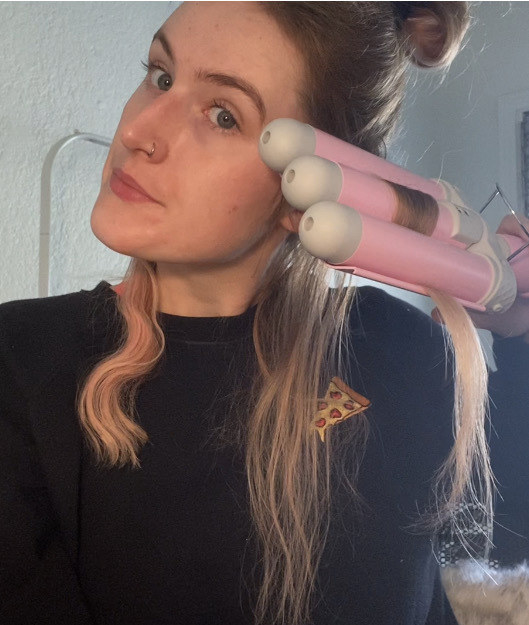 But that being said, every tool I tried managed to give my hair a little extra oomph and provide the illusion of more volume. Did my hair look a million times thicker? No, but that was never a realistic ask to begin with. After this experience, I think if you're a thin-haired person like me who hates spending too much time on their hair, getting a waver is definitely a great option! It's just a matter of deciding which type of wave you like best. Also, don't forget the heat protectant. 😉