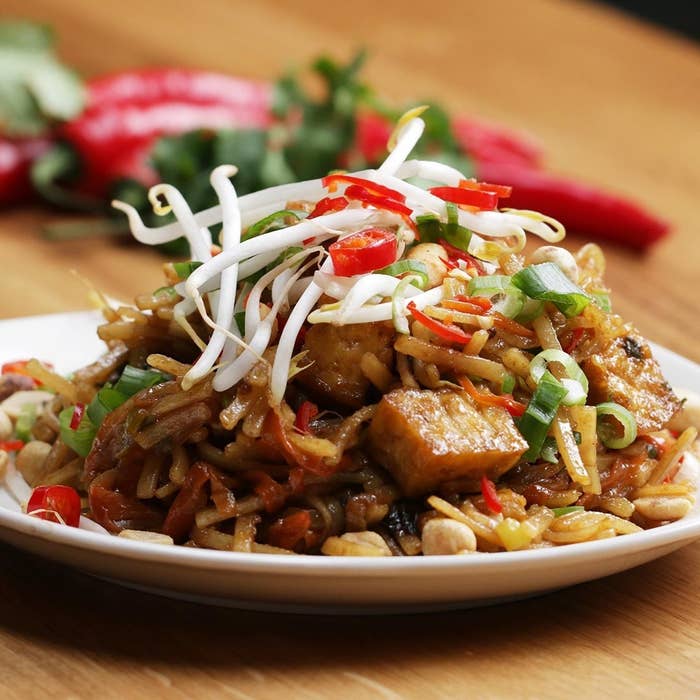 Ingredients
for 2 servings
SAUCE
¼ cup (60 mL) rice vinegar
⅓ cup (80 mL) soy sauce
⅓ cup (75 g) brown sugar
¼ cup (60 mL) vegan worcestershire
¼ cup (55 g) tamarind paste
PAD THAI
2 tablespoons peanut oil
½ bunch green onion, or chinese chives. sliced plus more for serving
2 red thai chiles, sliced plus more for serving
2 cloves garlic, minced
2 carrots, peeled into ribbons
½ cup (50 g) bean sprout
¼ cup (30 g) roasted unsalted peanut
8 oz (110 g) tofu, cooked, cubed
1. Soak the rice noodles in room-temperature water for 30 minutes prior to cooking.
2. Make the sauce: in a small saucepan over medium-high heat, whisk together the rice vinegar, soy sauce, brown sugar, Worcestershire sauce, and tamarind paste.
3. Bring to a boil, then reduce the heat to low. Simmer for 5 minutes, stirring constantly, until the sauce thickens and coats the back of a wooden spoon. Remove the sauce from the heat and set aside.
4. Heat a large cast-iron pan or wok over high heat. Add the peanut oil, scallions, chiles, and garlic. Stir, and cook for about 2 minutes until scallions soften. Add the carrots, stir to incorporate, and cook for about 1 minute. Add the bean sprouts and stir to incorporate.
5. Add soaked rice noodles and stir to evenly distribute all ingredients, then stir for 1-2 minutes to heat the noodles through.
6. Add the sauce and stir to combine.
7. Add the tofu, stir to incorporate, and remove the pan from the heat.
8. Serve immediately with peanuts, bean sprouts, scallions, and red chiles, if desired.
9. Enjoy!