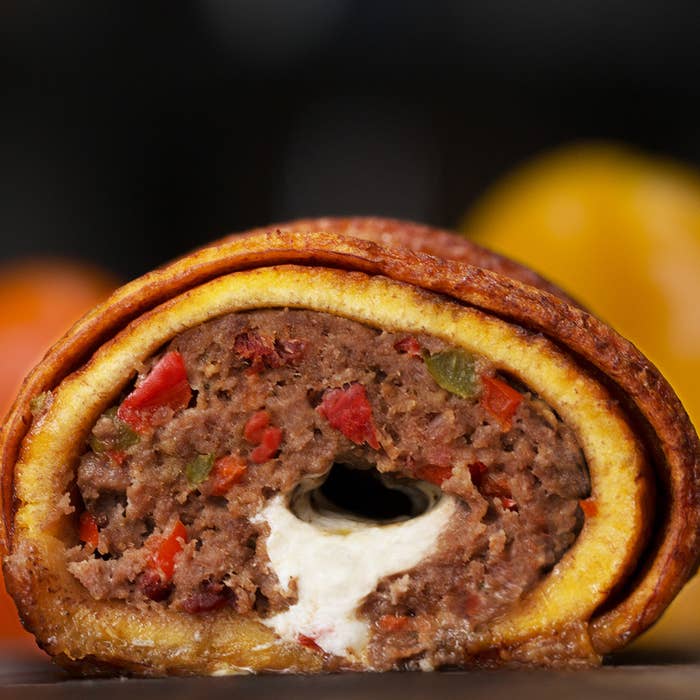 Ingredients:
Servings: 8
INGREDIENTS
2 yellow plantains
½ kilogram ground beef
Adobo, to taste
Salt, to taste
150 grams bell peppers, chopped
4 bacon strips, cooked
100 grams bread crumbs
2 eggs, beaten
Mozzarella, to taste
PREPARATION:
Preheat oven to 180ºC/350ºF
Peel the plantains and cut them into slices from top to bottom.
Fry in batches using vegetable oil over medium heat. Cook until golden brown on both sides. Drain on paper towel.
In a bowl, add the ground beef, adobo, salt, pepper, bacon, bread crumbs, and eggs. Mix well.
On a baking sheet covered with parchment paper, arrange two layers of banana slices, forming a base for the meat. Add the meat evenly over the bananas, and then add cheese.
Take one end of the paper and start wrapping carefully until the corners meet.
Bake for one hour or until the meat is golden brown on the outside.
Cut the roll into slices and serve.
Enjoy!
Inspired by Cocinavital: https://www.cocinavital.mx/videos/rollo-de-platano-macho-frito