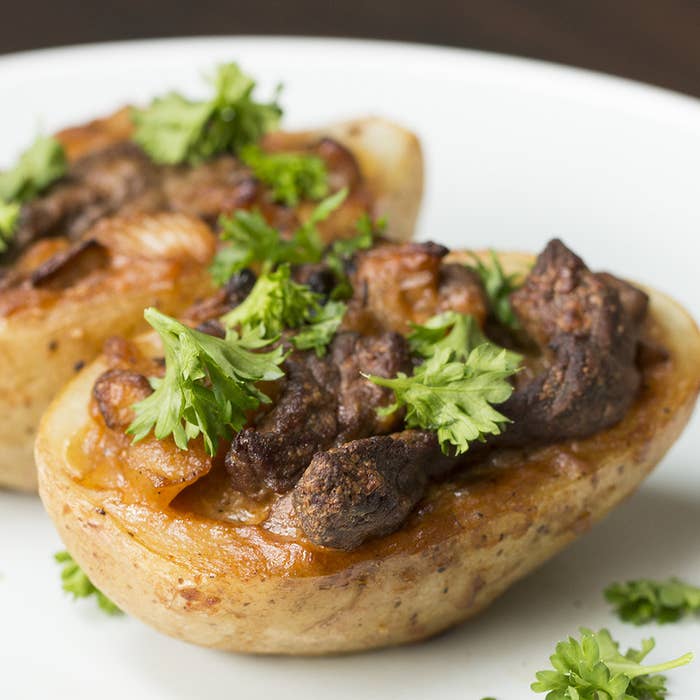 Ingredients
for 4 servings
4 servings potato, cooked
230 g (8 oz) rump steak
2 tablespoons butter
1 onion, diced
2 cloves garlic, crushed
115 g (4 oz) mushroom, diced
1 teaspoon dijon mustard
1 teaspoon paprika
180 g (¾ cup) beef stock
3 tablespoons sour cream
salt, to taste
pepper, to taste
1 handful fresh parsley, chopped, optional
Preparation
1. Preheat the oven to 200°C (400°F).
2. Half the potatoes and scoop out the insides, keeping the scooped out potato for later.
3. Cut the steak into thin strips and sear in a hot pan. Remove the steak.
4. Melt the butter in the pan, then add the onions and garlic. Season with salt.
5. Cook the onions and garlic until translucent, then add the mushrooms.
6. When the mushrooms are soft, stir in the mustard, paprika, and leftover potato.
7. Stir in the beef stock, then simmer until mostly reduced.
8. Add the soured cream, then add the seared beef back in as well.
9. Season with salt and pepper and remove from the heat immediately.
10. Stuff the potato skins with the stroganoff mixture.
11. Bake for 8-10 minutes.
12. Sprinkle with parsley and serve.
13. Enjoy!