Often this misconception results in people leaving their wedding rings to the absolute last minute. They walk into their local jewellers and suddenly realise there is a lot more to it than originally thought and that their options are far from limited, to a simple gold band.
For ladies in particular the options are endless. The most popular choice is a diamond wedding ring and even when selecting a ring with diamonds there are many options.
When choosing a diamond wedding ring there are a few essential things you should keep in mind:
1. If you have diamonds set into your engagement ring it is most likely you will want to match the diamonds in your wedding ring, including matching the setting style and how far your diamonds go around.
2. Many ladies love the look of a full diamond band and look forward to the day they match it will a full diamond eternity band. This is undeniably a beautiful look, but there is one thing to keep in mind and that is the finger size. Rings that have diamonds set all the way around can be tricky to resize later down the track. This is why it is absolutely important to make sure you get the size right from the very beginning. An option to avoid tricky resizing later down the track is to leave a small gap at the base of your ring without diamonds for ease of resizing in the future.
3. Just as you choose your shaped diamond in your engagement ring you need to consider which shaped diamond you will have set into your wedding ring. Most choose round brilliant diamonds but of course this is not your only option. Princess, baguettes, tapered baguettes, trilliants and carre cut diamonds are just some of your options. There is no rule book stating that you need to match your engagement and wedding ring perfectly. Contrasting shapes can look beautiful and interesting as well.
4. One of the most important factors that will dictate the overall feel of your ring is the setting style. As mentioned if you already have diamonds set into your engagement ring it is likely you will just match to these. But if you are not matching diamonds to your engagement ring then you have a few things to consider!
* One of the most popular is micro claw setting, this is perfect for those that love that look of a fine, sparkling diamond band giving the appearance of more diamond and less metal.
* For a sleek, modern and contemporary look you may love the appearance of the channel set band, particularly one set with princess or baguette shaped diamonds. Channel setting is where a channel is cut of out your ring and your diamonds are set into this, with a metal wall framing and securing your diamonds.
* Bead setting is often used to create an antique look. Small diamonds are held into place with tiny claws and often mill grain edging is used to create a beautiful vintage feel.
* Gypsy or hammer set diamonds is a beautiful option for those that are having diamonds set in a less streamlined way, perhaps one or two or a group scattered over the surface of your ring. Gypsy setting is when the diamond is sunken into the metal so that it sits flush with the metal.
* Pave setting is for those that love diamonds and love their ring to sparkle. It is where diamonds are set using small beads that are raised from the surface of the ring. This style is often used when setting more than one row of diamonds; paving the surface of your ring.
Infinity Claw Set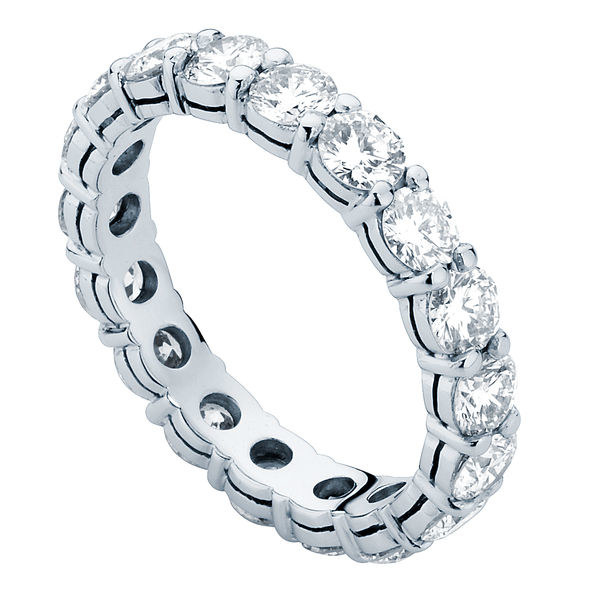 This post was created by a member of BuzzFeed Community, where anyone can post awesome lists and creations.
Learn more
or
post your buzz!