"Wolf Hall" Director Launches A Scathing Attack On John Whittingdale At The BAFTA Television Awards
Peter Kosminsky defended the BBC and said, "It's time for us to stand up and say no to this dangerous nonsense." The speech received a standing ovation.
Wolf Hall director Peter Kosminsky used his Best Drama winner's speech at the BAFTA TV awards to launch a scathing attack on culture secretary John Whittingdale, ahead of the government's white paper on the future of the BBC.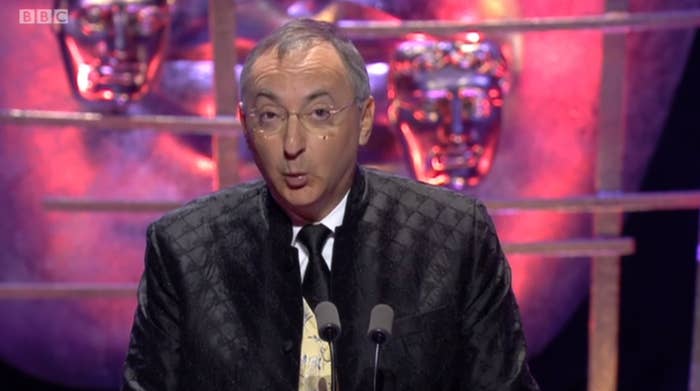 Here is his speech:
Wow, thank you on behalf of all of us who worked on Wolf Hall, a huge thank you to BAFTA. In the week in which our secretary of state, John Whittingdale, described the disappearance of the BBC as a "tempting prospect", I'd like to say a few words in defence of that organisation.

I think most people would agree that the BBC's main job is to speak truth to power, to report to the British public without fear or favour, no matter how unpalatable that might be to those in government.

It's a public broadcaster, independent of government.

The secretary of state has talked about putting six government nominees – a working majority – on to the editorial board of the BBC. Think about for a moment, the editorial board… the body charged with safeguarding the editorial independence of the BBC from an outside interference would be frequented by the government.

And a sign of things to come, the secretary of state has recently been telling the BBC when to schedule its main news bulletin, what programmes it should make and shouldn't make. Do you want this?

This is really scary stuff, folks. Not something I thought I'd see in my lifetime in this country. And you know what? It's not their BBC, it's your BBC.

In many ways, many ways, our broadcasting, the BBC, Channel 4, which they are also attempting to eviscerate, is the envy of the world and we should stand up and fight for it, not let it go by default. And if we don't, if we don't, blink and it will be gone. There will be no more Wolf Halls, no more award-winning Dispatches documentaries on Channel Four. Just a broadcasting landscape where the only determinate on whether something gets made is simply to line the pockets of its share holders. No! No.

It's time for us to stand up and say "no" to this dangerous nonsense.
...including Martin Freeman and Professor Brian Cox.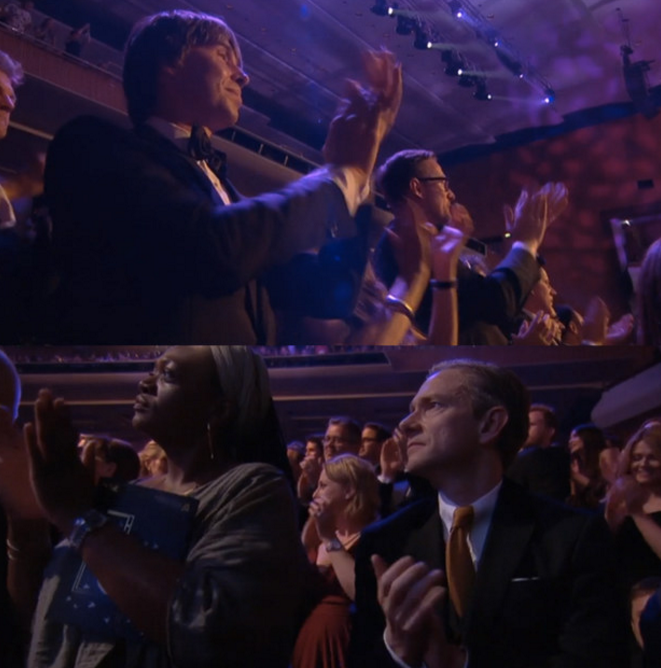 The BBC did not broadcast the full speech, but did show three out of its four-minute length. In a statement they said: "As with any televised award show we seek to fairly and accurately reflect the passionately held views of recipients and attendees. At the same time, we have a duty to fairly reflect as many awards, nominees and winners as possible. Where we have to edit for length, we ensure that the essence of the speeches, which are included, are properly reflected."
There was also a big reaction on Twitter to the speech.
Mark Rylance also defended the BBC when he won the award for Leading Actor for his role in Wolf Hall.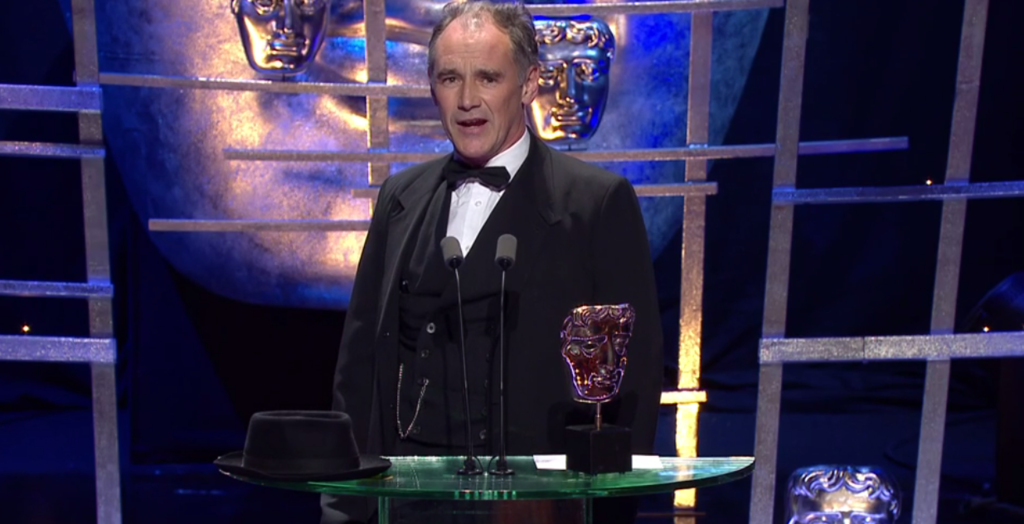 Woe to any government or any corporation who tries to get between British people and their love of a good joke, a true story, a good song, a fact, a fiction, good sports commentating, newscasters who can hold themselves together as they tell stories about tragedies in Paris, people who can cook well and bake cakes. The incredible variety of popular culture in this country – it's blown my mind.
The BBC won 14 awards at the BAFTA TV Awards, including Best Entertainment Show (Strictly Come Dancing), Best Drama (Wolf Hall), Leading Actor (Mark Rylance), Leading Actress (Suranne Jones), Scripted Comedy (Car Share), and Male Performance in a Comedy Programme (Peter Kay).
Channel 4 won seven awards (including This Is England '90 for Best Mini-Series and First Dates for Best Reality). ITV won two awards for Supporting Actor (Tom Courtenay) and Entertainment Performance (Leigh Francis). Sky won one award for its Ashes coverage.