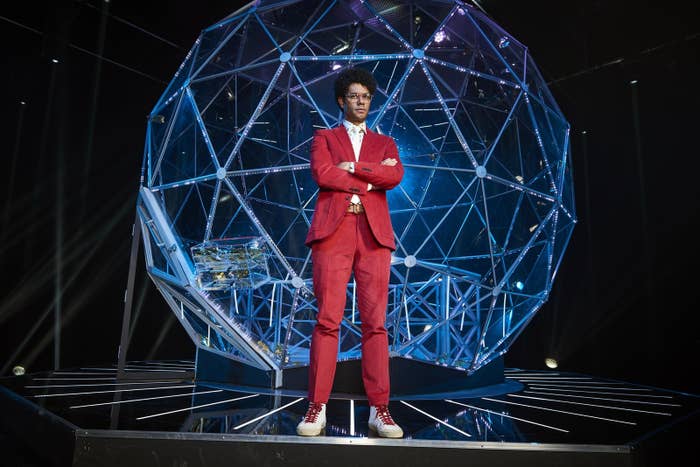 1. The Crystal Maze is 32,500 square feet and located at Bottle Yard Studios in Bristol.
2. Forty-one new games will feature in the new series.

3. Every single game in this series is new and has never been seen before.

4. Executive producer Neale Simpson tells BuzzFeed that the new games were made because of "creative ambition" – "We care about the show. We love it as much as you do, but it is time to move it on. If we are repeating games it is laziness."

5. The fact that there are new games has nothing to do with old episodes being constantly repeated on the TV channel Challenge, which could potentially aid the contestants.
6. There will be 20 episodes – 15 involving members of the public, and five celebrity specials, one of which will be saved as a Christmas special.
7. Each zone was designed by James Dillon, who designed the original Crystal Maze.

8. After it was announced that the show was coming back, Dillon visited the show's offices. According to Simpson, he rolled out on a table the original plan of the Crystal Maze from the '80s, a hand-drawn design that the map graphic is based on.
9. Simpson says: "We asked him if he'd do the show and he said he had to do the show."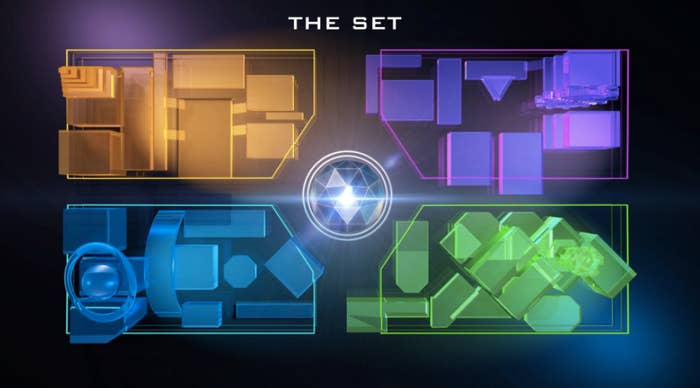 10. More than 30,000 people applied to be contestants.

11. Two episodes of The Crystal Maze are filmed in a day.

12. In the original series, the contestants didn't know each other before the game and only met the night before at dinner.

13. In the new series all of the contestants in each game already know each other. Simpson explained that this is so viewers can "get to know the team better, to have more narrative and care about them more on their journey throughout the maze".
14. Teams have also been reduced from six to five for the same reason.
15. There's also an emphasis on diversity in the new series. Teams include some people who met on jury service ranging from 18 to 60 years old and an AC/DC tribute band.
16. Richard Ayoade is the presenter of the new series. They wanted an eccentric character to host the show, and they purposely opted not to have a presenter trying to be too similar to original host Richard O'Brien, a fan favourite. Simpson says that Ayoade is "so different. His energy and enthusiasm is just such a different flavour."
17. Mumsy, a character who told riddles (played by Sandra Caron in the original series and Maureen Lipman in the 2016 special), is not returning in this series.

18. This is because the production team felt that Ayoade shouldn't have to inherit every single aspect of The Crystal Maze. However, they did still want someone to tell riddles and wanted some people to make cameos, so there are two new characters.
19. Jarhead, played by comedian Adam Buxton, dishes out riddles as a head in a jar.
20. And Jessica Hynes, from Twenty Twelve and W1A, is also in the new series as a knight – a guardian to the Medieval Zone. She'll be playing the role as an actor taking it too seriously and refusing to break character.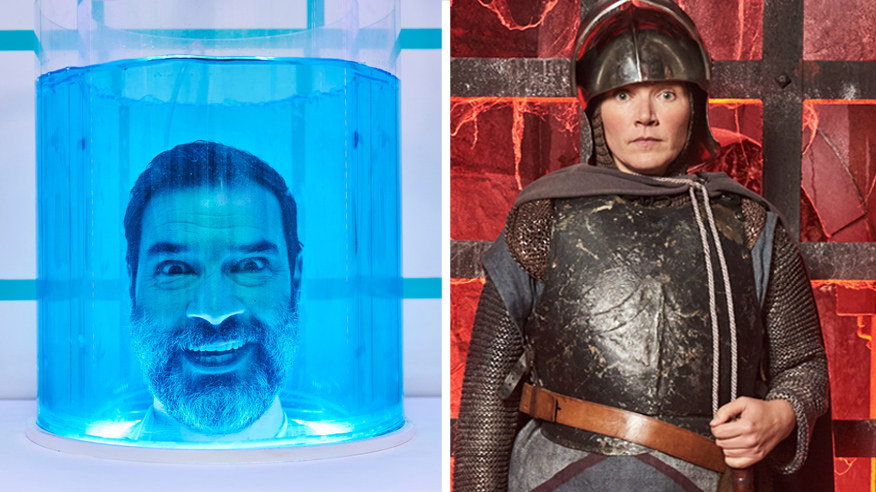 21. Changes were very much debated in the production office. "We went backwards and forwards for days," says Simpson. "Are we doing too much? Are we doing too little? Are they going to hate us if we do this?'"

22. However, they wanted new surprises for viewers: "Ultimately you have to have a bit of conviction about moving it on, and hopefully people will see, and be seeing from the games that we've got, the spirit of the show is alive."
23. Richard O'Brien used to wear a leopard-print jacket. The new host, Ayoade, will wear eccentric corduroy suits.

24. Ayoade also has a hand prop (you can see it in the photo below) made out of plastic, because his character doesn't want to touch anyone. He also uses it for exaggerated pointing at people as well as running between the zones.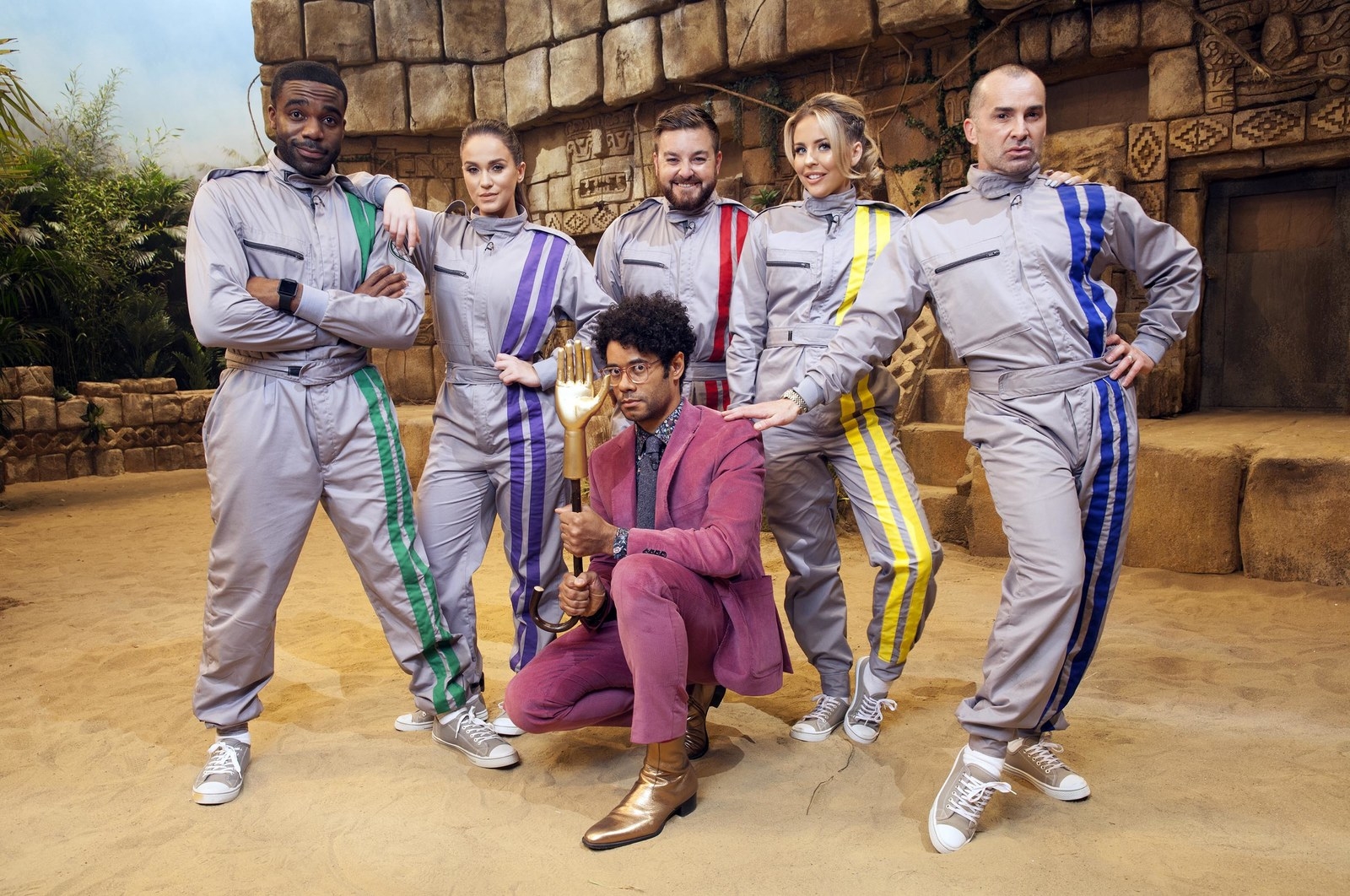 25. In a pitch for The Crystal Maze to return to TV, written by Simpson six years ago, Ayoade was on a wish list of possible presenters.

26. Stephen Merchant, who presented a one-off charity episode of the show for Channel 4 last year, was also on that list. Merchant only wanted to do a special.
27. A challenge getting the show on the air in recent years has been the sheer cost of building such an expensive set before a single episode could be filmed. Simpson says a new set was made for the Crystal Maze Live Experience, a crowdfunded maze open to the public, and they were able to use that.
28. The production team originally asked the Live Experience people if they could use their set for a charity episode to raise money for Stand Up to Cancer. As both the production company and the Live Experience wanted to help cancer research, the episode went ahead.

29. The charity special was watched by 4.3 million viewers and was one of Channel 4's most watched shows in 2016. "Then we got the phone call saying let's do a series," says Simpson.

30. Those who love the Aztec Zone (and who doesn't) will be pleased to know that the water room has returned and there will be a water game in every single new episode.
31. The water in these games is deliberately kept quite warm, about 30 degrees, for health and safety reasons. It was a lot colder in the original show.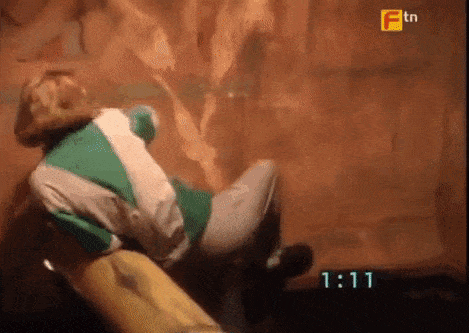 32. Some zones, like the Aztec Zone, have not been radically changed in the new version. This area also contains 18 tonnes of sand.

33. However, the Futuristic Zone has been completely redesigned, with a central area consisting of a rotating floor. While a contestant plays a game, the rest of the team can follow their progress by watching screens.

34. There are 200 candles and 25 torches in the Medieval Zone. All the flames in this section of the maze are real.

35. Each game is shot in the same way. Instructions are given to the contestant at the very start of each challenge, and it usually takes them 20 seconds to work out what to do. Meanwhile, the angles shown to the audience at home make it obvious what the contestant should do.
36. "So for the viewer, and it's why it is particularly popular with young people and kids, they get the game in the first 20 seconds so they can sit back and laugh at the adults flailing around like idiots," says Simpson.
37. The games were thoroughly tested. Puzzle and mental games, like the ones in the Medieval Zone, are pretty low-tech so were tested in the production office over and over.
38. The thing that completely changed how well contestants did was introducing time limits. Their actions simply reverted to "fight or flight".

39. The more physical games, such as the ones in the Futuristic Zone, were tested by the production team while they were being constructed. "Then we invited people who didn't quite make the cut for the series to come in and still feel like they were part of the Crystal Maze legacy," Simpson says.
40. A concern during development was whether games were too hard: "You play a game twice and the first two teams will just not get it at all, and then you start going 'Oh god, have we made it to hard? Has it been too complicated?' And then the third team goes in and smashes it in literally a minute."
41. In the original Crystal Maze only six teams ever scored a perfect 10 crystals in 83 shows. Simpson is reassured that in the new version so far "nobody has come through and blasted it."

42. The Dome has been completely reinvented in the new series, with a spectacular use of light. Simpson says the old one "felt like a real product of the '90s – that '90s aesthetic, the technology that was available at the time."

43. Instead of there being a water bridge (which was a technical nightmare in the original), the Dome is covered in light, which can be sequenced in different patterns.
44. And finally, the Dome will look different at Christmas. It will turn bright green.
The Crystal Maze begins on Friday 23 June on Channel 4 at 9pm. It'll then be on All 4.