Chris Evans Really Doesn't Care That Some People Hate The New "Top Gear"
In an exclusive interview with BuzzFeed News, Top Gear presenter Chris Evans said the show was a success and addressed the ratings AND THE SHOUTING.
Chris Evans has been under fire from the media and viewers since the first new episode of Top Gear, but he says the show is a success.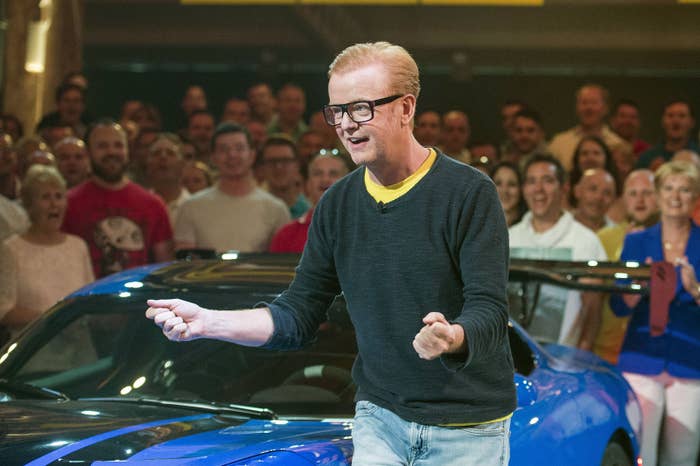 Speaking to BuzzFeed News from the Top Gear studios in Surrey shortly before he recorded an episode, Chris Evans dismissed news stories and commentators that claim the show doesn't work. "I find it hilarious that people who have never made a show in their lives then presume what is right and what is wrong with the making of a television programme," he said. "Everyone is entitled to their opinions, course they are... Those people have a loudhailer and that's fine, and by the way, bring it on. That's what I expected."
Evans added: "I've got enough feedback back to know that enough people like it and love it, actually."
The format of the show has not been changed by public feedback, due to a coincidental change in the production process. "It's so much better because they used to make the show three days before the show was going out [on TV]. We don't. We make the next show before the last show has gone out and I think that's brilliant as that stops you reacting to any paranoia that might creep in ... You're always speaking from your own voice, which I think is far more important."
He said he anticipated a pushback from audiences and the media from the moment he took over the show. "I thought it was going to happen, yeah. I mean, I didn't really contemplate on what scale, but no, I was aware of it. Course I was. Bloody hell. Absolutely."
Taking over Top Gear is like taking over a radio show, he said, but it's a longer transition. "Radio shows are longer, usually every day, and there's more of them, so people get used to change a lot more quickly because it happens a lot more generally. So in the first week of a radio show changing, there's 15 hours of the new bloke. In a TV show, there's one show every seven days, so it takes a lot more getting used to."
He added: "There will be an audience churn. People will make their minds up. I don't know when, as this is unprecedented in the world of entertainment, it's really never happened on this scale before."
Evans addressed claims that Top Gear is a failure due to poor ratings. The opening episode received 4.4 million viewers in overnight ratings, before falling to 2.8 million last Sunday.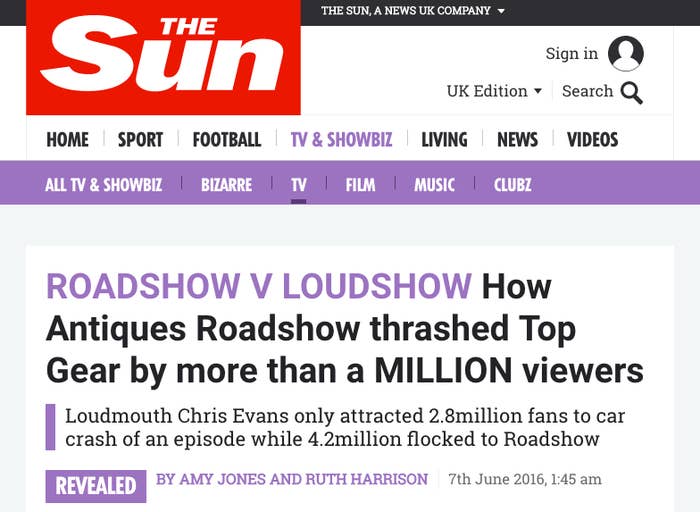 But Evans said Top Gear is successful and that many people don't watch it live, but catch up later.
Chris Evans said the show has 9 million viewers.
According to a recent BBC statement, the total audience over the course of a week for the first episode was 6.4 million viewers, with an additional 1.75 million requests on BBC iPlayer. A BBC Worldwide spokesman confirmed with BuzzFeed News that Evans got 9.1 million viewers.
"We have programmes that we identify as programmes we will watch at any time, all our favourite Netflix stuff like House of Cards, The Affair, Breaking Bad, Marseille," Evans said. "Top Gear is very, very much one of those programmes."
He argued that each episode has the potential to be seen by hundreds of millions of people.
"Once last week's episode fizzles away into the universe, because that is the only way it is going to disappear is when the planet disappears, it would have been watched by hundreds and hundreds and hundreds of millions more people than when it was first broadcast," he said. "So now the initial broadcast of a programme like Top Gear is the seed, and it will grow into a forest for just the one episode afterwards. It is that inaccurate to judge a programme from its first broadcast.
"I didn't catch up with Breaking Bad until halfway through the final series, I started to watch. I was five years late to that, and then it had its whole resurgence. That's the way it is now! Programmes got to be good. Don't get me wrong. As long as the show is alright."
Some viewers criticised the features chosen for Top Gear's first episode, which included Evans and his co-star Matt LeBlanc travelling to Blackpool.
Evans fired back: "The reason Matt and I went to Blackpool is that you've got to earn your stripes, you know? You can't just jet off to the Caribbean for the first film, in our opinion, you couldn't do that. That was an option, but we really wanted to earn our stripes, so we don't get Lamborghinis, we don't get Ferraris, we get two Reliant Rialtos and we got to get to Blackpool in the middle of the winter. Good fucking luck with that."
He emphasised that each episode is distinctively different. "Not only have we done an introductory first episode, we've also done an introductory series. What we're trying to do with each show is a give a different flavour of all the things that have gone before and all the things that are happening in the future.
"For a programme production point of view, I've watched the shows back. I think they're great. I really think they are great, honestly. I think the films are great, I think the studios are great. I think the lighting is great. The sound is great. The audiences are great. I think the cars we've got are great. ... I think the script is great.
"I think we're making the best show we can, so that's the most important thing."