First off... this is just so mmmm:
And that biscuit top is just so perfect.
But the real perfect treat is when you put your spoon through the biscuit and get that warm and tasty filling...
Mini Strawberry Rhubarb Cobbler With Buttermilk Cream Cheese Biscuits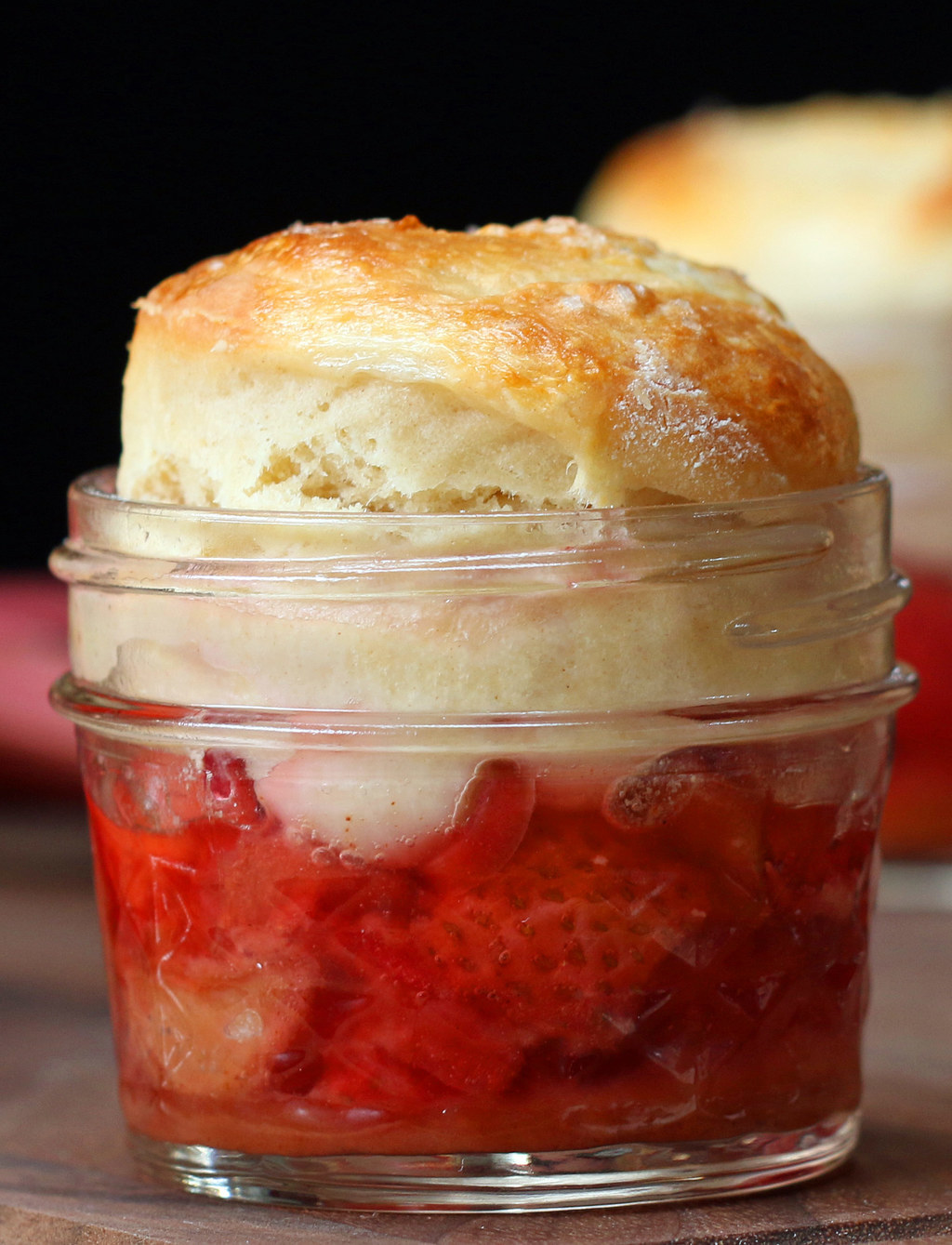 INGREDIENTS
Servings: 12 mini cobblers
3 cups strawberries, chopped
3 cups rhubarb, thinly sliced
1 cup sugar
1 tablespoon flour
1 tablespoon cornstarch
½ lemon, juiced
½ tsp cinnamon
3 cups flour
1 tablespoon sugar
1 tablespoon baking powder
¾ teaspoons baking soda
1 teaspoon salt
4 ounces cream cheese, cold and cubed
4 tablespoon butter, cold and cubed
1 cup buttermilk
Other equipment needed:
12 jam jars
PREPARATION
1. Preheat oven to 450˚F (230˚C).
2. In a medium mixing bowl combine strawberries, rhubarb, sugar, flour, slurry of cornstarch and lemon juice, and cinnamon. Set aside.
3. In a large mixing bowl whisk together flour, sugar, baking powder, baking soda, and salt.
4. Add cream cheese and butter and cut it into the dry ingredients until it reaches a "sandy" consistency but large pieces of cream cheese and butter remain.
5. Add buttermilk and mix together with a wooden spoon until the dough start to come together.
6. Flip out onto a floured surface and knead the dough until it comes together.
7. Roll the dough out and fold it in on itself, repeat this process several times (this will help create flakey layers of the biscuit)
8. Roll the dough out once more and using a jam jar, cut out 12 individual biscuits.
9. Place 12 jam jars into a large roasting tray.
10. Fill each jar about halfway with the strawberry rhubarb filling.
11. Top each jar with a biscuit and brush with additional buttermilk and coarse sugar
12. Pour 2-3 cups of water into the baking tray to create a water bath, coming roughly halfway up the side of the jam jars.
13. Bake in a preheated oven for 20-25 minutes, until the biscuits are browned and cooked through.
12. Remove from oven, and allow to cool slightly before serving. Enjoy!
Want BuzzFeed Tasty right in your inbox? Sign up for our newsletter!