No-Bake Crispy Chocolate Peanut Butter Balls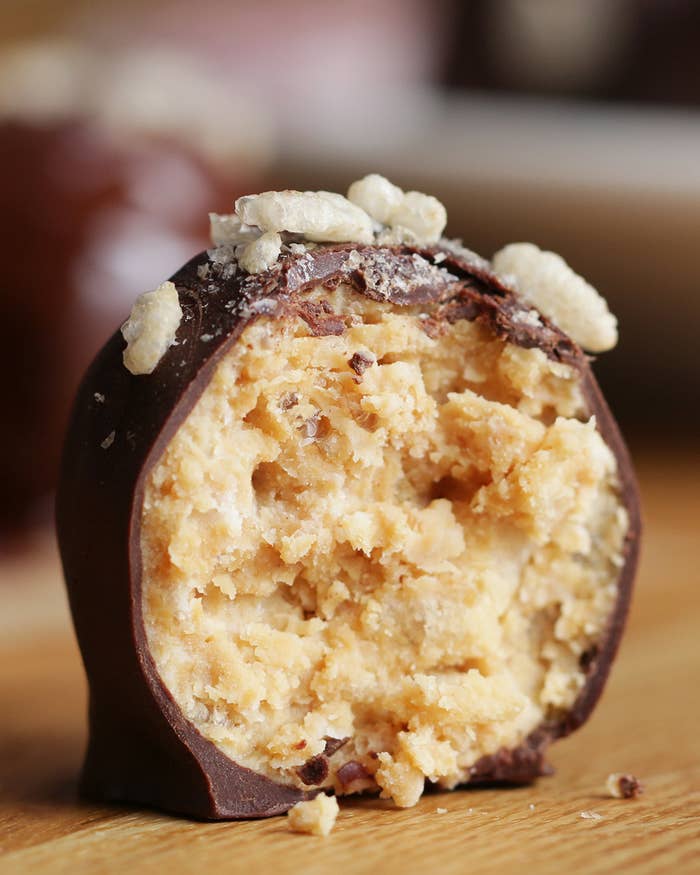 INGREDIENTS
Servings: 40-50
½ cup salted butter, softened
2 cups creamy peanut butter
3 cups powdered sugar
3 cups crispy rice cereal
2 cups chocolate chunks (preferably dark), for coating
PREPARATION
1. In a large microwave-safe bowl, add the butter and peanut butter. Microwave for 1 minute.
2. Using a fork, stir together the melted butter and peanut butter until smooth. 3. Microwave additional 20 seconds, as needed.
4. Add the powdered sugar and rice cereal to the bowl. Gently mix together until fully incorporated.
5. Using your hands, roll the mixture into approximately 40 1-inch balls. Place them on a wax paper-lined baking sheet and freeze for 15 minutes.
6. In a small microwave-safe bowl, add the chocolate chunks. Microwave for 60-75 seconds, stopping to check and stir every 30 seconds.
7. Drop the frozen balls in the melted chocolate one at a time, use a fork to roll around to ensure an even coating. Place back on a wax paper-lined baking sheet.
8. Garnish with additional rice cereal while the chocolate is still warm. Chill until the chocolate has set.
9. Enjoy!
Want BuzzFeed Tasty right in your inbox? Sign up for our newsletter!