Chef Marcus Samuelsson teamed up with Tasty and Panna to bring you the ultimate block party ribs recipe! This is absolutely perfect for your next summer barbecue (or for any time, if we're being honest!).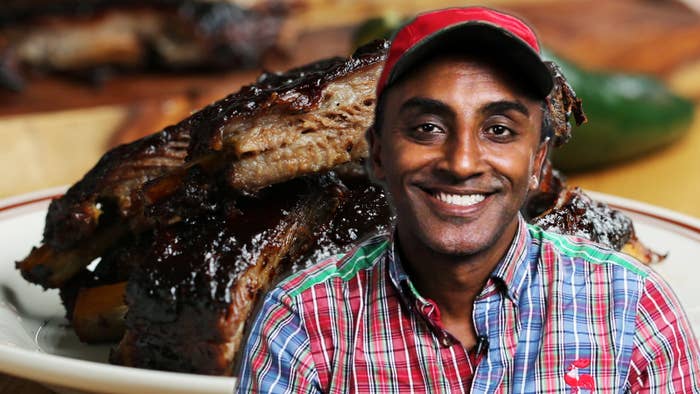 The best part is, you can totally make ribs as good as this in your own kitchen with Panna. Panna is a subscription cooking app that teaches you how to make delicious food from celebrity chefs via step-by-step video. Click here to download the app and start cheffing it up in your own kitchen!
You can even get the recipe right now! Here's Block Party Ribs as made by Marcus Samuelsson.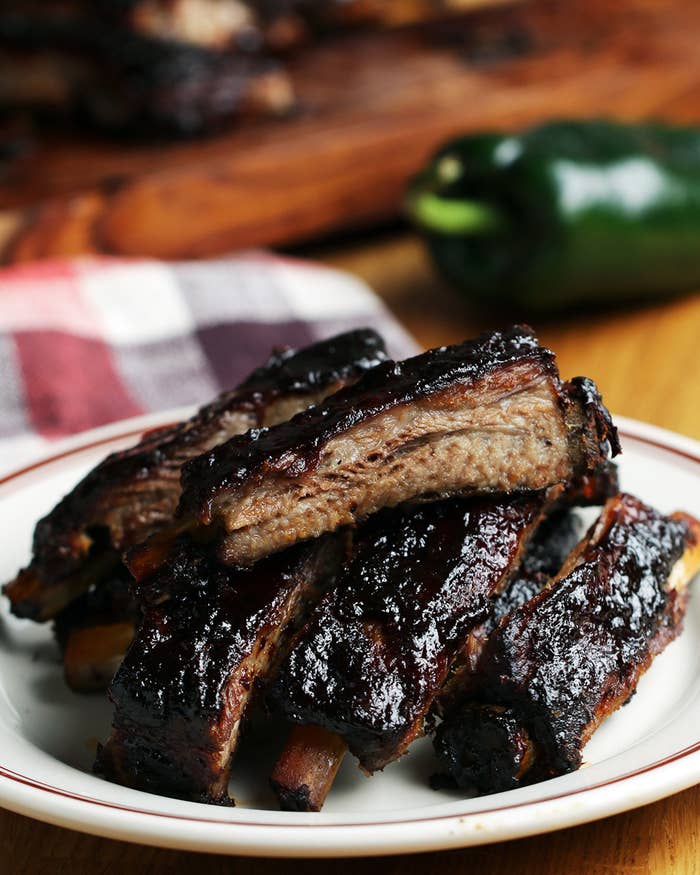 INGREDIENTS
RUB
½ cup soy sauce
½ cup dark brown sugar, packed
3 tablespoons smoked paprika
2 teaspoons salt
2 teaspoons black pepper
1 teaspoon cayenne
1 teaspoon ground allspice
1 teaspoon powdered ginger
1½ teaspoons garlic powder
4 thyme sprigs
1 lemon, zested
2 slabs pork ribs
SAUCE
1 tablespoon grapeseed oil
1 poblano chile, chopped
1 red onion, chopped
2 garlic cloves, chopped
1 1-inch ginger, peeled and chopped
Salt
1¼ cup chicken broth
1 cup ketchup
1 12-ounce bottle beer
½ cup coffee
⅓ cup apple cider vinegar
¼ cup molasses
¼ cup soy sauce
1 lemon, juiced
PREPARATION
Whisk together all the rub ingredients in a small bowl.
1. Spread the rub evenly over the pork ribs and place on a wire rack set over a baking sheet with meat side up. Cover with plastic wrap and refrigerate overnight.
2. For the BBQ sauce, heat oil in a large pot or dutch oven over medium-high heat. Add poblano chile, red onion, garlic, ginger, and a pinch of salt, then cook until onions begin to soften. Add the remaining sauce ingredients and bring the mixture to a simmer. Turn the heat down to medium-low and cook at an active simmer until the mixture is reduced to about 2 cups, about 30-45 minutes.
3. Once reduced, cool slightly then transfer mixture to a blender. Puree until smooth.
4. Preheat oven to 275˚F/140˚C.
5. Uncover the ribs, keeping them raised over the baking sheet on the wire rack. 6. Pour 2 cups of water into the bottom of the baking sheet.
7. Spread 1 cup of the BBQ sauce over each rack of ribs.
8. Bake in a preheated oven for 3-3 ½ hours.
9. Remove ribs from oven and preheat the broiler to high.
10. Broil the ribs for 5-10 minutes to finish, until the sauce caramelizes.
11. Cut into individual ribs.
12. Enjoy!
So perfect, right? Enjoy!