Apple Cider Donuts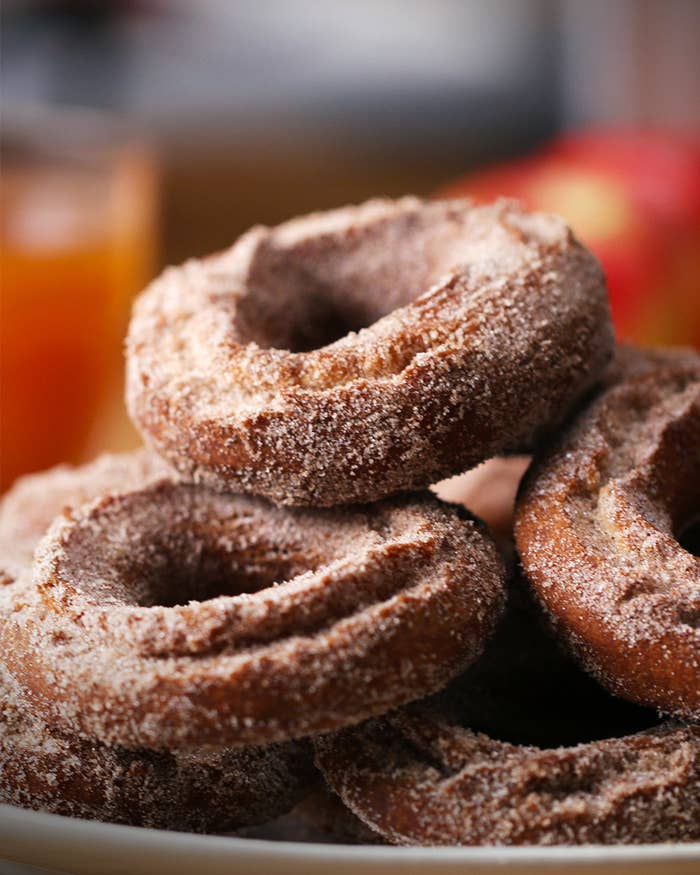 INGREDIENTS
Makes 12-14 doughnuts
2 ½ cups apple cider, (reduced down to ½ cup)
¼ cup butter
1 cup granulated sugar
½ cup light brown sugar
2 large eggs
1 tablespoon vanilla extract
¾ cup sour cream
4 cups flour
1 ½ teaspoons salt
2 teaspoons baking powder
2 teaspoons cinnamon
1 teaspoon nutmeg
Canola oil for frying
Cinnamon sugar for coating
PREPARATION
Bring apple cider to a boil over medium-high heat and reduce down to ½ cup (takes about 20-25 minutes). Pour into a large glass measuring cup.
Add butter to hot cider and stir to melt. Set aside, cool.
In a large bowl, whisk together eggs with white and brown sugar. Add cooled cider/butter mixture, sour cream, and vanilla extract.
In a large bowl or in a fine mesh strainer set over the wet ingredients, sift together flour, baking powder, salt, cinnamon, and nutmeg.
Using a wooden spoon, mix dry ingredients into the wet until just incorporated. Cover and chill for 1 hour.
On a very well-floured surface, roll out the cooled dough to about ¾-inch thickness and cut into donut shapes using pastry cutters or a mason jar/cup and a bottle cap/shot glass. Chill cut donuts 10 minutes more if necessary.
Heat oil to 350˚F.
Fry donuts, 3-4 at a time, flipping occasionally until golden on both sides.
Remove to a paper towel lined baking sheet to drain. Roll in cinnamon sugar while still warm.
Enjoy!
Want BuzzFeed Tasty right in your inbox? Sign up for our newsletter!