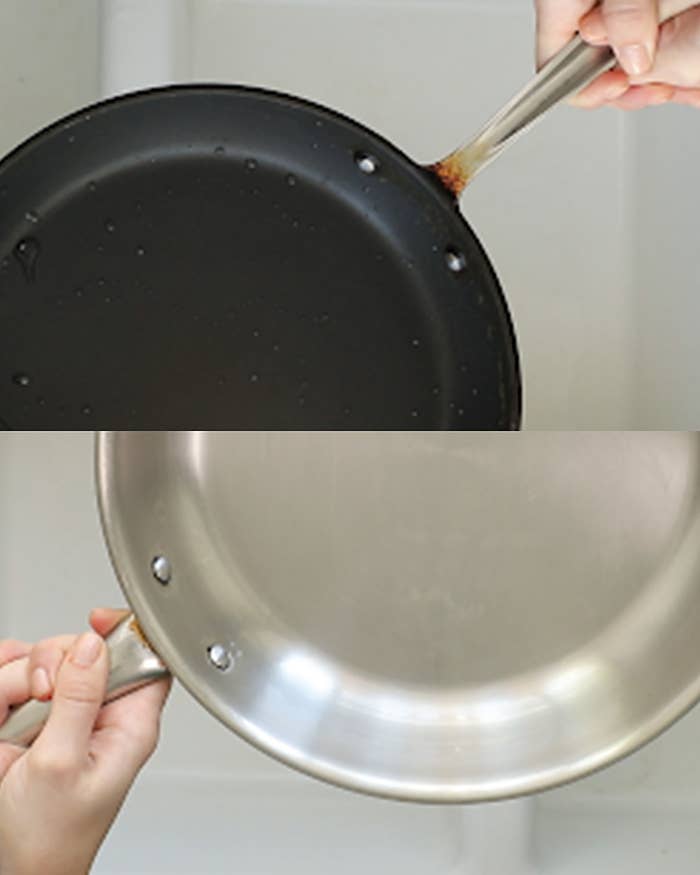 School nights mean family dinners, which means mounds of dishes, stuck-on food, and burnt pans. In this Tasty video, we plan to show viewers how to alleviate the stress of dirty dishes. With these simple hacks, scrubbing burnt pans after weeknight dinners will be a thing of the past.
Dryer Sheet
Dryer sheets are great for more than just fresh-smelling clothes — they also can be used in your kitchen to clean even the most burnt-on messes. For this weird pan-cleaning hack, fill your pot with hot water and a little dish soap. Add a dryer sheet and leave to soak for an hour. When you return, just give a soft scrub with a Scotch-Brite™ Non-Scratch Dishwand for a hassle-free clean.
Vinegar + Baking Soda
Take a tip from your kid's science class and combine vinegar and baking soda for an effervescent and effective cleaner. Simply sprinkle the surface of your dirty pan with baking soda, then pour on a solution of water and vinegar. Allow the mixture to fizz away, and it will lift the food particles right off with the wipe of your Scotch-Brite™ Non-Scratch Dishwand.
Hydrogen Peroxide + Baking Soda
This cleaning hack works great on stainless-steel pots. Make a mixture of hydrogen peroxide and baking soda to clean away stuck-on food mess. After cleaning and drying, you can polish up your pans using the abrasive side of a Scotch-Brite™ Non-Scratch Dishwand for a sparkling pot.