Bacon Egg and Cheese Biscuit Bake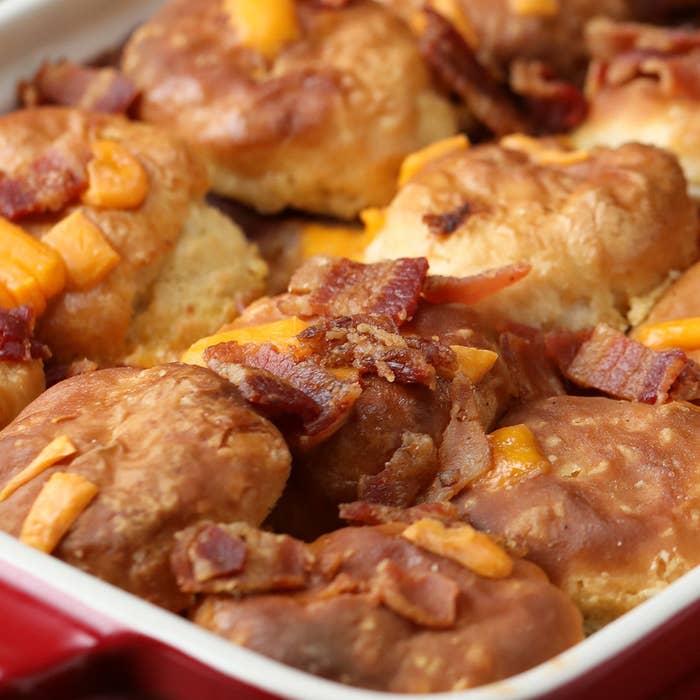 INGREDIENTS
16 eggs
½ cup half-and-half
1 teaspoon hot sauce
½ teaspoon pepper
½ teaspoon salt
12 medium-sized buttermilk biscuits, baked and cooled
12 slices cheese
14 slices thick cut bacon, cooked crispy
Scallions (garnish)
PREPARATION
1. Preheat oven to 400ºF/200ºC.

2. Slice biscuits in half and place on a sheet (you can allow them to dry out overnight).

3. Beat eggs with half-and-half, salt and pepper, and hot sauce. Set aside. 

4. Layer biscuit halves in the bottom of a baking sheet.  

5. Cover with some of the egg mixture, allow to soak in well (about 10-15 minutes). 

6. Cover with 10 cheese slices, then 12 slices of bacon (leave in whole strips).  

7. Place another layer of biscuits and cover with remaining egg mixture, pushing down on the biscuits in order to absorb the egg. 

8. Top with the remaining cheese slices and bacon (chopped).  

9. Cover and bake at 400º/200ºC until cooked entirely (45 minutes–1 hour).

10. Garnish with chopped scallions.