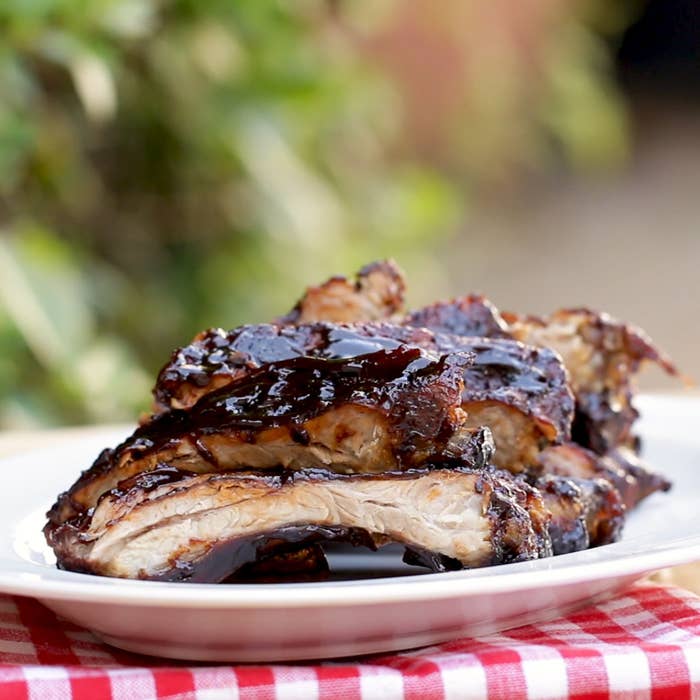 Serves: 4
INGREDIENTS
1 kilogram rack of pork loin ribs
SPICE RUB
2 tablespoons brown sugar
2 teaspoons Schwartz smoked paprika
½ teaspoon Schwartz black pepper
1 teaspoon Schwartz cinnamon
250 grams ketchup
65 grams treacle
50 grams brown sugar
2 tablespoons apple cider vinegar
1 teaspoon Schwartz smoked paprika
½ teaspoon Schwartz cinnamon
100 millilitres bourbon whiskey
¼ teaspoon salt
¼ teaspoon Schwartz black pepper
TO SERVE
1 tablespoon sesame seeds
PREPARATION
Preheat oven to 150°C.

Make the spice rub: In a small bowl, combine brown sugar, smoked paprika, black pepper, cinnamon, and salt.

Rub spices evenly on both sides of the ribs. Wrap ribs bone side down in tin foil, place onto a baking tray.

Cook for 2 hours, or until the meat starts to shrink away from the bone.

While the ribs are cooking, make the BBQ sauce. In a medium saucepan, combine ketchup, treacle, brown sugar, apple cider vinegar, cinnamon, bourbon whiskey, salt, and black pepper over medium heat.

Bring sauce to a boil, and let simmer for 15 minutes, or until thickened.