Schwartz Quick And Easy Chicken Smokehouse BBQ Quesadilla
This deliciously simple, smoky BBQ quesadilla is the perfect cheesy twist on the classic BBQ chicken wrap, perfect any day of the week!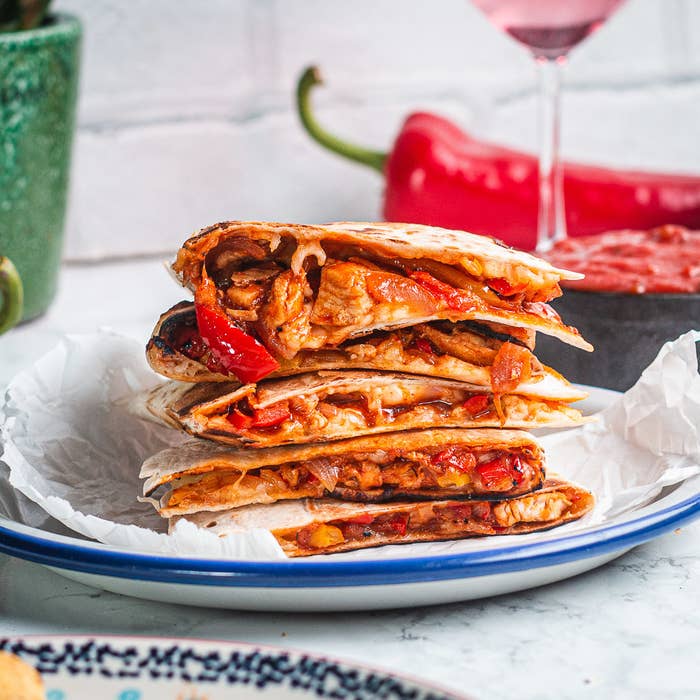 Ingredients
1 sachet Schwartz Smokehouse BBQ Wrap It Recipe Mix
1 tbsp oil
450g chicken breast, sliced
1 red onion, sliced
1 red pepper, sliced
1 yellow pepper, sliced
150ml water
1 pack of wraps
400g mozzarella cheese
To serve:
Salsa
Preparations
1. Heat the oil in a frying pan over medium heat. Add the chicken and cook for 6–7 minutes.
2. Add the onion and peppers. Stir and cook for a further 4–5 minutes.
3. Add the contents of the sachet along with the water. Stir and cook for a further 1–2 minutes or until the chicken is cooked through. Remove from the heat.
4. Spoon your filling into a wrap and top with a handful of cheese. Set aside.
5. Add a little oil to a frying pan and set over a medium heat.
6. Add your quesadilla to the pan and cook for 2–3 minutes aside, or until golden brown and the cheese is melted.
7. Serve and enjoy.