Schwartz Gingerbread House
Bring a winter wonderland to your kitchen this Christmas with our enchanting gingerbread house! Let's get creative!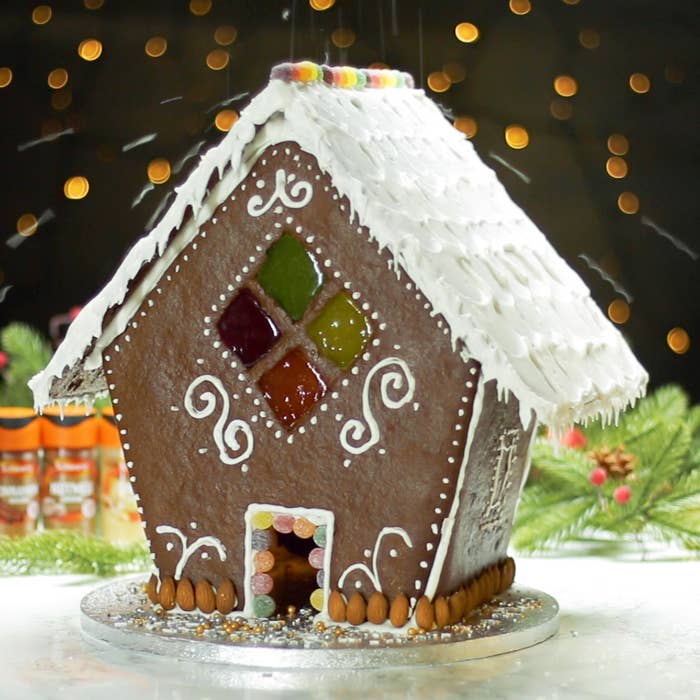 Ingredients
940g plain flour
1½ teaspoon baking powder
4½ teaspoons Schwartz Ground Ginger
1½ teaspoons Schwartz Nutmeg
2 tsp Schwartz Cinnamon
1½ teaspoons salt
340g butter
500g molasses
300g caster sugar
Royal Icing
6 egg whites
1 teaspoon lemon juice
9 cups icing sugar — 1,080g
Desired sweet and decorations
Preparations
1. Preheat the oven to 180ºC. Line 2 baking sheets with greaseproof paper.
2. In a large bowl, sieve together the flour, baking powder, ginger, nutmeg, cinnamon, and salt. Set aside.
3. Melt the butter in a large pan over a medium heat. Add the molasses and sugar, bring to a boil, then turn off the heat.
4. Gradually stir in the flour mixture (around 120 grams at a time), making sure to fully incorporate each addition before adding more.
5. Dust a work surface with a little flour. Carefully turn the dough out onto the floured surface and work for a minute or two. (You don't want the dough to be too crumbly. The mixture will be hot so be careful! You may find it easier to wear food preparation gloves at this stage.)
6. Next, shape the dough into a log and cut into 3 portions with 2 pieces slightly larger than the other. (The 2 large pieces will become your larger sides and roof.)
7. Set aside the smaller pieces of dough in the pot (it still should be warm, but not hot), cover with cling film, and put the lid on. You'll want to work with the dough while it's warm as it tends to harden at room temperature. If it hardens, simply microwave for about 30 seconds.
8. On the floured surface, roll out the larger piece of dough to a rectangle about ½ inch (1¼ cm) thick. Using a house template, cut the 2 pieces of the roof and set on a prepared baking sheet. Space them about 1 inch apart as the dough will expand while baking.
9. Roll out the rest of the dough and cut out the front, back, and sides of the house using the templates. Place on a baking sheet. (This is your chance to get creative! Use any shape you like and cut as many windows as you want! It's your gingerbread house!)
10. Wrap the leftover dough in plastic wrap and store at room temperature for up to 1 day. Microwave to soften and roll out to make decorations for the house or another gingerbread creation.
11. Bake the gingerbread house pieces for 10–12 minutes, until they have hardened and baked through. Let cool completely. If you want to go the extra mile and create stained glass windows, simply crush a hard-boiled sweet and put a teaspoon into the area. Then place back into the oven for 4 minutes. Leave to cool completely before removing from the tray.
12. Make the royal icing: In a large bowl, beat the egg whites and lemon juice with an electric hand mixer until frothy. Gradually add the icing sugar around 120 grams at a time, until the icing is smooth and thick. NOTE: The icing is used for gluing the house together. It's very thick. To use the icing for decorating, add about 1 teaspoon of water at a time to thin the icing to your desired consistency.
13. Assemble the gingerbread house with the royal icing.
14. Decorate the house with more royal icing and your desired decorations.
15. Enjoy!