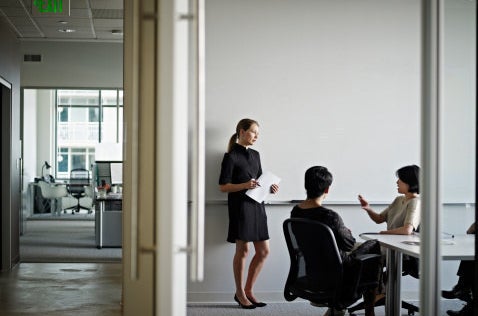 Women are still absent from senior positions in some of the UK's most successful companies despite a government target, an inquiry by the equalities watchdog has found.
The Equality and Human Rights Commission (EHRC) said that despite a push first outlined six years ago to secure 25% female representation on boards, women are still noticeably absent from senior positions.
A report published on Wednesday noted that 60% of companies in the FTSE 350 had failed to improve gender diversity, with less than half having increased their female board representation over the period covered by the EHRC's review.
The damning findings complete a trio of reports this week that highlight the UK's failure to ensure women in the workplace are supported and promoted.
A report from the House of Commons women and equalities committee published on Tuesday found that pregnant women and new mothers were more likely to face negative treatment at work than they were a decade ago.
And a third report, a Treasury-commissioned review into female representation in financial services, found that representation of women in middle and senior management tiers is lagging behind that of other sectors.
Ruby McGregor-Smith, a House of Lords peer and CEO of Mitie Group, told BuzzFeed News the EHRC inquiry shows more needs to be done to support women up the career ladder.
"The challenge we have is there isn't enough [senior talent] in the pipeline coming through for executive roles – it is not where we'd like to be," she said.
The "challenge is really quite simple", she said – that more female role models were needed and that more young women should be educated to be aspirational. She added that there were also difficulties around childcare for mothers.
"More and more is being done around aspirations – but do women really know [at school] they can be the top of a business?" she said. "We need to do more, probably.
"If you encourage economic participation to be equal, you increase GDP [by drawing from a more diverse talent pool]. It's an absolute no-brainer."
Margaret Casely-Hayford, chair of ActionAid, said while companies should not bring on more women purely as an exercise to meet targets, limiting the talent pool by not including women and people from different backgrounds was "ridiculous in a competitive world".
The EHRC's Laura Carstensen added: "Despite welcome progress ... our top boards still remain blatantly male and white, with inexcusable and unacceptable discrepancies between companies.
"The good work of a forward-thinking minority masks that many top businesses are still only paying lip service to improving the representation of women on boards."