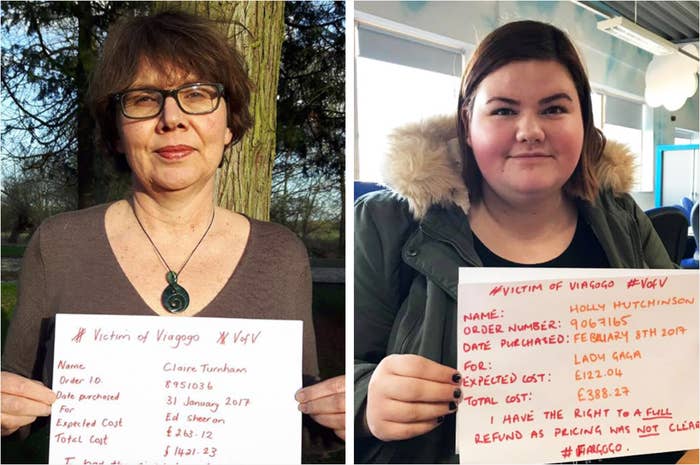 The secondary ticketing site Viagogo has been labelled "unfair" by the MP Nigel Adams, who called on the government to set out plans to stop such sites "fleecing" fans out of money during Prime Minister's Questions on Wednesday.

Adams, a member of the culture, media, and sport committee, called on Theresa May to specify what the government would do to "ensure genuine fans are not fleeced by ticket touts and rogues."

He hit out at Viagogo for offering tickets for an Ed Sheeran charity gig to be resold for more than £1,000, and for listing tickets to Hamilton, the musical, even though photo ID of the original buyer is required for entry.

The prime minister, calling it an "important issue", said the government would "shortly" respond to an independent report, commissioned by the government and published by Professor Michael Waterson, in May.

Adams told BuzzFeed News he would now invite Viagogo to attend a select committee session and answer "plenty of searching questions" in March.

He previously took evidence from industry players at a one-off inquiry session into "ticket abuse" in November and said he had since heard "alarming" evidence that called into question what he described as the "murky" industry of ticket resales.
Adams spoke to BuzzFeed News after meeting with a Viagogo customer, Claire Turnham, on Tuesday, who said she was charged £1,421.23 for four Ed Sheeran tickets on 31 January after they were displayed as costing £263 on the site.

Viagogo, which has not responded to repeated requests for comment from BuzzFeed News, allegedly failed to show Turnham, and an unspecified number of other customers, the full price for tickets on sale before they were purchased, something it has previously blamed on a brief "hiccup" but said was now rectified.

The "hiccup" resulted in the total cost of tickets not being displayed until after money had been charged. It is not known how many customers were affected but in a bid to raise publicity, Turnham has been encouraging people to share photographs of themselves listing their order number, the amount they say they expected to pay, and the amount they did pay, on Twitter using the hashtags #vofv and #fairgogo.

During the course of purchasing the tickets, Turnham's card was initially declined. Three minutes later, her bank confirmed, the payment was taken again but there was no evidence of a bank error.

She has also set up a Facebook group of over 100 customers who say they were "victims" of Viagogo and are sharing legal advice and the emails of Viagogo executives to contact directly.
Another customer, Helen Meakins, who has been told she can pursue a refund but said she is yet to be issued it, bought tickets to an Ed Sheeran concert for what she thought would be a cost of £170 on 1 February only to unexpectedly be charged £917.12, leaving her "absolutely beside myself".

She had bought the tickets on her credit card as a "treat" for her family, she said, after a period of stress during which her three-month-old baby spent time on a life-support machine and she and her family were "completely broken".

Viagogo apologised and informed her that her order had been impacted by a "brief issue on the website". The company, in an email seen by BuzzFeed News, said it could only process the order once she had received the tickets from the seller and posted them back to the company, which she has now done.

She said, however, she was concerned about accruing interest on her credit card.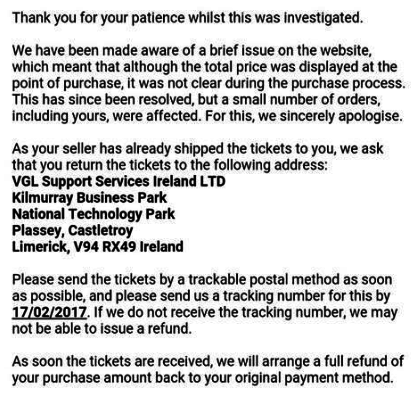 "I know full well I'd never have been able to afford that amount. I have been in such turmoil, I am absolutely devastated. I haven't slept properly, I've actually been physically sick," she told BuzzFeed News. "They either have no idea what they're doing to people, or just they really don't care."
On the Facebook page, called "Victim of Viagogo", some customers claim pricing was "unclear" or to have been overcharged for purchases made between November and as recently as 19 February – though in correspondence to one customer who was refused a refund after buying Lady Gaga tickets, a customer service representative said this would not have been possible because the hiccup had "long" been rectified by 8 February.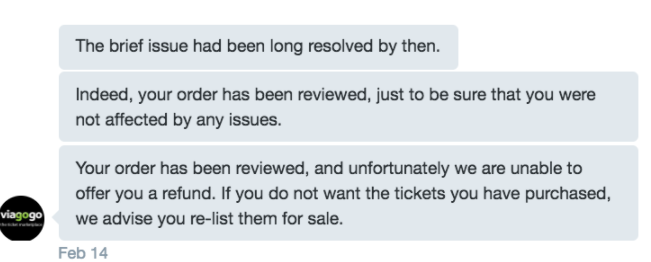 Viagogo did not respond to questions from BuzzFeed News and it is not clear whether customers had in fact missed the subtotal, which Viagogo said always appears on the screen.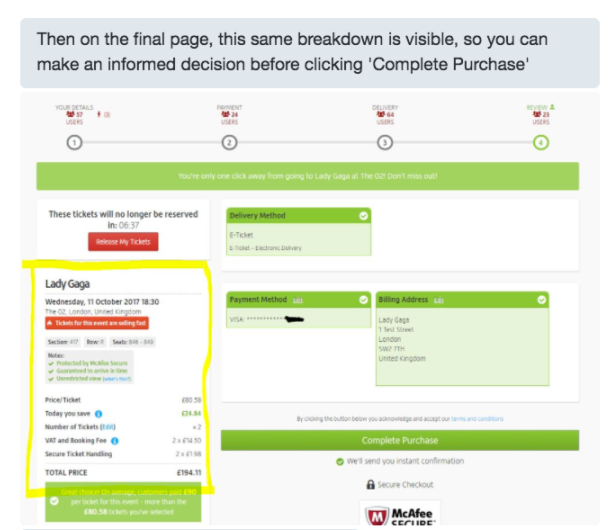 Others on the Facebook group and on Twitter claim they feel they were "misled" during the purchasing process and did not realise Viagogo was a secondary ticket site.

Some customers who have also been denied refunds claim they have referred the dispute to Trading Standards, which told BuzzFeed News: "Consumers should contact the Citizens Advice to pursue a claim should they feel they have been taken advantage of." A spokesperson added: "We would like to see tougher action against secondary ticket platforms."

Secondary ticket sites, including Viagogo, Get Me In, Seatwave, and StubHub have come under increasing pressure from regulators, MPs, and consumer groups. In 2015, the platforms agreed to make improvements regarding information to consumers following concerns put forward by the Competition and Markets Authority (CMA).

In December 2016, the CMA announced it had launched an "enforcement investigation" across the industry into "suspected breaches of consumer protection law", which is currently ongoing. It follows "concerns that people are not getting the full range of information required by law when buying tickets put up for resale". It has not, however, reached a view about whether consumer law has been breached.