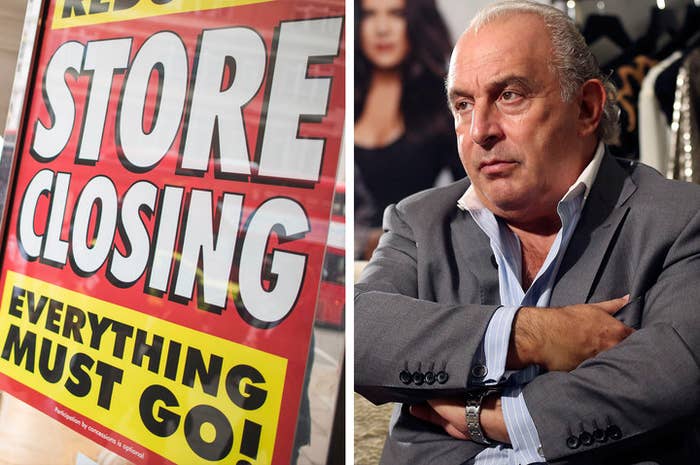 The "main purpose" of Sir Philip Green's sale of BHS to a twice bankrupt, little-known businessman who subsequently oversaw its collapse "was to avoid liability" for its pension scheme, the Pensions Regulator has said.
BHS, one of the best known brands on the high street, collapsed just months after it was purchased by Dominic Chappell for just £1 through his investment vehicle Retail Acquisitions, throwing 11,000 jobs and 20,000 pensions into jeopardy.
The regulator said it first raised "several concerns" about the pension deficit in 2012, and told MPs during an inquiry into the collapse and sale of the business that it had only heard about the sale of BHS "in the newspapers". Green's company Arcadia Group, which also owns Topshop, denies this.

In its report published on Tuesday, the regulator said it was taking separate action against Chappell, a twice bankrupt former racing driver, and would publish those findings in due course.

The regulator settled its case against Green when he voluntarily agreed to pay £363 million in cash to the fund in February. A spokesperson for Green declined to comment on the report, but pointed out that Green had made six offers to settle the pension, including before it fell into administration.

The timeline in the report does state that the billionaire made offers, but says they were "rejected" by the regulator. Under the current deal, the report says, BHS pensioners can expect to receive less than their original pension benefits – an average of "around 88% of the value".

When he made the pension contribution, Green said "I would like to apologise to the BHS pensioners for this last year of uncertainty, which was clearly never the intention when the business was sold in March 2015."
During a gruelling parliamentary inquiry into the sale and collapse of the business, MPs raised questions over how much money had been taken out of the business when it was owned by both Green and then by Chappell, and whether that had been justified.

BHS's former CEO also claimed to the committee that Chappell exercised "very poor" financial governance during his tenure, claiming, for example, that he had tried to take money from BHS to fund a set of family holiday flights in December 2015, just months before administrators were called in, putting 11,000 jobs on the line.
In a damning report by MPs, the committee said Green had shown the "unacceptable face of capitalism".

In the searing committee report, Green was accused of not investing in the company and "systemically extracting" hundreds of millions of pounds from it, enriching himself and his family, and leaving its pension scheme in deficit.