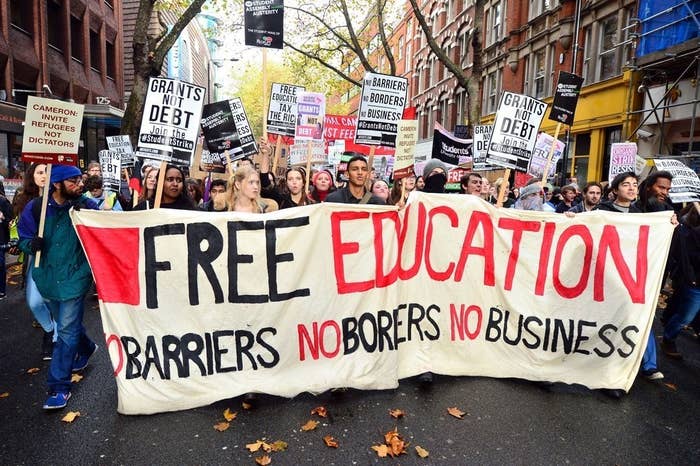 The National Union of Students (NUS) is calling for a boycott of the government's National Student Survey (NSS), which will be distributed across final-year undergraduates at universities this week.

The annual survey, which asks students to rank their experience and is carried out on behalf of the Department for Education, will be used to "enhance the learning experience for future students", the Higher Education Funding Council for England (HEFCE) said.

But the NUS says it is being used as a "Trojan horse" to increase student fees by stealth.

Sorana Vieru, vice president of higher education at the NUS, said the survey will be used to inform from 2019 how much universities can increase the £9,000 annual fees in line with inflation.

Data from the NSS pooled from 2016, 2017, and 2018 will be used to rank universities gold, silver, and bronze. That rating will then determine how much they can hike fees. Gold and silver universities can add 100% of inflation, while bronze can add 50%.
Vieru said she feared this would penalise underperforming universities, which would have to make do with smaller fees, while also penalising students, who have to pay more to attend better-performing institutions. It would create a division in the sector, she said, accusing the government of an "ideological" desire to commercialise education.
She said 20 university unions had so far agreed to support the boycott of the survey, which rolls out from today until April. Others had, she said, agreed not to promote it.

She said fees could reach upwards of £12,000 in the next decade, depending on what impact Brexit has on the economy. The NUS campaigns for free fees.

She also hit out at the government's Teaching Excellence Framework, the policy behind the programme, as being out of touch and "nothing to do with teaching excellence" because the metrics the rankings would be based on, which include drop-out rates, employment after university, and overall experience, were simplistic or subjective.

"If you need to pay more to go to the best unis and less in order to go to the bronze ones, what does that mean for the aspirations of poor students?" she said.

"We should be aiming to give equality in the higher education experience whatever course you're on, whatever institution you're at. It's essentially a Trojan horse for raising tuition fees."

"The quality will actually go down because they [the universities] will be chasing the carrots rather than investing in getting more books in the library."

Tuition fees were increased from £1,000 to £3,000 per year under Tony Blair and later increased to £9,000 in 2010 under the coalition government, prompting mass protests. The government said £9,000 would be the maximum universities could charge but last year announced the fees could rise in line with inflation annually from 2017 onwards.

HEFCE said it would monitor how the boycott would "impact the results when the survey is complete" and defended the NSS as a way to "provide information to prospective students about university choices".
"Since 2005, the NSS has helped over 2 million students make their voices heard about the things that matter to them," a spokesperson said. "These voices have helped to bring about significant and positive change in higher education.
"The results are used by senior management teams, academics, students' unions, and others to drive improvements in curriculum, teaching and learning quality, learning resources, and academic support."