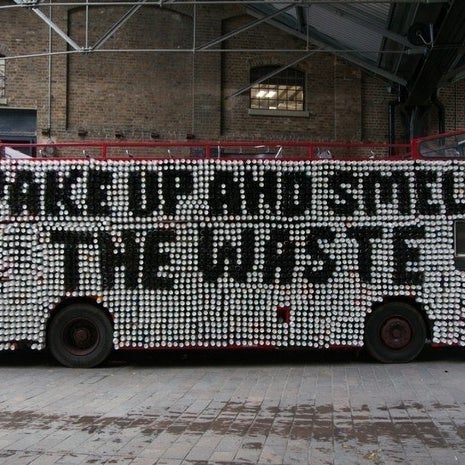 The UK's most popular coffee chains have hit back at criticism that their takeaway cups are being sent to landfill, instead pointing the finger at local councils.
Costa Coffee, Starbucks, Caffé Nero, and Pret a Manger told BuzzFeed News their cups are all "technically" recyclable – it's just that most recycling plants won't take them.
Celebrity chef Hugh Fearnley-Whittingstall launched a campaign yesterday called Wake Up and Smell the Waste, accusing coffee chains of failing to ensure paper coffee cups don't end up in landfill.
The two biggest coffee companies in the UK, Costa and Starbucks, it alleges, have misleading messages about waste on their websites, because they claim the takeaway cups are 100% recyclable, when in reality few councils process them.
For example, a global commitment made by Starbucks in 2011 said it was "on track" with its goal to "make 100 percent of our cups reusable or recyclable by 2015".
Caffé Nero and Pret a Manger also take "advantage of the public's false confidence in their responsible actions", Fearnley-Whittingstall said.
He alleged that the cups are in fact "barely recyclable at all" through regular public waste collection services, many of which do not have the technical capability to recycle the materials. The materials can cause problems with sorting machines and contaminate the paper stream, according to one council website.
Councils are therefore "consistently diverting them to be incinerated or sent to landfill", the chef claimed.
But the coffee chains stressed it was a complex issue involving multiple stakeholders.
Starbucks said that while its cups were recyclable, few councils had the ability to process them. A spokesperson also said that because the cups themselves do not carry the recycling logo, "no claims were misleading", because it did not want to cause confusion.
Costa said it was "helping to identify and support national change to ensure that takeaway cups are recovered and recycled" and Caffé Nero added it was involved in a number of trials to increase the capture and collection of paper cups.
Pret a Manger also stressed it was working with other companies in the industry to find ways to improve recycling rates.
But Whittingstall called for greater transparency.
"Only by changing to a cup that is properly recyclable in the public waste disposal system, or by massively investing in new specialised facilities, can they justify the bold environmental claims they are making," he said.