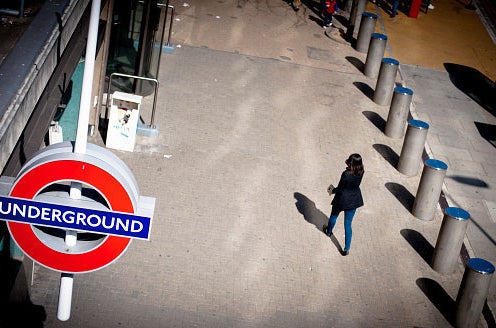 The number of people arrested and convicted for illegal sexual behaviour on the London underground, such as unwanted groping and public masturbation, fell last year despite a high-profile police campaign to stamp the problem out.
According to data obtained from the British transport police (BTP) through a freedom of information request, arrests and convictions both fell in 2015, despite a surge in victims coming forward.
The figures show the number of people arrested for unwanted sexual behaviour, which also includes rubbing, flashing, and, in rare cases, rape, fell marginally from 132 in 2014 to 129. The number of people convicted for offences fell by 40% to just 32.
As BuzzFeed News revealed last month, nearly 2,000 sex crimes have been reported to police since 2010, with the yearly figure nearly tripling from 198 in 2010 to 564 in 2015.
The police attributed the surge to a "high-profile" advertising campaign to encourage people to report unwanted sexual behaviour.
But according to the figures, just 5% of these reports last year led to a conviction, highlighting challenges in policing crime on Britain's busiest transport network.
Superintendent Chris Horton of the British transport police said that while the number of victims reporting sexual offences had gone up, so too had the number of victims who do not wish to support a prosecution.
He said: "In many of these cases unless other evidence exists we cannot deal with the offender.
"Whilst we use a variety of tactics to identify and arrest offenders there are over four million passengers that use the underground every day, and most offenders we deal with are not known to police for this type of behaviour."
Horten added: "While BTP is not directly responsible for the decision of the courts to convict a suspect of an offence, prosecutions will always be more successful when reports are made early and can be verified with witness statements and CCTV, although these are not always available."
The British transport police said they now had 20 officers targeting sexual offenders on the network, as well as plain-clothed patrols, awareness training for officers, and briefings for call-handling staff.
Laura Bates, the founder of Everyday Sexism campaign group, who has worked with the police on its work to cut down assaults, called on the police and TfL to roll out publicity campaigns aimed at showing perpetrators as well as victims.
"To have had such a big impact in raising the reporting rate but then not to follow that through with convictions is extremely frustrating and shows that there is still so much more work to be done," she said.
"We know that there is a major problem with victim-blaming within society. ... We need to tackle that normalisation in order for incidents to be taken as seriously as they should be."
Witnesses and bystanders should also support investigations and speak out against inappropriate behaviour, she said.