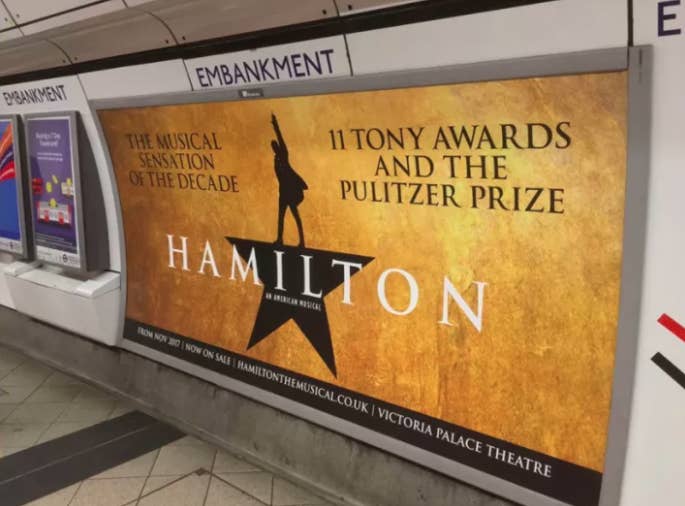 Fans who had their tickets for Hamilton cancelled have been dealt another blow after the show wrote to customers to tell them there would now be a delay in reassigning their tickets.

Earlier this month, customers were left disappointed when the London opening of the hit Broadway musical about America's founding fathers was cancelled because the Victoria Palace Theatre, where it will run, is still not ready after a major refurbishment.

Organisers cancelled two weeks of performances of the show and customers were reassured they would reassign tickets within 10 working days.

But they have now, a day before the 10-day deadline, written to some customers to say there will be an unspecified delay. The email, from Ticketmaster, states that "it's taking a little longer than we anticipated".
The show had been due to start on 21 November but has now been pushed back to 6 December owing to "unhelpful problems that always happen when doing up old buildings". Hamilton organisers are working to reseat disappointed ticket holders "as quickly as possible," the email states.

That has come as little reassurance to customers, some of whom have paid up to £200 for tickets.

One customer, Tara Potter from Hampshire in England, had secured four tickets and was left "gutted" when she was told they would need to be cancelled for another date.

"I received the email asking me to give alternative dates and still haven't heard back. Communication from Hamilton has been rubbish. I am gutted," she told BuzzFeed News.
"There's no regret or sympathy on their part. You'd think they would be making an effort to reply to messages... Very disappointing and shabby customer care."
Of the email, she added: "It's crazy. But the tone of the letter says it all. They really don't care. It has made me realise that they are a money-making organisation who don't care about their customers. We are theatre lovers who love the story Hamilton tells and want to see it live. But our hands are tied."

Another customer, Sadie Allen from Worcestershire, England, said her friend had been reassigned tickets "straight away" but that she had been told there would be a delay. "Luckily we live close enough to London that we hadn't booked anything else, we were going to drive down and maybe stay with friends," she said.

"It's not the cast and creator's fault that it's been cancelled, I'm still excited to see it,[but] the customer service has disappointed me. I feel like the process has been very disorganised, and they've cost many people a lot of money with booking transport and hotels, without much of an apology or compensation."
She added: "They've left it very late to notify people about it – if there was any doubt about the venue being ready in time for the shows then they shouldn't have planned for performances so early in the first place."

Tickets had been in huge demand, with people planning to travel from around the UK and further afield for the opening.

One 19-year-old customer who spoke to BuzzFeed News claimed she and eight friends had booked flights from Scotland and paid for hotels. She estimated they had spent around £1,200 between them on travel, accommodation, and tickets.

The customer, who did not want to be named, told BuzzFeed News she was "super frustrated" and upset.

"We're all super frustrated because we've already booked time off work and organised flights and hotels as well as booked other activities for our time in London," she said, "all of which we'll need to try to cancel or rearrange so we're hoping that we won't lose out on money by doing so."
At the time of the cancellation, Cameron Mackintosh, owner of the Victoria Palace Theatre and coproducer of the show, apologised and said the redevelopment of the theatre was an "extraordinary undertaking".
Earlier in the month, one person tweeted a photograph of the theatre and questioned whether it would be completed in time.

Mackintosh said the theatre had also needed to obtain "the necessary licences to reopen to the public", and had had to take the "pragmatic decision to reschedule" the opening by two weeks.

"I am, of course, sorry to amend the performance schedule but undertaking a private rebuilding project on this scale in Central London has no precedent," he said.

Jeffrey Seller, Hamilton producer, said at the time he was "extremely sorry to disappoint patrons who we know expended time, effort, and valuable resources to purchase tickets for our first performances. But they will be given immediate priority so that they can be re-seated as early as possible."

BuzzFeed News reached out to the organisers regarding the email and customer complaints, but they had not responded at the time of writing.