Costa Has Returned To Its Original Black Forest Hot Chocolate Recipe After People Kicked Off
"No cherry syrupy goodness, no chocolate flakes, no Christmas hug in a cup?!!!" tweeted one disgruntled customer.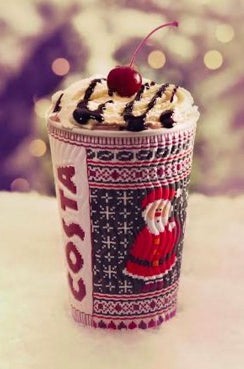 Costa Coffee has returned to its original Blackforest Hot Chocolate recipe after changes to the ingredients in this year's popular Christmas drink left some customers rather unhappy.
Each year, like other coffee chains, Costa brings out a limited edition festive drinks range. For 2016, Costa ditched the whipped cream and black cherry sauce flourish that had previously made the Blackforest Hot Chocolate a firm favourite.
But when outraged customer's complained that the new version tasted like "dishwater", or just plain hot chocolate, the coffee chain decided to return to the previous winning formula.
"We are delighted to confirm that our cherry sauce is back!," a spokesperson for Costa said in a statement.
"Whilst customers love our Christmas range many got in touch to ask where the cherry sauce on our Blackforest Hot Chocolate had gone.
"The Christmas favourite will now be served with cherry sauce, unless chocolate sauce is requested."
A lot of people who previously enjoyed the £3.25 drink had been very excited about it coming back for the 2016 Christmas season.
Costa has been selling the Black Forest hot chocolate for four years.
But people were not impressed at all that this year Costa decided to ditch the cherry sauce.
This disappointed customer said Costa's Black Forest hot chocolate was now "dead to me".
This person accused Costa of ruining Christmas.
Not everyone was disappointed, however. Some people said the drink was a "game changer", "magical", or "the greatest thing ever".
On Facebook, customers wrote on Costa's wall to let the company know exactly what they thought about the new recipe.
Costa confirmed it had tweaked the recipe and would pass on any customer feedback to its developers.
"Our Black Forest Hot Chocolate is a customer favourite," a spokesperson said. "We value all customer feedback and have passed it on to our development team."
It also tweeted customers to say the taste should not be affected by the absence of the syrup.