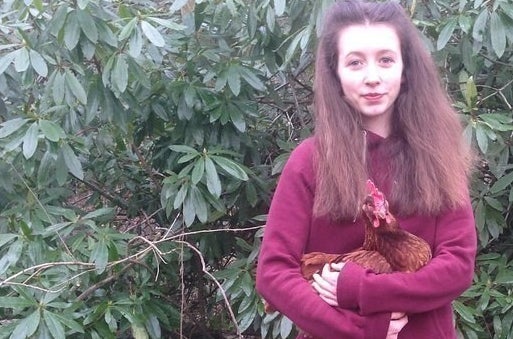 A petition started by a 14-year-old schoolgirl calling on Tesco to stop the sale of eggs from caged hens is gaining traction, receiving more than 140,000 signatures.
Lucy Gavaghan, from Sheffield, started a petition on Change.org last month asking the supermarket giant to stop the sale of the eggs. She says the caged birds live in "cruel, unnatural" conditions.
In 2012 Sainsbury's became the first major retailer to stop using the cages, which campaigners claim can hold up to 90 birds, and have small perches and a small nesting area.
However, Tesco, Asda, and Morrisons continue to use them.
"I've been writing letters to supermarkets for a while and I know others have been doing the same, but they have not taken much notice at all," Lucy told BuzzFeed News.
"Sainsbury's, M&S, and Waitrose don't sell eggs [from caged hens]. The idea is to target Tesco to make the change as the market leader."
The teenager also wants Tesco to stop selling eggs from barn-reared hens, in favour of free-range eggs, because she says chickens in barns can "barely move or stretch their wings" and "never get to experience the real outside world".
"Tesco is one of the biggest supermarket chains in the country. If it stopped selling cage and barn eggs it would drastically reduce the number of hens who spend their lives in cages and barns. It would also send a message to other supermarkets that this is an option that is realistic and achievable."
Tesco told BuzzFeed News it has no plans to stop the sale of eggs from caged and barn-farmed chickens because all its egg producers are "fully compliant" with the British Lion Quality Code of Practice and meet additional Tesco welfare standards.
"Eggs from caged hens are clearly labelled as such, so that shoppers can make an informed decision about what to buy," a spokesperson said.
Morrisons also said its eggs were sourced from British farms certified to British Lion Quality standards, from hens housed in enriched cages as a minimum. Asda also said all eggs sold at the supermarket displayed the Lion mark.
But Lucy hopes with thousands of signatures, her petition will raise awareness of the issue and "make Tesco listen".
"For me and many others this is a hugely important issue and is not one which we will give up on if we don't see immediate action," she said.
"I believe that with the help of like-minded people on social media, we can make Tesco listen and create an impact."