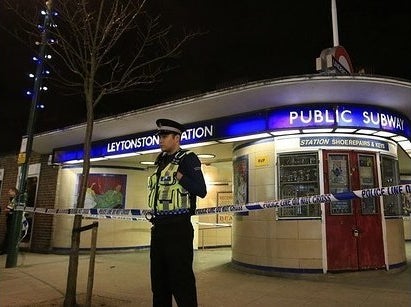 Muhaydin Mire, the man who launched an unprovoked and "brutal" attack on a tube passenger with a knife last December, has been sentenced to life in prison, with a minimum term of eight and a half years.
The 30-year-old was found guilty of attempted murder in June.
Mire, who has a history of mental illness, tried to cut the throat of Lyle Zimmerman, 56, in Leytonstone, east London, with a knife after beating him to the floor and repeatedly kicking him in the head.
During the incident, which was caught on film, Mire was heard to shout that his actions were in revenge for the bombing of hospitals in Syria.
In the video an onlooker was heard to say "You ain't no Muslim, bruv", which prompted a rallying cry on social media.
Commander Dean Haydon, of the Metropolitan police's Counter Terrorism Command, said that while Mire was not accused of terrorist offences it would appear he may have been inspired by terrorist propaganda.
"My officers continue to work tirelessly in stopping people getting drawn into terrorism and violent extremism in all forms," he added, "as well as prosecuting, disrupting and deterring extremists, reaching out to communities and safeguarding the vulnerable."