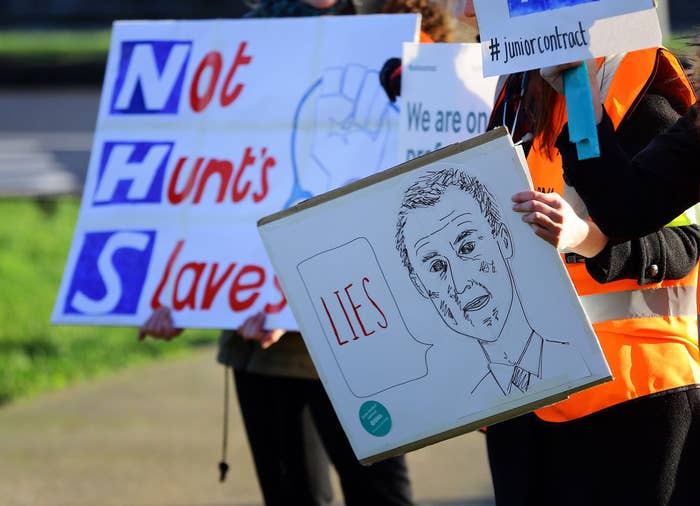 Junior doctors will strike on 10 February after negotiations with the government broke down, the British Medical Association said on Monday.
"Having been unable to reach agreement on key issues, a second day of industrial action will be going ahead," the BMA said.
It will be the second strike in the long-running dispute over the government's proposed new contracts and pay conditions, and follows a 24-hour walkout on 12 January.
Citing "progress" the body last month cancelled industrial action that was due to take place on 26 January.
The BMA said junior doctors will deliver emergency care only for 24 hours from 8am on Wednesday 10 February. Initially Wednesday's walkout was to be a full walkout between 8am and 5pm.
The ongoing row concerns what the BMA sees as an "unfair" deal for junior doctors.
Ministers have proposed junior doctors receive an 11% pay rise to compensate for seven-day service in hospitals.
But the BMA said the changes equate to a real-terms pay cut of up to 30% and that there would be no safeguards preventing junior doctors from working excessive hours.
Hannah Fosker, a junior doctor from Leicester, told BuzzFeed News there had been a "degree of progress" in the current round of talks though there were "significant blocks" to key issues.
"I think it's fair to take things gradually and change the next strike to emergency care only. Nobody is fully comfortable with a full walkout, even though there would still be consultants around, so it really is a last resort.
"However, there are mixed feelings as people are keen to keep the pressure on the government. I think it's clear that people are willing to escalate it further if required in the future.
"It may well be that a full walkout or longer periods of industrial action will still be needed, but I support the BMA in the decision to step up to this slowly."
In a Facebook post addressing BMA members, junior doctor leader Johann Malawana said the strike would not affect emergency care, to balance the need to demonstrate "determination" while "minimising disruption to patients".
"It's clear doctors are willing to escalate the action, but we want to do it in a way that is absolutely necessary," he said.
"Had the government listened to junior doctors, had they chosen not to put politics before patients, we would not be in this position.... As it is, they risk souring relations with an entire generation of junior doctors, choosing ideology over reason.
"Jeremy Hunt's warm words about the hard work that junior doctors do cut no ice. He must show junior doctors and the public that he means what he says, by turning his words into actions."
The Department of Health said the two parties had been "close" to agreeing a deal.
"It is regrettable that the BMA is proceeding with further unnecessary industrial action," a spokesperson said.
"We want to settle this so that we can improve the standard of care for patients at weekends."