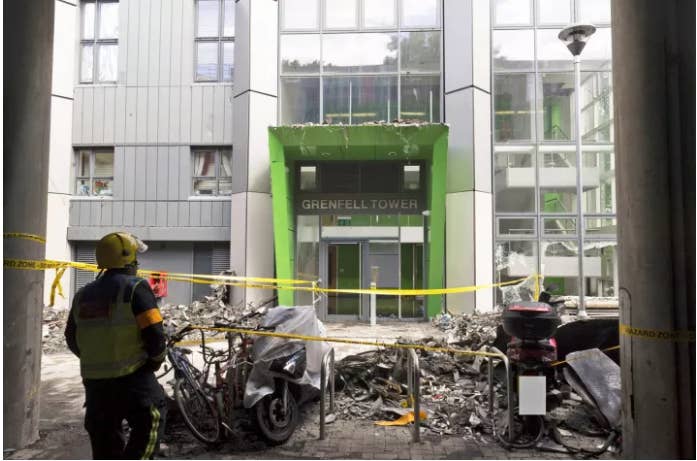 Hotpoint, the brand that makes fridges, freezers, and tumble driers, is urging customers to contact it after investigators confirmed that one of its products was linked to the Grenfell Tower fire.
Downing Street confirmed on Friday that experts are urgently testing a Hotpoint fridge-freezer model.

"The government has ordered an immediate examination of this unit by technical experts to establish the cause of the incident," a spokesperson for the government said. "This is a product which was manufactured between '06 and '09 and has not been subject to product recalls.

"This testing will establish whether further action is required."

The model, FF175BP, does not feature on Hotpoint's website on its "safety notices" page.

The company said in a statement that it was "working with the authorities to obtain access to the appliance so that we can assist with the ongoing investigations".
"Under these circumstances," it added, "we are unable to speculate on further details at this time."

It continued: "Words cannot express our sorrow at this terrible tragedy. We offer our most profound condolences to the victims, those who have lost loved-ones, homes, and possessions, and to their friends and families.

"Our thoughts and prayers are with all those involved, including the emergency services who risked their lives to extinguish the blaze and rescue those in the building."

The company has asked customers who own that model – and also FF175BG – to ring the company on 0800 316 3826. Its customer service team has begun tweeting the message to concerned consumers.

Detective Superintendent Fiona McCormack told reporters on Friday morning that the investigation – one of the largest and most complex in the Met's history – had identified that the fire started in a fridge-freezer.
She said: "We now have expert evidence that the fire was not started deliberately. The fire started in a fridge freezer – the make and model is a Hotpoint FF175BP.
"We are working with the Department for Business, Energy and Industrial Strategy who are talking to the manufacturer of the fridge-freezer. But we do know that that this model has not been subject to any product recall.
"Further testing on the fridge-freezer is being carried out by the manufacturer. Our investigation is seeking to establish how the fire started and the speed that it spread as it took hold of the building."
Scotland Yard also said it would consider manslaughter charges following the Grenfell Tower fire, as police continue to look at the involvement of various companies that played a role in the recent refurbishment of the building.

Councils around the country are testing social housing tower blocks for the type of combustible cladding material that is believed to have contributed to the speed with which the fire spread. Several buildings have been found to contain the cladding, which is in the process of being removed.