Homeless People Face Being Kicked And Abused On The Streets This Christmas
"You can get killed easily. You can get stabbed sometimes, you know?"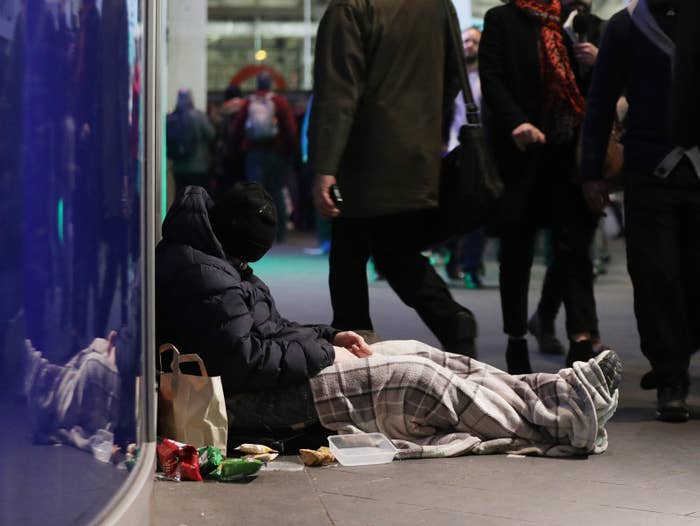 People sleeping on the street are far more likely to be victims of violence and verbal abuse than the general public, a report by charity Crisis has claimed.
The charity surveyed the experiences of almost 500 rough sleepers in England and Wales and found 80% had suffered violence, abuse, or antisocial behaviour in the past year. Seventy per cent felt abuse was getting worse.
Homeless people described to the charity how they faced regular antisocial behaviour. One man called Simon revealed he had been kicked by a man who had asked him whether he was homeless.
Another, Benji, said he had been routined harassed and slept on buses because he feared sleeping on the streets.

Other experiences recorded included people being urinated on, kicked, sexually assaulted, having items thrown at them, being verbally harassed, intimidated, and threatened with violence.
Crisis said such abuse faced by homeless people could "take a serious toll on people's mental wellbeing" and created a |sense of isolation" that makes it "even harder for them to escape the streets."
The charity, which has opened a raft of Christmas crisis centres expected to be visited by 4,000 over the festive period, urged government to tackle the root cause of homelessness "to prevent people from having to face the horrors of the street in the first place."
There is no central statistic database for the number of homeless people in the UK, but in 2015 government statistics showed that 3,569 people slept rough on any one night across England, which is over double the number counted in 2010.

Crisis CEO Jon Sparkes said: "Christmas can be a particularly difficult time for homeless people. While others are enjoying the comfort of family and friends, homeless people face a daily struggle just to stay safe and escape the cold.
"Yet we also need to make sure people can get help all year round, ideally before they become homeless in the first place."
On Tuesday, the London mayor Sadiq Khan granted a £50 million fund to be funnelled into accommodation for people moving from hostels to independent living. The fund, from government, is in addition to the £9m spent each year in London.
Part of the fund will be dedicated to supporting homeless women, including mental health support, he said.