Here's How A Group Of "Ordinary Citizens" Took The Government To Court And Changed The Brexit Game
BuzzFeed News spoke to the people who took the government to court.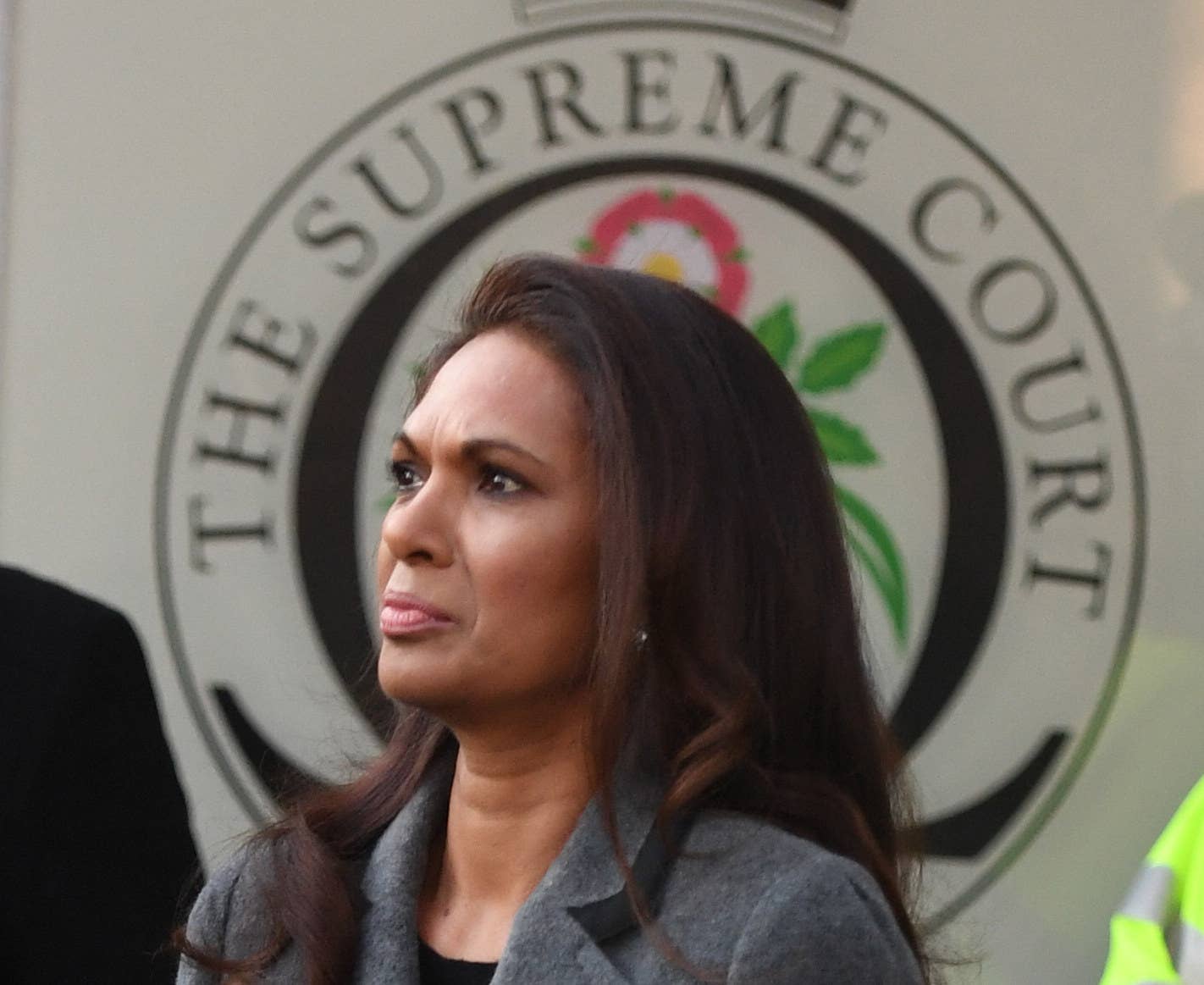 On Monday, the Supreme Court began hearing an appeal from the government over a High Court ruling that found Theresa May could not trigger Brexit without the consent of parliament.

The legal argument will consider whether the government can use something called the royal prerogative to leapfrog parliament in order to invoke Article 50 of the Lisbon Treaty, the formal process of beginning the UK's exit from the European Union.
Gina Miller, the lead claimant on the High Court case, said it was about "process, not politics."

The case has been described as unprecedented. Miller, a 51-year-old fund manager, has taken on the role of the public face of the legal action and helped fund it using her own money.

She has paid dearly, having been barraged with "thousands" of abusive tweets, letters, and even calls for her to be shot and her body to be dumped in a bin.

In opening remarks on Monday, Lord Neuberger, the president of the Supreme Court, said that people sending threats to claimants in the Article 50 case were undermining the rule of law.

While Miller has taken the brunt of the abuse, she is far from the only "ordinary citizen" involved. She agreed to become the lead named claimant in the case during a hearing in July, but did not, she said, actively put herself forward.
Miller's was one of five individual groups who had applied to launch action in the High Court, following the June referendum on Britain's membership of the European Union. It was decided her legal argument was "from a constitutional point of view, the most critical," and should lead the case.

Miller chose to waive her anonymity in full anticipation of receiving abuse, but others who have helped fund her claim have stayed out of the public eye.

Of the five original named parties in the High Court case, she was joined by another lead claimant – a hairdresser from London called Deir Dos Santos, who has now gone into hiding following death threats and is avoiding publicity. The 37-year-old, described as an "ordinary guy", took the decision to "fade back into the shadows" after he fell victim to "vile" hate mail from hardline Leave voters.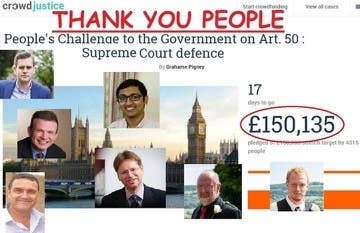 There were also three interested parties involved in the case. These included a group of anonymous children living in the UK, born to EU citizen parents and represented by the law firm Bhatia Best Solicitors, and a group representing citizens living in the EU and EU citizens living in the UK, represented by Croft Solicitors.

But it's the final party that is perhaps the most interesting. It was the only one to finance the action using crowdfunding. It raised £170,500 for the High Court challenge, and a further £150,500 to defend the ruling in the Supreme Court this week.

The group, entitled People's Challenge, consists of six people who were formerly strangers: a London student, a Welshman, a man from Northern Ireland, a man living in Gibraltar, and a man and his son living in France.
The solicitor representing them, John Halford, a partner at the law firm Bindmans, told BuzzFeed News he had many requests from people seeking representation but that these people were the only ones willing to be named.

"We thought it was important not to have people hiding their identities," he said. "Notwithstanding the threats, litigation needs to be an open process."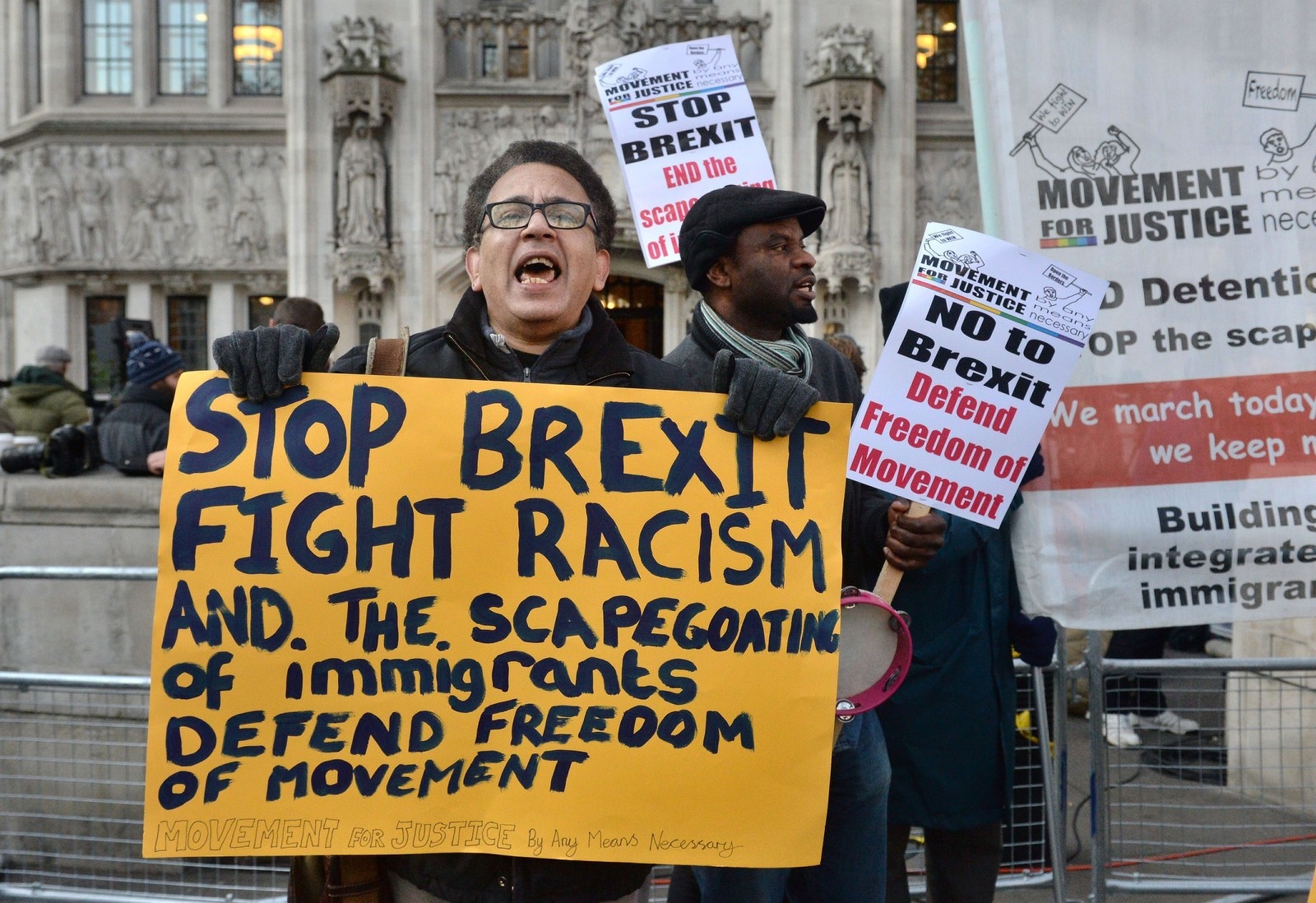 He described the challenge as a "very important constitutional case" that would establish who is "responsible for taking Brexit forward and whether that is government itself, or the government being supported by parliament".
The founder of the People's Challenge, who was first to get in touch with Halford, was a man called Grahame Pigney, a 62-year-old former IT contractor living in France. The referendum decision to leave "shattered" him, he told BuzzFeed News. But the challenge was "not about whether we stay or leave" but "about parliamentary democracy".
Speaking from his home in France following the High Court ruling, he said he had received "sinister comments [including] 'smile while you still can'".
"Gina has taken the brunt [of the abuse]," he said. "There's a lot of xenophobia and perhaps even racism in what's directed at her." He said he expected the abuse because "my solicitor went to great lengths to make sure we were ready for taking on that level of abuse… It's a very difficult and personal thing to be able to take on."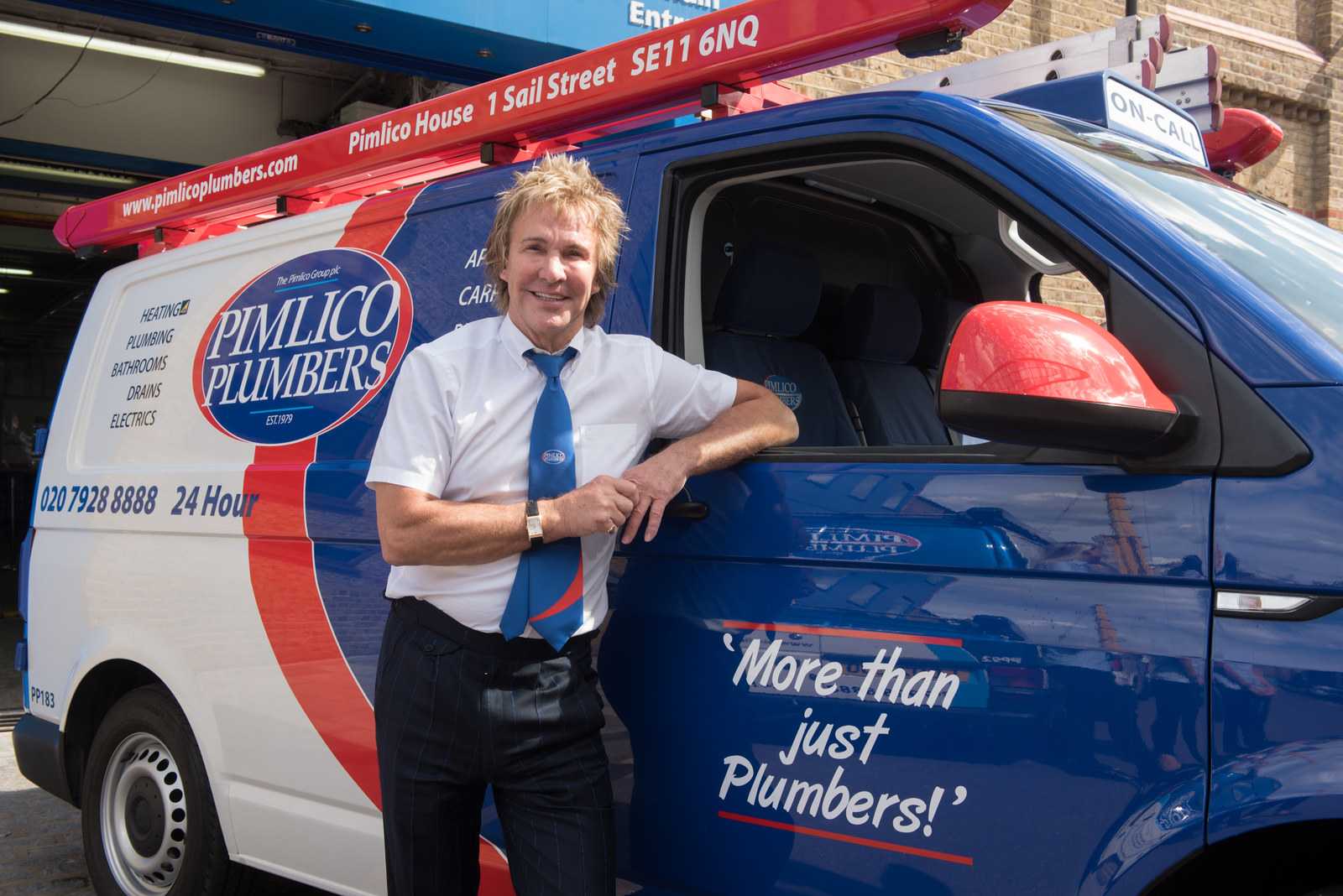 There are other private backers who have helped fund the action too. Only one of these people has waived his right to anonymity, a man called Charlie Mullins, the CEO of Pimlico Plumbers, who is also a Conservative party donor. The others remain in the shadows.

"I have been involved with funding and supporting Gina's case since the beginning," Mullins told BuzzFeed News, describing himself as a "major financial backer".

"I have chosen to go public with my support, however others have chosen not to do so. I suspect this has a lot to do with the death threats and other negative attention that has been directed in Gina's and my direction."

He said he personally had received "several death threats, most likely [from] idiots, but never nice to receive".
"The reason that parliament is the correct place for Article 50 to be debated, voted in, and triggered, is for transparency – 650 MPs debating and voting in public rather than a few MPs stitching up a deal in private," he said.
He said he received "several death threats, most likely from idiots, but never nice to receive".
Miller told BuzzFeed News she decided to launch the challenge "by chance" after speaking at a workshop hosted by the law firm Mishcon de Reya in June. She was addressing the importance of diversity in the City, something she speaks about regularly.
Following the referendum, she had become concerned about the rhetoric of "certain politicians" about the process of triggering Article 50.
She feared that if the government bypassed parliament to trigger the Brexit process, it would "set a precedent [for the government to] at any time in the future, behind closed doors, decide what is happening in the country without consulting parliament." At the event she began speaking to a lawyer from the firm.

"After that event we sat down and they said, 'We've been thinking' – and I said, 'Well I've been thinking,' and it came out at that meeting," she said.
"I'm a bit of a fatalist and think things happen for a reason – and it wasn't just Mishcon de Reya, there were a number of law firms who were already starting to get worried about it." Miller, who calls herself an "ordinary citizen", part-funded the case herself with Mishcon de Reya carrying out work at "vastly reduced rates", she said.
Miller agreed to become lead claimant at a hearing ahead of the High Court case in July. The judge had decided that because there were several legal challenges they should be heard together, rather than separately, and appointed her lead claimant on the strength of her legal team.

"I didn't appoint myself," she said.

Miller described the threats to her life as a "feeding frenzy".

"I've got a pretty thick skin, and people who know me will tell you that I really don't care about what other people think of me," she told BuzzFeed News after the High Court ruling. "But what I will say is that it shows a really, really dark side of what is happening in the UK – for people to think it's legitimate to show this type of behaviour."
Originally there had been plans for a "couple" of named claimants to be represented alongside her, she said, but for "very personal reasons they decided they could not take on the abuse" and chose to withdraw. The identity of those people is not known and cannot be revealed due to a Supreme Court order.

"You have to remember that everything to do with Brexit, the word, is so toxic and emotional that you have to think very carefully because you'll immediately be branded as a traitor and be a target for abuse," Miller said.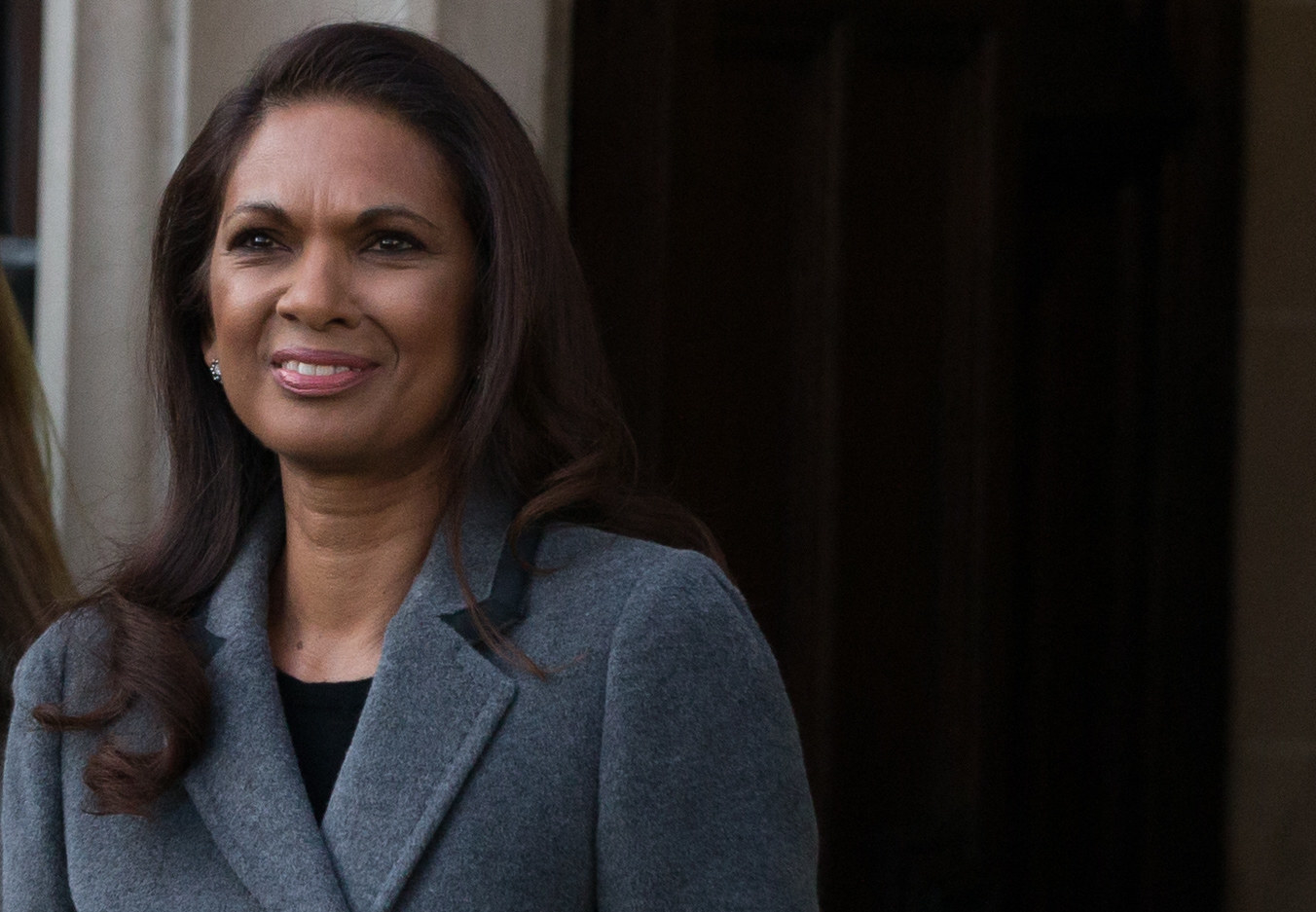 "I was warned by the team. They were men – and they said to me, 'You're a coloured woman and you've made money.' Everyone warned me and tried to protect me, but I'm afraid I said if I don't do this I don't think anyone else will."

She said despite the "thousands" of messages of abuse, she had also received letters, calls, and emails from foreign-born people who feel they've been kicked in the stomach and rejected.
"A grandmother called me up [about] her 7-year-old grandson, who is half-Pakistani, who is being bullied in the playground and told to 'go back home', and who now doesn't want to go back to school. And that's what's keeping me going – that I'm giving some light to people who feel so betrayed, in the dark, and depressed.
"And I didn't expect that – I didn't think that's what the case would do."