Heidi Alexander Just Accused John McDonnell Of Conducting A Secret Health Policy Review Behind Her Back
The former shadow health secretary said she resigned after she was "undermined" by the shadow chancellor on health policy and not invited to "secret" meetings.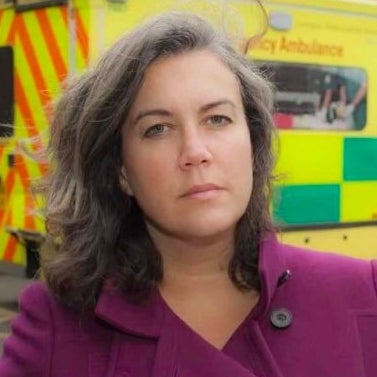 Labour MP Heidi Alexander has accused John McDonnell, the shadow chancellor, of undermining her role as shadow health secretary by conducting secret meetings without her.
Following the sacking of shadow foreign secretary Hilary Benn, Alexander resigned on Sunday along with a host of other Labour MPs.
Exposing further discontent in the Labour party, she claimed McDonnell invited NHS campaigners to a meeting in the Commons without inviting her – a highly unusual move, considering Alexander was, in her role of shadow health secretary, in charge of Labour health policy.
The exchange, on Thursday, followed this article written by Andy Cowper on the policy analysis site Health Policy Insight, in which he quoted sources saying Alexander had been excluded from "semi-secret" meetings.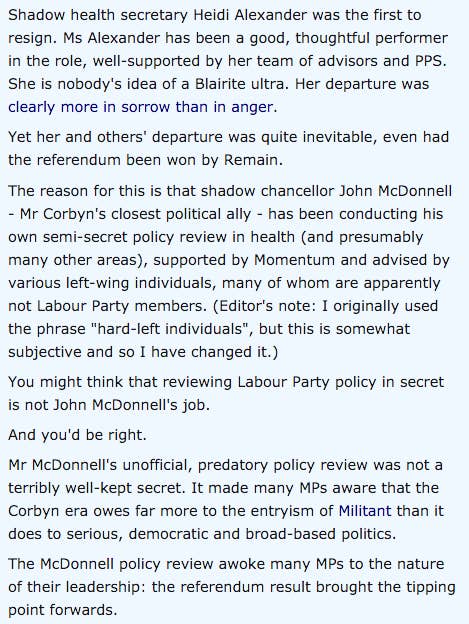 In the article, published on Tuesday, Cowper said McDonnell, who he described as Labour leader Jeremy Corbyn's closest political ally, of conducting a "semi-secret policy review".
This was, he said, supported by grassroots group Momentum and advised by "various left-wing individuals, many of whom are apparently not Labour Party members". An ally of Alexander found out about the meeting, leading her to "gatecrash" it, he said.
The accusation that Momentum and what Cowper originally described as "hard-left" individuals attended was a sign the party was stepping away from "broad-based politics", he said.
This is not the only time Alexander and McDonnell have clashed. In February McDonnell attended the picket line with junior doctors, despite the party agreeing not to support the strike and Alexander asking members of the shadow cabinet not to attend.
Cowper posted another article on Wednesday saying he had had "various challenges by email and social media about my sources" but he insisted the report was accurate.
At which point Heidi Alexander weighed in, claimed it was all accurate, and tweeted this.






She also claimed it was not the "first time" she had been undermined.

Following the report, and a similar article about secret meetings in The Guardian, the chair of the shadow health committee, made a formal complaint about McDonnell's conduct.
Emma Reynolds MP tweeted a public formal complaint to the general secretary of the Labour party, Iain McNicol, calling on him to look into "John's behaviour" as a matter of urgency.
She challenged whether, in engaging advisors that were not part of the Labour party, the conduct had broken party rules.
Here is the letter in full.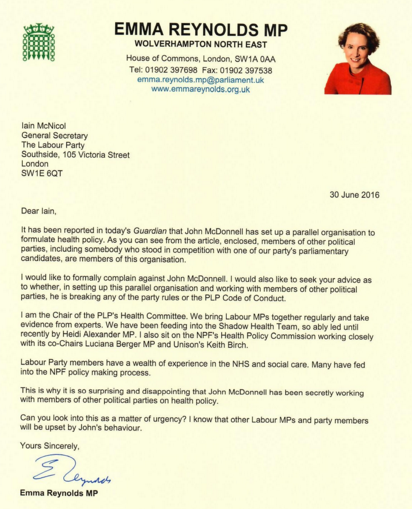 BuzzFeed News reached out to the Labour party and a spokesperson said: "The Labour Party has no knowledge of this group and it has no connection or affiliation to the Labour Party."