This UKIP Leaflet Claims EU Will Abolish The Monarchy And The British Army
UKIP's head office told BuzzFeed News the leaflet wasn't official party material, but a local party activist said the claims were factual.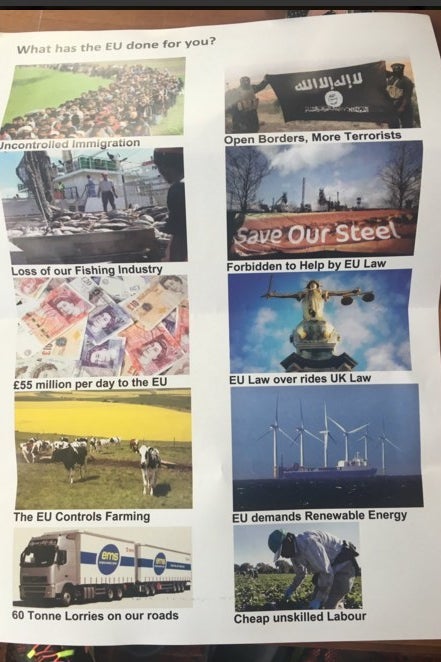 UKIP supporters in Hemel Hempstead, Hertfordshire, have been distributing a pro-Brexit leaflet that claims if Britain remains in the EU then the monarchy will be abolished.
The leaflet says that if Britain does not vote to leave the EU in the 23 June referendum, then the UK will be broken up into regional assemblies, the NHS will be sold off, and parliament will end.
The British armed forces will also be replaced with an EU army, the letter claims.
"This is in no way an officially sanctioned flyer and produced, it purports, by some activists in Hemel Hempstead," a UKIP head office spokesperson told BuzzFeed News, seeking to distance the party from the claims.
He did, however, take an opportunity to criticise the Remain campaign.
"It looks to us as if they have taken their lead from the prime minister, who is predicting bomb blasts on our economy, a third world war, and it appears the death of the first born and plagues of frogs if we have the temerity to vote for freedom on the 23rd of June," he added.
While UKIP's head office was keen to distance itself from the leaflet, BuzzFeed News has confirmed it has also been sent to other addresses as part of a town-wide drop.
A copy of the letter was posted on Twitter by Alim Jayda, an actor who claims his mother received it in the post. It has now been shared on Facebook more than 1,400 times.
"In the [picture] you will see that there is an attached letter saying 'As faithful UKIP Followers', which is inaccurate," he told BuzzFeed News. "This is a household far from any UKIP support and none of us would ever vote for them.
"I, myself, don't mind what someone's views and opinions are... But what I do have a problem [with] is, is when people start using 'scaremongering' tactics in desperation and start printing facts that are either false or debatable."
He also said his mother, who is deaf and disabled, was left feeling anxious about the claims in the leaflet.
"I worry that this will be sent into many letterboxes to other vulnerable people, such as my mother, who have struggled to hear/understand the various different facts and arguments regarding the referendum and are being scared into a forced vote instead of making a balanced and intelligent choice," he said.
The tweet started a mini EU debate online, with some people labelling the claims "scaremongering". Others pointed out there is "propaganda" on both sides of the debate.
BuzzFeed News reached out to the local branch with the opportunity to respond to the criticism, but they did not provide a statement.
One local UKIP activist, however, who asked not to be identified, confirmed the letters were not official party literature and defended the claims.
"Everything on the leaflet is true and factual," the activist said. "People need to read things before they make those comments."