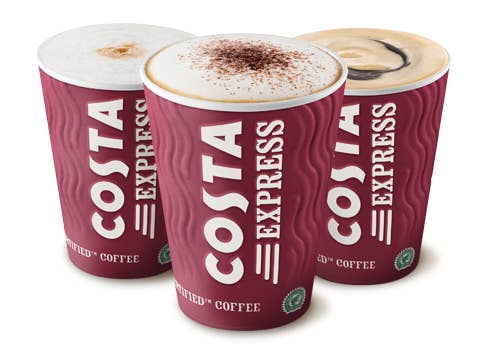 Costa Coffee has been forced to walk back on its earlier statement that customers get an extra shot of espresso in all its large hot drinks.
The UK's largest high street coffee chain said in a statement last week that "when purchasing a large Costa Express drink you are receiving an extra shot of coffee and additional drink, compared to a regular size".
But on Friday, the company rescinded this claim and said that while other coffee drinks such as cappuccino and Americano contain an extra shot, large and regular lattes – as featured in the video – in fact contain only two shots of coffee.
Costa had issued the initial statement in response to a video by Surrey builder Paul Hopkinson showing the contents of a large Costa Express latte fitting into a regular cup. It has been viewed more than 11 million times
Hopkinson told BuzzFeed News he felt ripped off by the company because he expected there to be a bigger difference in the volume of the drinks.
After the video went viral, some consumers claimed the cups were "designed to have a deceptive appearance" and said they felt people were being "visually duped" because although a large cup looks much bigger, the difference in size was in fact minimal.
In its defence, Costa had said its large Express drinks, which are dispensed from machines in shops and service stations, contained 4oz of extra milk and an extra coffee shot.
But after a source close to Costa told BuzzFeed News this was incorrect, the company was asked again about the shot differential. A spokesperson then clarified the company's previous statement and said the additional 30p covers the cost of an additional amount of milk (4oz), a spokesperson confirmed.
"A large Costa Express latte is the only drink where both the large and regular has two shots," she said.
Hopkinson, who also appeared on Channel 4's The Island reality show, claimed Costa had deleted the video at first when he posted it last weekend but that he reposted it.
"I put it back on Saturday night about 8pm and then it went crazy-viral," he said. "I honestly, genuinely cannot believe how much of a fuss this has caused."