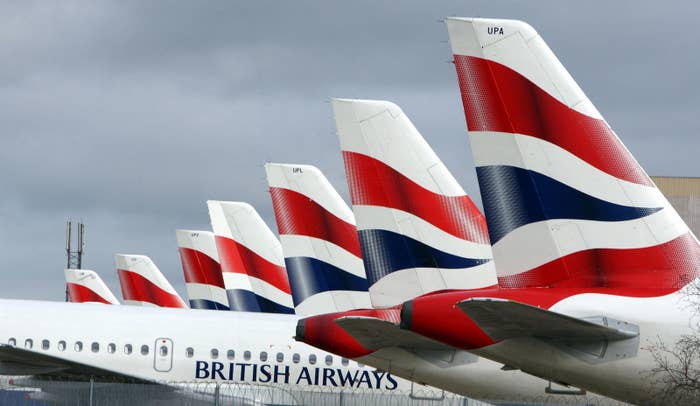 British Airways cabin crew staff are striking for six days this week over what they allege is "poverty pay" at the airline.

The dispute relates to the pay rate of British Airways "mixed fleet" cabin crew, who are trained to work on five airplanes and work both short- and long-haul flights. They claim they earn less than the company's advertised pay rate of £21,000 to £27,000 and are calling for a rise.

It is the third time workers have taken industrial action on the issue. Unite, the union, claims its own analysis shows staff earn an average of around £16,00 – a claim the company strongly disputes.

British Airways staff who spoke to BuzzFeed News on condition of anonymity said the way pay was calculated was "complicated".

Cabin crew begin on a basic salary of £12,192, which increases after six months. They also earn an extra £3 per hour for each hour worked and earn quarterly performance- and attendance-related incentive payments. There is also an annual company bonus.
BuzzFeed News was shown several payslips that appear to show members of staff being paid less than £21,000.

However, a spokesperson for the company said it carried out an audit of pay that showed no full-time cabin crew who were not absent from work for prolonged periods – such as maternity leave – earned less than £21,000.

"The pay data shows that the range of earnings paid out to full-time Mixed Fleet crew between 1 September 2015 and 31 August 2016 was £21,151.35 to £27,356.30," the representative said.

The spokesperson said British Airways had offered to share this internal data with the union but that Unite had declined to see it. The company would not share the information, described as confidential, with BuzzFeed News.
When pressed, the spokesperson said a "small minority" of staff had earned less than £21,000 – but that "this occurred only if they had not been flying for the full 12 months, due to long-term sickness, unpaid leave, maternity leave, or periods working on ground-based projects".
"These periods would not necessarily be reflected in pay slips," the spokesperson said.

BuzzFeed News asked whether a sick day would affect incentive and bonus payments, but the company did not respond.

British Airways has also sent communication to staff, seen by BuzzFeed News, warning that any employees who take part in strike action this week will miss out on bonus and incentive payments.

Cabin crew members said they would now miss out of in some cases in excess of more than £1,000 for taking part in the industrial action.
One person who has worked at the company for several years said they would not be turning up for duty, because, "I can't live with myself if I'm struggling and I go in and say it's all fine. It's not fine. We're so lucky to live in a country where we have the right to strike."

They claimed many colleagues had taken part-time work to bump up their salaries and criticised British Airways for forcing them to miss out on bonus and incentive payments, which, they said, are in fact part of how they calculate the claim staff earn more than £21,000 in annual earnings.

"I'm working for a premium airline, which is the flagship carrier of the country," the member of staff said, "and I struggle to live, and I don't want this stress working for a company that makes billions in profit. It's not fair. And this is what MPs and the government have been speaking about lately – disproportionate pay. And British Airways, along with a lot of other companies, is taking the mick.

"They are punishing us, every person who has gone on strike. They said you'll lose your bonus – that is part of how I earn my wages. I see that as my right to earn that."

A bonus was designed to "add reward and incentive", the staff member said. "They are using [the] bonuses as pay, they are adding things to try and make up the pay."

Another worker claimed: "We are pretty much getting harassed with frequent emails from senior management who are trying to make out that the strike is having no effect whatsoever and that a pay rise will undermine the competitiveness of mixed fleet.

"They have spent millions of pounds leasing other airlines to operate our flights during the strike days. They also offered to pay for taxis for crew who were reporting for duty during the strikes and rewarded those who did show up for their shifts with Domino's pizza (all of which would have cost them money), yet they are unwilling to negotiate with the union in order to make a reasonable pay offer."

British Airways, however, said it had proposed a "fair and reasonable increase of pay for our mixed fleet cabin crew colleagues.

"Over a three-year period, our proposal would see basic pay and hourly duty rates increase by a minimum of 7%," the spokesperson said. "It is a proposal that is consistent with that offered to, and accepted by, other British Airways colleagues – including 9,000 cabin crew from our other fleets. It also reflects typical pay awards given by other companies in the UK."

Responding to specific questions around the suspension of benefits for staff who chose to strike, the spokesperson said: "We want to encourage our colleagues to come to work and therefore have repeatedly explained the consequences of taking strike action to them."