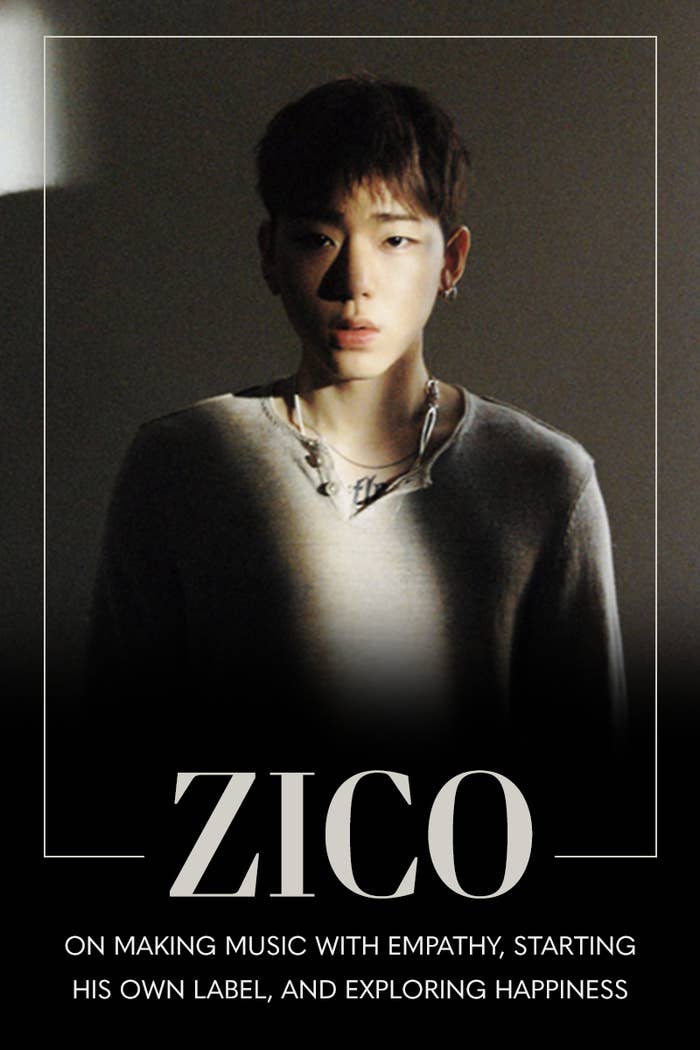 Known as a K-pop idol, a leader, a force in hip-hop, a prolific songwriter and producer, and now a CEO, Zico's music career truly runs the gamut.
After his trainee and underground rapper days, Zico (real name: Woo Ji-ho) officially debuted as the leader (and prolific songwriter/producer) of genre-bending K-pop group, Block B, in 2011 — and his successful solo career quickly followed suit. Fast forward to 2019, and he now helms his own entertainment company, KOZ Entertainment (which stands for "King of the Jungle," but the "J" is replaced with a "Z" for Zico).
However, when you think you've seen everything there is to Zico, you step back and tell yourself to think again. His latest two-part album, Thinking Part.1 and Thinking Part.2 (and his first solo project since starting his label), shows Zico at his realest and most vulnerable.
But don't just take my word for it. Zico chatted with us about his longstanding career, writing music with empathy, and showing a new side of his artistry.
First off, congrats on the album! I haven't been able to stop listening to it; it's breathtaking. To start off, why are there two parts, and what was the ~thinking~ behind releasing them a few weeks apart?

"Music is consumed at a much faster pace now, and so is the way people go about their lives. I didn't want to overwhelm people with an overload of information, so that's why I ended up splitting the album into two parts. The album contains a variety of genres, so I wanted to put it out over a longer period of time and give each song its own moment to shine.
For Part.1, I kept my usual style for many people to enjoy the album. Then I used Part.2 as a way to get out my thoughts. I wanted to start out in a way that feels laid-back and accessible and build to something more intricate by going deeper with my feelings. If Part.1 is about me freely relaying my thoughts, then Part.2 is like a director's cut or an extended cut with a lot of subtle details."

There are many powerful and honest lyrics at every turn in this album like, "My half-baked gimmick as a pretentious new singer created an ambiguous image" in "Extreme" and "I got a grip on myself after I hit the jackpot" in "Daredevil." Why did you want to release these kinds of tracks at this time? Walk me through your thoughts/emotions while making this album.
"I focused on telling stories that I haven't told much before. For example, I tried to openly convey this feeling of loneliness and weariness that I felt, but used to ignore or push aside. I made sure those feelings also come across on my artwork and visuals for the album."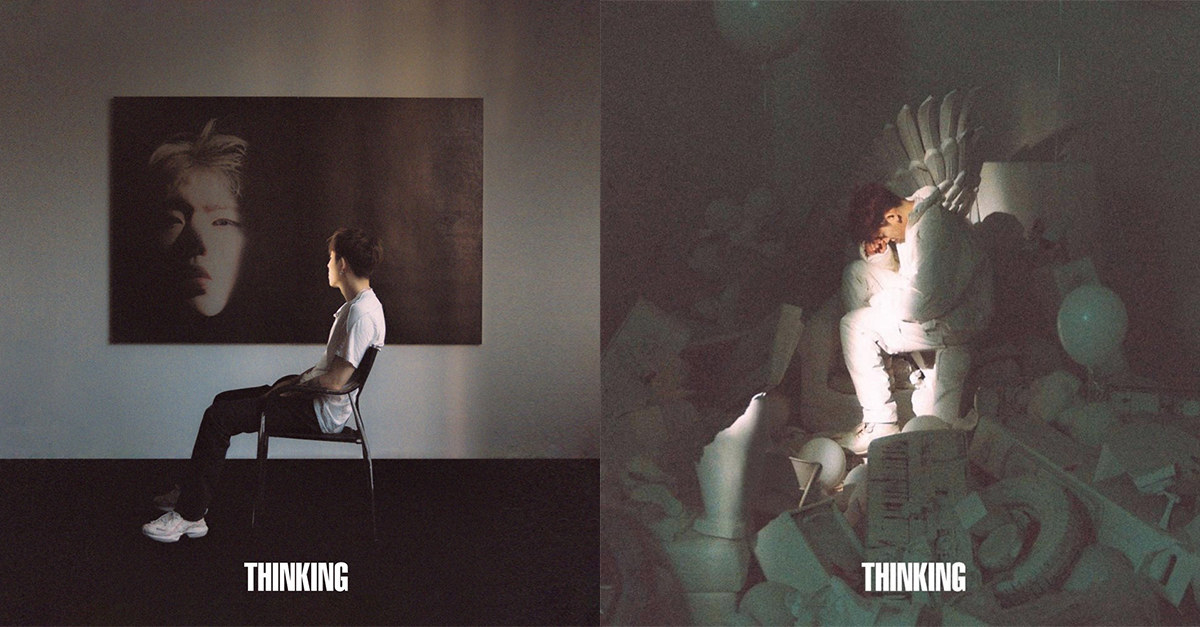 "There's a variety of emotions running through the album, but the feeling of emptiness sets the template for the entire album. There are different emotional layers to 'feeling empty,' and I wanted to show these different states of mind within emptiness."
I was super touched listening to this album and could fully relate to the feelings around "Human" and "Being Left," and it seems like a lot of people empathized with this side of you as well. Was there any feedback you got that surprised you in particular? And do you think this is a musical direction you'll keep going in?
"I got feedback for the first time that people empathized with my music. People usually didn't relate to the message behind my music. My music mostly served to hype people up and didn't get a response from people saying that they related to it or felt comforted by it, but I got a lot of feedback like that with this album."
"People would DM me and share on social media in great detail the lyrics that they connected to, and why. That made me so happy. I had this new realization that through writing and listening to others, it can set up a conversation. I got a lot of feedback personally, too. It's been incredibly fulfilling for me to get responses from people who'd say, 'I knew you were thinking like I was.'

In his Thinking documentary, Zico's friend and fellow rapper, Penomeco, offers some insight as well: "Until now, he had talked just about Zico, not Woo Ji-ho. But this time, with Thinking, he's talking about Woo Ji-ho, himself. I think it's an album that expresses his emotions [of] wanting to hide his inner side. This album shows how a person named Woo Ji-ho has developed and how he has grown, but the process of development/growth doesn't seem happy."

"It's been incredibly fulfilling for me to get responses from people who'd say, 'I knew you were thinking like I was.'"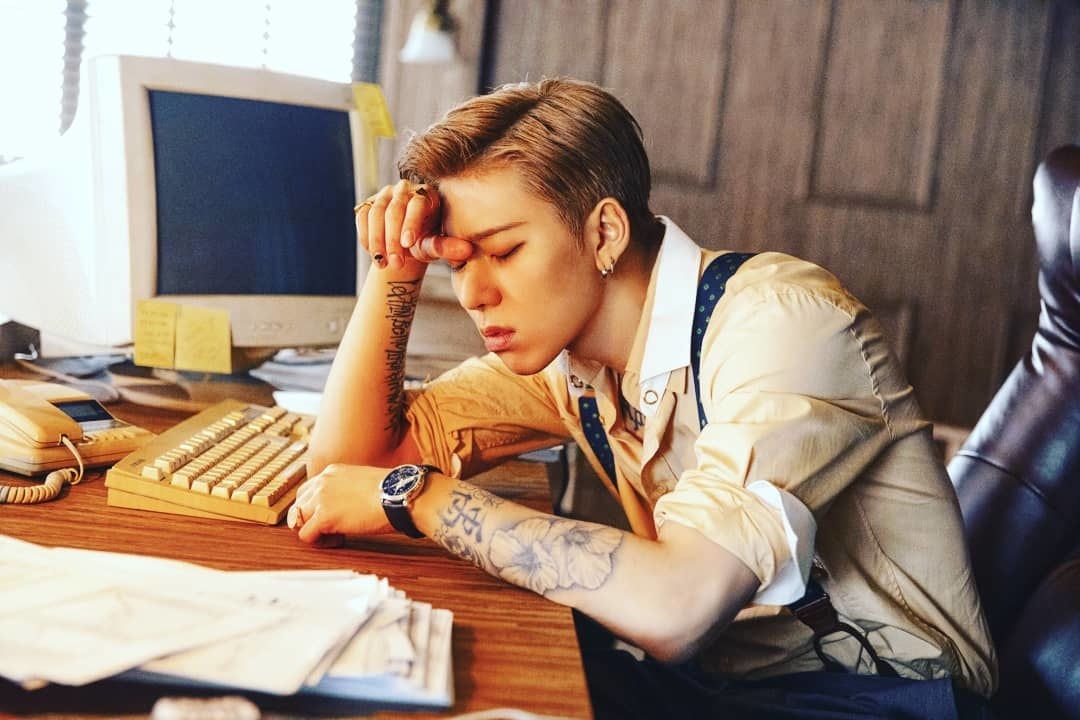 Since there are common themes of melancholy ("It's a trivial day with nothing special" from "Human") tied to love ("Sometimes I want to be hugged real hard" from "Balloon") and separation ("Time is weird these days / I've been living in our break up for several days now" from "Being Left") all throughout the album, I'd like to ask you about the opposite — what has making this album taught you about happiness?
"I've been exploring what happiness is lately. I realized that doing something to become happy isn't the answer. I'm not saying I worry about 'when will I be happy,' but rather I'm just wondering what it is. What's happiness? Is this happiness right now or is it when you just feel at ease with little emotions? Is it happiness when you feel something physically? As a matter of fact, there's no set rule on what [happiness] is — it's just very abstract. It only seems to become an issue when you try to have a clear cut definition on what it is.
I was looking back on myself when I was working on 'Human,' and I saw a loss of motivation that was pent up inside of me from working on a lot of different things. So I went in with the intention to get that out at least once, and that's how I completed 'Human.' I think 'Human' isn't a story about just me, but it can be a story about anyone who has nodded along to it at least once."
"...There's no set rule on what [happiness] is — it's just very abstract. It only seems to become an issue when you try to have a clear cut definition on what it is."
Do you have certain patterns or processes when it comes to songwriting? I noticed these two lyrics in your songs: "Can't waste a single note" ("Daredevil") and "I put a lot of effort into each letter of the lyrics" ("Extreme"). Given the amount of work that goes into every note and lyric, how do you know when a song is done?
"I just simply enjoyed making music before. I tried to show the public that I have these skills, and I came up with this sound. With that I got better at my craft and I understood the techniques and odd know-hows about what makes good music.
I learned how to tell my stories carefully and clearly, and how to make people listen. I kept rewriting expressions that didn't feel natural and organic, and just kept refining and perfecting them."

A rare scenario, but if someone has no idea who you are and has never listened to your music or seen you perform, how would you like them to be introduced to you? Would you want them to go chronologically? Or start with your most recent music?
"From my mixtapes to Thinking. I recommend listening to them chronologically and seeing how my music has evolved over time."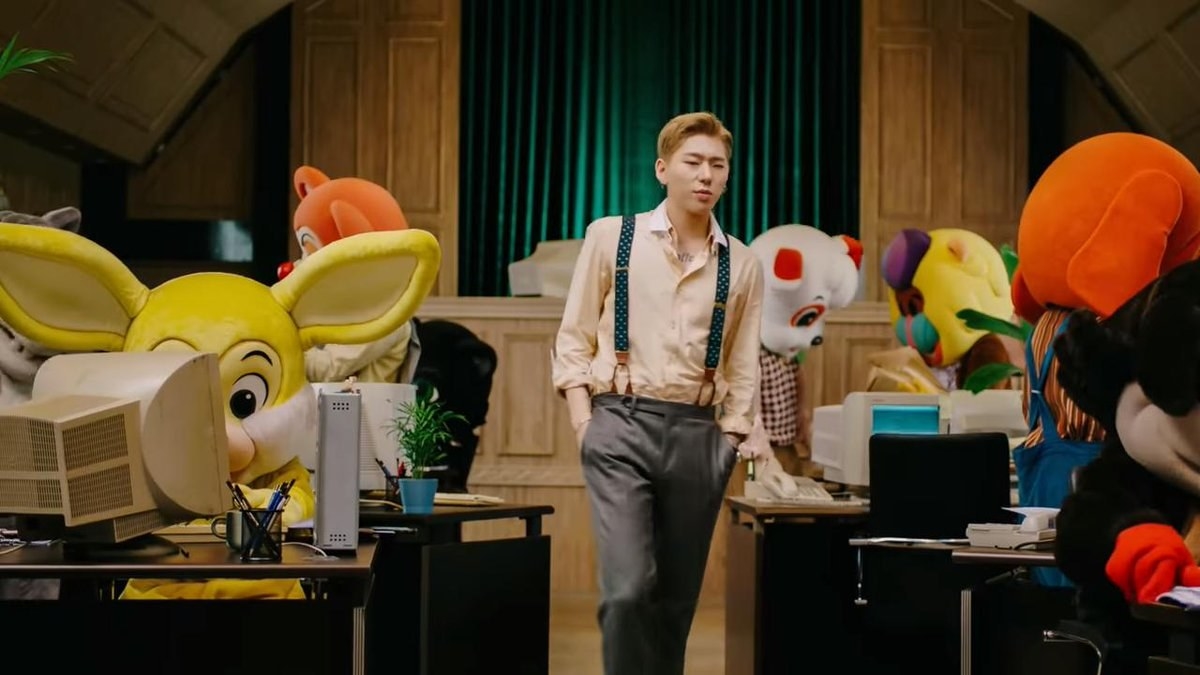 How would you describe where you are now in your career? How have the intentions behind your music changed, and in what ways have they stayed the same?

"At first, my aspiration was to make music. Then I got to make music, became a trainee, and landed No. 1 hits. I've always had goals and I've achieved them along the way, but I don't have a specific goal music-wise that I've set for myself, so I don't look at myself being in any certain 'position' in music. I look at [my career] more as a state of continuing one marathon after another, without end.
I've done a lot of club bangers and light-hearted songs in the past, but I discovered there's a different texture to my sound as I focused more on expressing how I was feeling. When I was making this album, it naturally became more about creating a sense of empathy and connection, more so than giving off sonic excitement.
I've come to terms with various emotions I felt, but didn't want to confront before. There's this very strong, free-spirited character to 'Zico' that's always on edge, but now I've come to terms with myself and I feel at peace."

"...It naturally became more about creating a sense of empathy and connection, more so than giving off sonic excitement."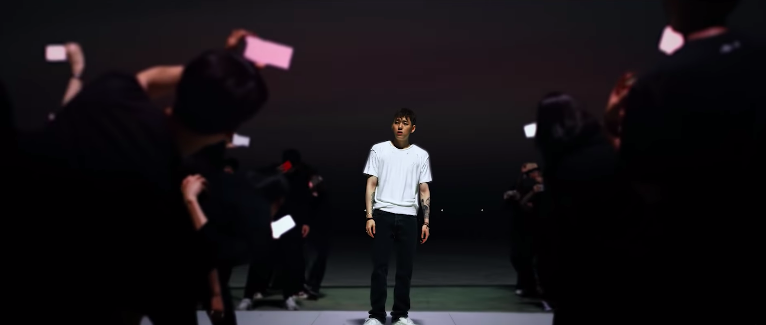 I watched that super cute ODG video of you and those kids listening to "Being Left." What advice would you have for your 13-year-old self?
"1. Grow up to be an honest person full of curiosity, like you are now.
2. If you find an area of interest, go for it no matter what anyone says.
3. Make sure you learn at least one instrument, and don't put down the 4B pencil and brush!"
What have been some big takeaways from starting your own label, KOZ Entertainment?
"So far I've been seen very much as this rebel in hip-hop. I believe there's a specific image of me that the public is accustomed to, which is my identity as a rapper. But this can also be a distraction in lot of ways. This year I launched KOZ Entertainment, and I have made it a goal to put out artists of different styles and sounds — so I decided to take on different styles myself first.
There is a bit of physical strain on me since I'm juggling both. But I'm starting to think business is also a form of art, and I'm learning as I go."
What are your hopes for the future of KOZ Entertainment, and what kind of artists do you want to work with and mentor?
"First off, I wouldn't quite call KOZ a hip-hop label. I don't have the intention to recruit artists only within the boundaries of hip-hop and R&B. I want to embark on an all-encompassing entertainment business and keep myself open to many possibilities.
I'd like [to work with] artists who are not limited to one specific genre, and can embrace both mainstream and underground sensibilities. If you look at who I am as an artist, I have something unique about myself. I had a career as an K-pop idol, I was part of the underground hip-hop scene, and I was also a producer.
I want to recruit artists that have wide-ranging talent like me, but are in restrictive circumstances. I want to help them hone what they have. I'm also fine with artists who were K-pop idols. I'm leaving as many doors open [as possible].
I don't have a business mentor yet. I'm trying to build this up based on the experiences I've gained on my own from an early stage. I have a lot of people who I can ask for advice, but I haven't, because it might make me doubt the direction I've decided to take on. At least for now, if I take in someone else's firm advice, [that means] there may be some things I can't get a grasp on my own."
"I want to recruit artists that have wide-ranging talent like me, but are in restrictive circumstances. I want to help them hone what they have."
Tell me about Dvwn, the first artist you signed to KOZ. How did you discover him, and why is he a great fit for KOZ and its mission?
"I've been following Dvwn for a while. I've listened to his music on SoundCloud, and I think his strength is that he's not limited to one specific genre. He doesn't only do R&B, folk, or ballad. He's someone who can have wide-ranging influences like me, and he has a very unique voice.
Dvwn has his own viewpoint that he's very sure of, and I believe his music is going to make a serious impact in music. It'd be a shame to miss out on an artist like that."
"I wanted [my song] 'Being Left' to be sung with clarity and purity, because I think that's how 'being left' can be best expressed. Dvwn's voice felt right for many reasons. I initially directed him to sing with a bit more clarity, but overall I'm very pleased with how it came out."

And lastly, a few rapid-fire questions —
What's something kind of mundane that brings you a lot of joy?
"Watching movies."
Favorite IG or Twitter account?
@Woozico0914.
Last song you listened to (that's not your own)?
"Original Me" by Yungblud.

Favorite time of day?
"When I eat dinner."
If there was a biopic made about you, who would play you?
"Myself."
This interview has been edited for clarity and length.