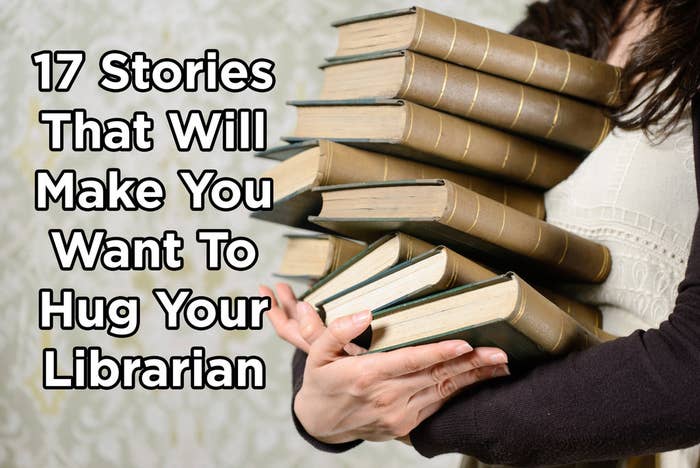 1. "When I was in 1st grade, I checked out a book and never read it. The end of the school year soon arrived and the book was no where to be found. I felt so bad and I apologized to my librarian so many times. Somehow, in the middle of summer, I found the book in the pantry and freaked. I wrote a letter to my librarian about how sorry I was and told her it would never happen again. She mailed back the five dollars I had paid for the book, a really cool bookmark, and a note about how we were still cool and she was totally happy that I'd found it. Ms. Shelly Dean, you are a great human being and a genuinely amazing soul."
— tizzyice
2. "My favorite librarian is Kelly Morgan from Gilbert Elementary School, and she's literally been in my life for 18 years. She is amazing at story time, and gets the kids involved in reading by asking them to make inferences based on the illustrations. She organized a summer reading program and had activities throughout the week. I started volunteering during the summer when I was in fifth grade, and I was back nearly every summer through college. My senior year, Kelly supported me through my honors thesis and was the third reader on my committee. She's a huge inspiration to me!"
– Ronnie E., Facebook
3. "My middle school librarian, Ms. Knott, has been a close friend of my family and my friends for years. She inspired all of us to read more and engage with all different types of literature, and sponsored our Sci-Fi/Fantasy group. She taught us all to be who we were, and to treat each other with love and respect. On top of that, she came to my wedding and took a picture with all of us in silly hats in our photo booth! I couldn't ask for a better role model or teacher."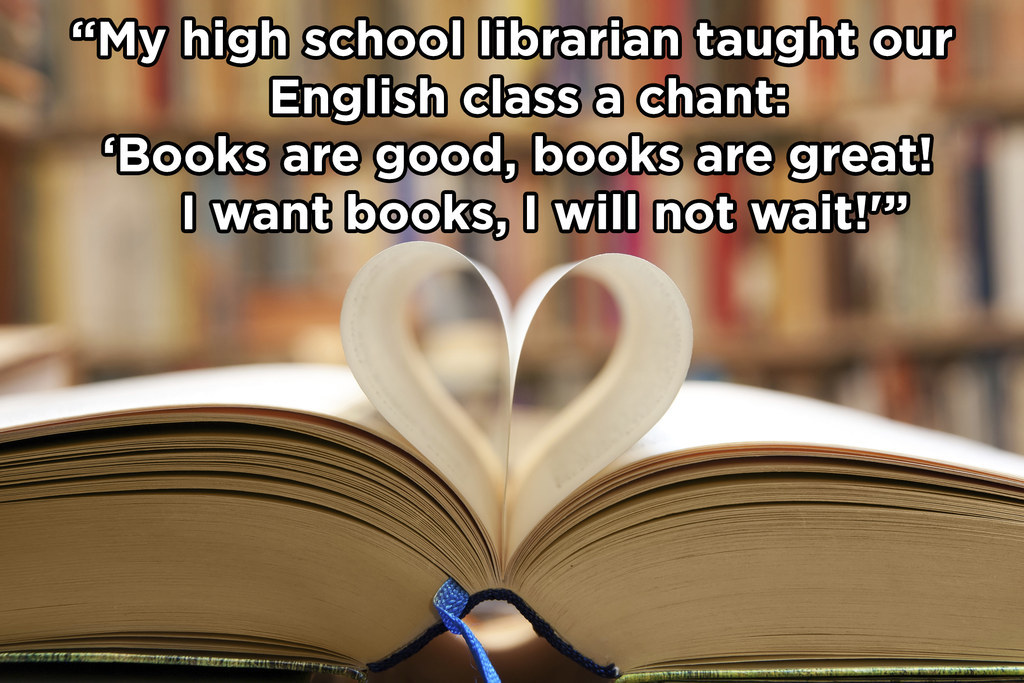 5. "All of the librarians at my elementary school took a liking to me because I was such an avid reader at a very young age. The thing that distinguished librarians from other teachers was their ability to treat younger kids as equals. I spent a lot of time in the library bending the rules about how many books one could check out at a time and getting recommendations from the librarians. Once a librarian even went out to a bookstore to buy me Sherman Alexie's new book."
6. "My dad is my favorite librarian! He instilled in me a love of reading at an early age. Some of my best childhood memories are the times he took me on book cart rides through the halls of the library where he worked!"
7. "As a kid, I hated reading. The librarian at my elementary school would not give up on me though. One day I walked in and she says, "I think I have the perfect book for you." I rolled my eyes, but took it from her anyway. I don't know how she knew I would enjoy the book, but she did. That book was Time for Andrew by Mary Downing Hahn. That book is what launched my enjoyment of reading. I can't tell you the number of times I checked that book out from the library. My last day of elementary school, she found me and gave me a copy of the book. Sadly, I don't know what happened to the copy of that book, but it was my first purchase when I got my Kindle.
— Justin M., Facebook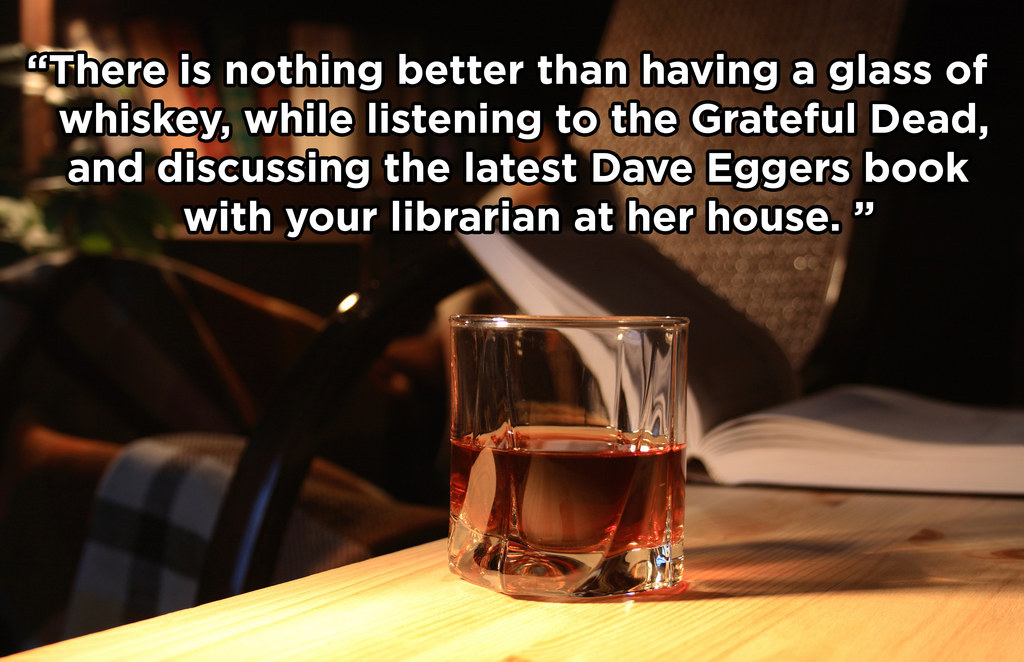 9. "I went to a Christian high school, and when Harry Potter was just gaining world wide popularity, a note was sent home to every students parents to warn them of the danger of Harry Potter's witchcraft. As the kid who regularly spent lunchtime reading in the library, I went straight to my librarian to ask about Harry Potter and if she had, as advised by our principal, removed the offending literature. She hadn't, stating that she loved Harry Potter and the principal's fears and opinions on it were nonsense. She then directed me to the location of the books."
— Erin G., Facebook
10. "I was a major bookworm in elementary school and was bullied a bit because of my nerdish ways. The librarian at my school was amazing and let me read inside during recess, which was totally against the rules! When I finally graduated from that school, she put up a plaque with my name on it next to my favorite reading spot. Ten years later, and it's still there!"
— Samantha A., Facebook
11. "I have appreciated so many librarians in my life, from childhood to present. Most of the best people I know are librarians! But I'd have to say my favorite one is Eric Adams. I moved to a new city when I started college and didn't know anyone. I'd go to the library to use the Wi-Fi and read books for class, and I met Eric. He was so very helpful and helped me connect in the community as well as at the library. We quickly learned that we had a lot in common and became friends. Three years later, Eric is my husband. Our wedding was book-themed, and it all started in a library, and because he is such a great, friendly, helpful, amazing human. Gotta love my librarian!"
— Amanda A., Facebook
13. "My hometown librarian is the most amazing person to know. I will always remember the first time I went to the library. She set up my first library card and walked me around the children's section to find the perfect first book. The Bad Case of Stripes became one of my favorites and I renewed it many times as a child. Throughout the years she has made the library like a second home to me. Being away from my hometown is very hard but the hardest part is finding a new library with an librarian like her."
14. "When I was 10 years old, my mum was working three part time jobs and going to university full time. I brought my puppy with me to the library and hid her in my backpack. The librarian approached me after the third time to ask what was in my backpack. As I said, "Nothing," my puppy popped her head out and barked. The librarian was so excited to see her that she held her. The whole summer, from opening until closing, I was sitting in the corner with my puppy, discovering Shakespeare, Hemingway and The Sleepover Club series, while my mum worked. I am just finishing off my Masters in Library and Information Studies in Scotland. I don't think my local librarian knows how much she helped me that summer. I am beyond grateful and I hope I can do the same for a child in need someday."
— Jade J., Facebook
15. "My favorite librarian is my mom! She's the librarian at my old elementary school. Whenever we see one of her library kids in public, they get so excited to see her. She always remembers which book they have checked out and asks them how their reading is going."
16. "I grew up in the middle of nowhere. There weren't any businesses for miles, but there was a tiny library a couple miles from my house. I loved going there because the librarian made the most amazing children's programs! I never went on summer vacation because we could never afford it, so going to the summer reading program on Tuesday mornings was the highlight of my summer. She was the first, but not the only amazing librarian I have encountered over the years. I now am a clerk at a library and want to be a librarian one day."
— Amber S., Facebook
Do you have a favorite librarian? Share your story in the comments below!