PORK RAMEN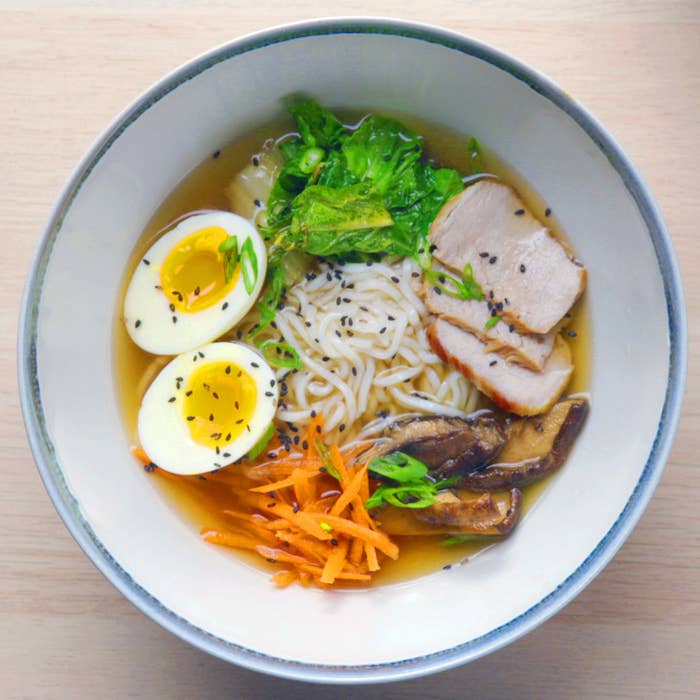 INGREDIENTS
PORK RAMEN
Servings: 4–6
INGREDIENTS:
Pork
2 teaspoons vegetable oil
1½ lb pork loin
⅓ cup mirin
¼ cup soy sauce
1 tablespoon sesame oil
6 thick slices ginger
5 garlic cloves, smashed
3 scallions, cut into thirds
8 shiitake mushrooms
5 cups chicken broth, divided
Toppings
Assorted mushrooms, sauteed
Scallions, sliced
Black sesame seeds
Grated carrots
Cabbage
4 packages ramen noodles
Eggs
INSTRUCTIONS
PREPARATION:
In a large pan, heat vegetable oil. Sear both sides of the pork loin. Deglaze the pan with the mirin. Then add soy sauce, sugar, sesame oil, ginger, garlic, scallions, shiitake mushrooms, and 1½ cups chicken broth.
Bring to a simmer, cover the pan, and let simmer for 45 minutes to 1 hour, flipping the pork occasionally.
Once the pork is cooked, move to a cutting board and cut pork into thin slices.
Strain out the solids in the broth and return the broth to the stove. Add the rest of the chicken broth and bring to a simmer.
For the soft boiled eggs, bring a small pot of water to a boil. Gently lower eggs into the water. Cook for 6½ minutes, keeping the water at a low boil. After 6½ minutes, transfer the eggs to a bowl of ice water. After cooling for a few minutes in the ice water, carefully peel the eggs.
Cook noodles in boiling water for 3 minutes and drain.
Assemble ramen bowls: place noodles in bowl, arrange toppings on top of noodles, then ladle broth on top. Enjoy!