2017 has been the year of bizarre gay icons, ranging from the Babadook...
But gird your loins, because we've got a new queer icon on our hands — Pennywise the clown from It. He's so terrifying, so gay, he literally will scare you straight (JK, that's not possible).
Twitter user @starkrhodey posited the claim that Pennywise is an LGBT ally...
...which SEEMINGLY led a Republican Twitter user to freak out at the claim. You know how the saying goes — where there's smoke, there's fire. And by fire, I mean a gay-friendly murderous clown.
They were shook.
PENNYWISE. DID. THAT.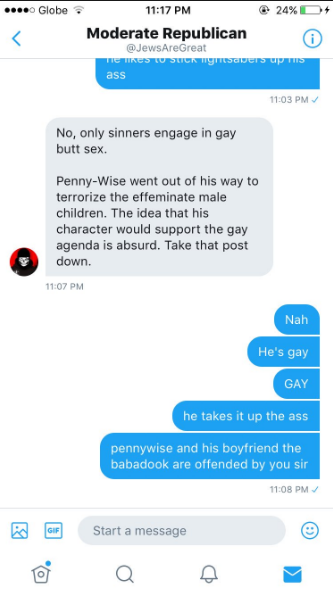 But upon further investigation, it would seem Pennywise's reign as a queer icon has actually been a long time in the making.
He might not be the gay icon we need...
...but he's the one we deserve.
(Although, to be fair, there are dissenters. And this is a valid argument!)
It was only a matter of time before Pennywise started interacting with OTHER LGBT icons.
Yeah, that was fast.
Maybe a little too fast! But who am I to judge.
Anyway, Pennywise...congrats on being an LGBT icon.