In case you missed it, the NFL just announced that Justin Timberlake will be the Halftime Show performer at Super Bowl LII.
This will be Justin's third time performing at the Super Bowl — he performed once with NSYNC, and then again in 2004 with living legend Janet Jackson. Yeah, we all remember how that went.
ANYWAY...when the news of Justin's Halftime Show was announced, a lot of people (unsurprisingly) were NOT here for it!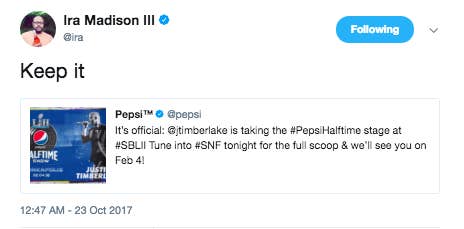 AT. ALL.
Some people were still expressing frustration over how Janet was treated.
And others questioned why Justin was invited back.
Like, hmmmm...this tea...
People planned boycotts...
...and others theorized about WHY Janet received all the blame, while Justin got a pass. HMMM! More tea!
There was a LOT of side-eye.
People were brainstorming new and improved ideas for a Wardrobe Malfunction 2.0...
...and I'm kind of here for it?
And then others were just looking to drag Justin, period.
Honestly, maybe this is the best solution to the whole problem?
Anyway...that's that on that!